Stay in the Know!
 2023 Wyoming 4-H Foundation Scholarship Opportunities
The Wyoming State 4-H Foundation is proud to manage scholarship opportunities to students that are current and/or past 4-H members in Wyoming.  Each year the Foundation awards thousands of dollars in scholarships. We offer many scholarships that are just to the University of Wyoming, some that can go to either UW or other accredited colleges in Wyoming, and one that is for students pursuing a vocational program/certificate. Applications for 2023 are due by February 15, 2023. For more information and tips on how to apply successfully, please visit our 4-H Foundation Scholarship page.
The Wyoming State 4-H Program offers a hunting experience for up to six youth ages 14-18. The hunt takes place in Northeastern Wyoming on the Solitude Ranch. The ranch is located 5 miles east of Devils Tower and features spectacular scenery and lots of wildlife. The hunt is primarily for whitetail doe deer and so far has a 98% success rate and 100% opportunity to harvest.
All 4-H members between 14 and 18 years of age are eligible. Applications will evaluated by a selection committee with preference given to first time hunters and 4-H shooting sports members enrolled in the rifle, pistol, shotgun, archery, muzzle loading, wildlife and/or hunting projects.
The hunt will take place November 4 - November 6, 2022 and is a rifle only hunt.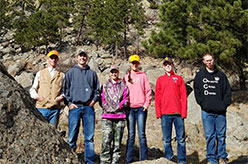 Applications were due on August 22nd, 2022.
Each year 14 Wyoming 4-H members are selected to attend an awards trip to the NRA Whittington Center in Raton, New Mexico. Twelve winners during the Wyoming 4-H State Shoot based on their outstanding shooting skills. Two winners are selected based on portfolios submitted demonstrating their passion for shooting sports. The 2022 awards trip took place from September 7-11, 2022.