| | |
| --- | --- |
| | |
Use EveryonePrint, the UWStudent Mobile Printing Service, Through a Web Browser
Introduction
The UWStudent Mobile printing service provides users with the ability to print documents through a web browser interface without the need to install printers on their personal computers. The Mobile printing service is connected the UWStudent print monitoring solution, so charges to printer as deducted from a student's print balance account.
More information on the Mobile Printing service can be found at UWStudent Mobile Printing Service (EveryonePrint) Frequently Asked Questions.
Note: This service is only available on campus and you must be connected to the UWyo wireless or a hardwired connection.
Procedure
Go to the UWStudent Mobile Printing web page

(http://microlab.uwyo.edu/mobileprint/)

and click on Log into the mobile printing service.

Log in using your UW username and password.

On the EveryonePrint start page click Browse and navigate to the document to print.




Click Open.




The path to the document to print will appear in the Upload Document To Print window. Click Next.




A status window will open showing available printers and the print job status. It may take a few seconds for the print job to process and allow you to start printing. Once the job is processed a list of printers will appear and the status will say "Awaiting Release."

Using the drop down box, select the printer you want to print to and then click Print.
(Note: Printer names will contain some location information.)




Click the Advanced check box to open options for multiple copies, page range, single or duplex printing, or a black/white color option. Make selections then click Print.




Note status changes from "Awaiting Release" to "Printing", then eventually to "Printed." Be sure to give the system enough time to complete all printing tasks.




After all jobs have completed, you will have to close the browser to log off.

Overview of the EveryonePrint interface
My Print Jobs tab: shows printing history, dates, times document names, and pages printed.
(Image)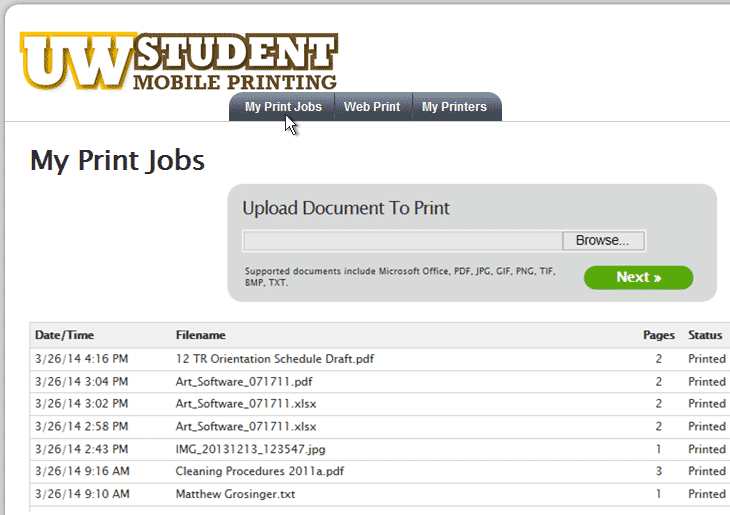 Web Print tab: default or clean start page to begin printing from.
(Image)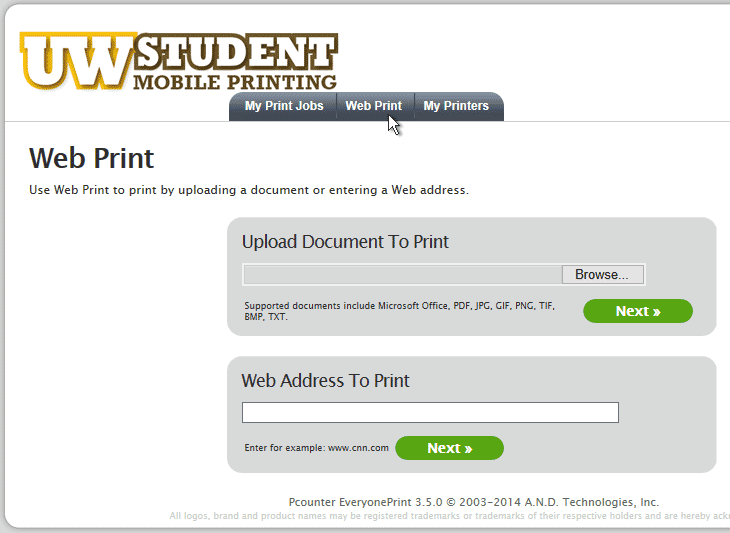 My Printers tab: shows available printers on the EveryonePrint system. This can be modified to show only favorite printers or printer.
(Image)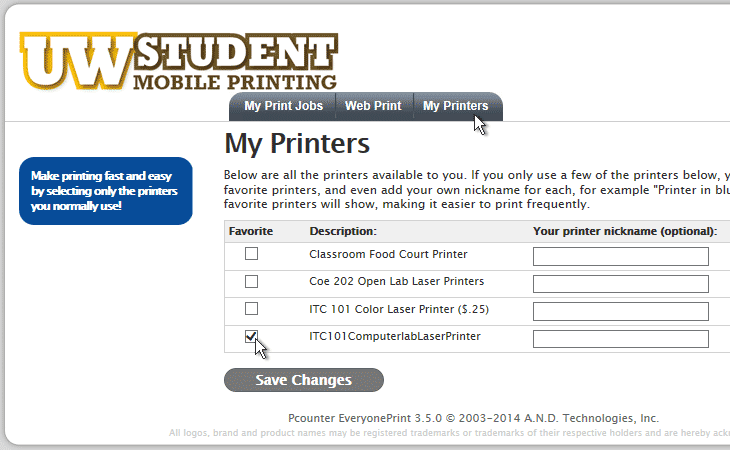 Example: printing with only one saved printer showing in the printer list.
(Image)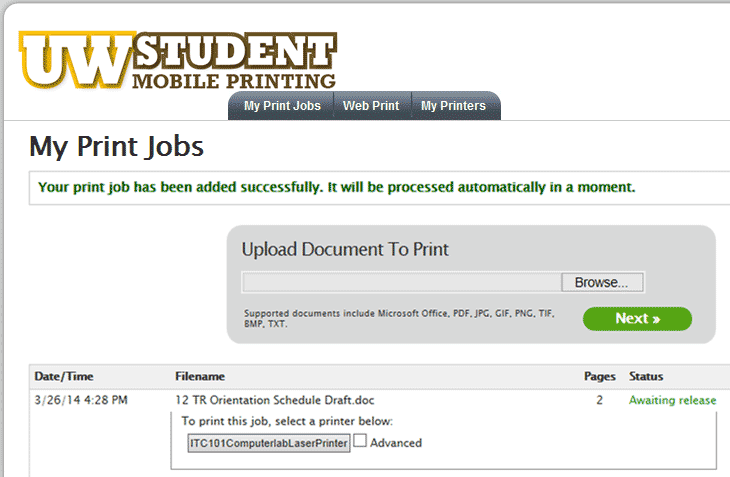 Reviewed: 0414 By: JB
Additional help with the installation and configuration of
UW-supported software is available:
Faculty/Staff
Contact the IT Help Desk at 766-HELP (4357), option 1
Email UserHelp@uwyo.edu
(www.uwyo.edu/infotech/services/helpdesk/uc/)
Students
Email UserHelp@uwyo.edu
Contact the IT Help Desk at 766-HELP (4357), option 1
Come to the student computer lab in the lobby of the
Information Technology Center.