Double-click the red X in your System Tray to open the Profile Storage Space window. You will also see this window if you try to log off while you still exceed your profile quota.

This window shows all of the extra files in your profile directory and how much space is being used by each file. This will give you a good idea which files you may want to move or delete in order to get back under quota. You can then go to C:\users\Username (where Username is your UWYO domain username). From this directory, you can then move or delete files until you are under quota.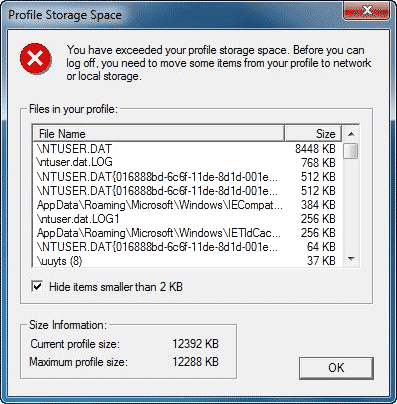 Many times the files which are pushing the user over quota are in the Cookies folders. Deleting these files, if they are not necessary, or moving these files into your H: drive or onto a disk should bring you under quota again. Once you are under quota, the red X will disappear from the System Tray, and you will be able to log off as usual.
If Cookies appear to be one of the main causes of the error, see the Cookie Management on UWSTUDENT Lab Computers FAQ (www.uwyo.edu/askit/displaydoc.asp?askitdocid=594&parentid=1) for information on deleting these files.
NOTE: If the ntuser.dat file is the main cause of the error, see the Lab Assistant on duty for help. This file cannot be reduced. A lab assistant will need to assist you in recreating your profile to correct the problem. To log off of the computer allow the forced log off to proceed. Please know that when your profile is too large, it is not copied back up to the server.
If you have problems deleting any items or are unsure of the location of these items, see the Lab Assistant on duty for help.