Program in Ecology Students
Students in Program in Ecology study a diverse set of ecological questions, ranging from scales of DNA and microbes to plant and vertebrate systemics, to landscape ecology and everything in between.  All Ph.D students in Program in Ecology also have a home department.
>>Apply to the Program in Ecology
Ellen Aikens
Advisor: Matt Kauffman
I am fascinated by all things related to movement ecology. From seed dispersal to trophic cascades, movement plays a fundamental role in ecological processes. For my PhD, I will focus on understanding mule deer migration in the Wyoming Range.  To disentangle the mechanisms underlying migration, I will evaluate the forage maturation hypothesis as it relates to phenology tracking during migration. Additionally, I hope to understand how movement strategies affect body condition and reproductive success of migratory mule deer. With this information in hand, I will investigate how changing environmental conditions might affect mule deer populations in the future. My goal as a PhD student is to contribute to both applied and theoretical ecology.   
---
Dan Albrecht-Mallinger
Advisor: Corey Tarwater
---
Abdullahi Ali
Advisor: Jacob Goheen
I am interested in wildlife ecology and conservation of arid ecosystems. My PhD dissertation  focuses on the population ecology of hirola (Beatragus hunteri), an antelope restricted to the Kenya-Somalia border and one of the most endangered mammals in Africa. I am exploring competition between hirola and livestock (e.g., goats, camels) across a gradient of livestock densities, and I will use demographic data to make quantitative predictions about hirola populations under different land-use scenarios. In addition, I am analyzing remotely-sensed imagery to determine the causes of hirola declines; this information will be used to guide management strategies through the Hirola Management Committee of the Kenya Wildlife Service. All of my work involves capacity building and education of local communities within Ijara and Fafi Districts in Eastern Kenya.
Ali featured in Kenya's The Standard, May 13, 2011
---
Timothy Aston
Advisor: Brent Ewers
I'm interested in how past climate change, driven by variation in the earth's orbit, has affected the ecophysiology and community structure of Mediterranean ecosystems. The Cape floristic region on the southern tip of Africa has experienced lower levels of climate change over the last few million years than both of the northern hemisphere Mediterranean ecosystems, which is thought to have contributed to the areas exceptionally high biodiversity. As a result of its fairly wet climate, the Cape, like many of the world's most bio-diverse areas, has a poor palaeoecological record. I aim to develop tools to assess the relative amount of past climatic change using aspects of an areas modern biology.
---
Adi Barocas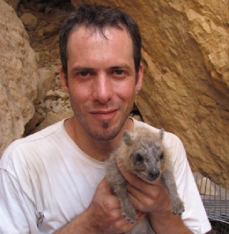 Advisor: Merav Ben-David
I am interested in various aspects of animal, particularly mammal, social behavior.  I study the associations between group living animals, their relation to ecology, and how they affect survival and fitness.  I believe that behavior has implications for animal conservation, and this intersection between two different fields should get more research attention.  I also look at the genetic variability in wild animal populations as a tool for management and conservation, using genotyping and mark-recapture techniques.  My main current project deals with diverse river otter populations in Alaska.
---
Lisa Barrett
Advisor: Sarah Benson-Amram
My research interests lie broadly in comparative cognition of animals and wildlife conservation, especially after having worked as a research assistant with Think Elephants International in Thailand. Advised by Dr. Sarah Benson-Amram, I will be investigating social learning and problem-solving in raccoons or elephants.
---
Christopher Beltz
Advisor: Indy Burke
My long-term goal is to investigate plant-soil interactions and nutrient cycling at the ecosystem and community level using an interdisciplinary approach, incorporating biogeochemistry, soil science, ecosystem ecology, and soil microbiology. 
I am currently working on a project with Indy Burke in Pinedale, WY examining the effects of nitrogen fertilization on sagebrush plant communities.  This study has implications on the management of mule deer by the BLM and G&F near or adjacent to natural gas wells.  My previous research includes exploring forest population dynamics and applied restoration studies in the alpine and sub-alpine zones in New England. 
I found my way to Wyoming by teaching skiing for "just one winter" in Jackson Hole.  That was in 2005.
---
Shawn Billerman
Advisor: Matt Carling
My research interests lie in investigating speciation (especially avian speciation) by studying the interactions of species at hybrid zones.  I am particularly interested in how behavior, ecology, and genetics all play a role in patterns of species divergence.  To address these questions, I will look at the hybrid zone between the Red-naped Sapsucker (Sphyrapicus nuchalis) and Red-breasted Sapsucker (S. ruber), which meet in the mountains of northern California, Oregon, and Washington.  By sampling at several distinct geographic transects throughout the hybrid zone, patterns of introgression between populations will be more apparent.  Genetic data will be collected using next-generation sequencing techniques, which will allow me to sample a huge diversity of genes throughout the genome.
---
John Calder
Advisor: Bryan Shuman
I am using paleoecology to investigate the interactions of climate change and disturbance on vegetation. To do this I will use drought records from the Rockies in northern Colorado coupled with charcoal records as a proxy for fire disturbance. By looking at multiple sites with different fire regimes I hope to be able to tease out any possible interactions with drought and fire.
---
Jason Carlisle

Advisor: Anna Chalfoun
My research interests lie within the broad field of wildlife ecology, specifically in the use of quantitative and spatial tools to understand basic ecological processes and encourage enlightened wildlife management.  My dissertation research is focused on the ecological concept of umbrella species, specifically how efforts to conserve Greater Sage-Grouse might indirectly benefit lesser-known wildlife species of conservation need that also call Wyoming home.
---
Paige Copenhaver
Advisor: Dan Tinker
I am broadly interested in understanding how forest ecosystems respond to climate change, particularly with regards to changes in geographical species distributions. I am currently investigating the influence of interspecific competition on the distributions of three montane conifer species in the central Rocky Mountains. I incorporate sophisticated modeling techniques with field measurements to understand the environmental and climatic factors driving dominance trends and competitive advantages. These models will be used to construct a new species distribution modeling framework that incorporates interspecific competitive interactions and allows for more accurate predictions of changes in species distributions through time.
---
Michael Curran
Advisor: Peter Stahl
My research interests are broadly within the field of restoration ecology. My focus mainly deals with land reclamation and ecosystem restoration associated with land disturbance due to oil and natural gas production. I am interested in how techniques used in the practice of land reclamation in different areas affect the outcome of ecological restoration projects.
---
Sarah Daniels

Advisor: Sarah Benson-Amram
---
Courtney Duchardt

Advisor: Jeff Beck
---
Carolyn Eckrich
Advisor: Merav Ben-David
My research interests lie within the field of population ecology with an emphasis on mammalian population dynamics and demography. My Ph.D. research focuses on the responses of small mammals to forest management practices in Southeast Alaska. I will be investigating top-down and bottom-up influences on populations within various habitat types and across the landscape. I will use spatial analysis, predator-prey models, and stable isotope analysis to explain variability within these populations.
---
Jason Edwards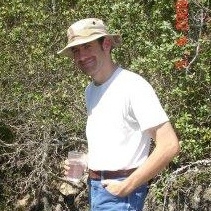 Advisor: Steve Prager and William Reiners
I am interested in ecosystem response to climate variation in time and space, and how vegetation structure and composition control patterns of evapotranspiration, photosynthesis, and respiration. My study site is the French Creek watershed in the Snowies, just west of Laramie. This site includes lodgepole pine and mixed conifers from near lower tree line up to high elevation zones spanning over 1000 m in elevation. I am using the ratios of heavy and light oxygen and carbon isotopes from leaf cellulose and tree rings to elucidate heavy isotope relationships in the watershed. In particular, I am focused on lodgepole regrowth following disturbance.
---
Beth Fitzpatrick
Advisor: Melanie Murphy
I am interested in many aspects of ecological research with a focus on population and community ecology. More specifically, my research addresses species-habitat/landscape relationships in areas of development. For my dissertation research I am investigating the influence of energy development on landscape connectivity and distribution of Greater Sage-grouse for prioritizing reclamation efforts in Wyoming.
---
John Frank
Advisor: Brent Ewers
Top of Page

I have operated the GLEES AmeriFlux site in the Snowy Range for the U.S. Forest Service, Rocky Mountain Research Station since 1999.  Over that time we've been studying the exchange of energy, momentum, carbon dioxide, and water vapor between the ecosystem and the atmosphere.  In recent years an outbreak of spruce beetle has caused considerable mortality within the subalpine forest.  I decided to go back to school to study the changes in the ecosystem in response to the bark beetle epidemic.
---
Charlotte Gabrielsen
Advisor: Melanie Murphy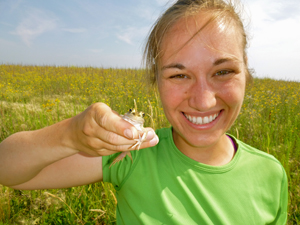 My primary research interests are in landscape ecology and landscape genetics. I am also particularly interested in investigating anthropogenic influence on landscape connectivity. My current research will explore how climate change influences wetland hydroperiod in the Plains and Prairie Pothole Region. To address this question, I will use remotely sensed data and field measurements to predict hydroperiod over several different climate change scenarios. Additionally, I will relate wetland plant, amphibian, and microbial biodiversity to hydroperiod predictions to model changes to biodiversity. Lastly, I aim to address how predicted change in wetland hydroperiod may influence fine-scale spatial genetic structure of Northern Leopard Frog, a species in decline across its range, by limiting suitable breeding habitat across the landscape.
---
Susma Giri
Advisor: Michael Dillon
I am fascinated by the influences of the environment on animal physiology. My dissertation research seeks to identify the effects of various environmental factors in bee physiology, specially metabolism, fatty acid content and composition.
---
Brady Godwin
Advisor: Holly Ernest
I am interested in using genetics to answer ecological questions. For my PhD, I will study the population genetics and disease ecology of hummingbird species found in Wyoming and Colorado, and hope to investigate their potential as sentinel species. A significant part of my PhD work will be to help begin a hummingbird health monitoring program throughout the Rocky Mountain West based at the University of Wyoming. If you have any interest in participating in this, and/or know of locations frequented by hummingbirds in the summer in Wyoming or nearby, please let me know at bgodwin@uwyo.edu! ​
---
Jimena Golcher-Benavides
Advisor: Katie Wagner
---
Kristen Gunther
Advisor: Ann Hild
My research interests have to do with how ecosystem science is communicated. I study the transmission of ecological information, and the influence that communicatory tactics have on reception and knowledge among ecosystem managers. I am interested in finding out whether "priming" approaches can be used to influence how technical scientific information is received, and in turn potentially foster increased dialogue between scientists, managers, and other stakeholder groups. Currently, I am working on a project related to adaptive management approaches and ecosystem resilience.
---
Jiemin Guo
Advisor: Dave Williams
---
Embere Hall
Advisor: Anna Chalfoun
Embere is interested in the ecological effects of climate change, and how wildlife may adapt to a changing environment through exploitation of unique habitats or behaviors. As climate change continues to manifest, it is essential to develop management strategies that consider new paradigms, including the role that plasticity may play in species conservation. Embere examines American pika (Ochotona princeps) responses to climate change in alpine ecosystems. Results of her research will contribute to enhanced management programs that can minimize biodiversity loss under rapid climate change.
---
Monia Haselhorst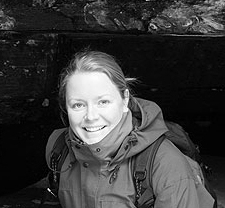 Advisor: Alex Buerkle
My research is focused on the processes of plant adaptation and speciation. I seek evolutionary and biographic explanations for why a plant is living where it is, how it ended up there and what made it possible for it to adapt to its environment. I am undertaking an integrated approach to pursue these questions and am working in the areas of ecological genetics and physiological ecology. An initial focus involves the dynamics of hybridization in North American Spruce and how hybrids can contribute to our understanding of the genetics of ecological differences between species.
---
Anne-Marie Hodge
Advisor: Jake Goheen
My main research interests involve the ecological mechanisms underlying niche partitioning and species co-existence, with a focus on predatory mammals. My master's research involved investigating complementary niche partitioning among sympatric carnivores in the eastern Andean foothills of Ecuador. For my doctoral research, I am studying top-down versus bottom-up influences on the structure of a highly diverse mesopredator assemblage in central Kenya. I will be teasing apart the effects of two anthropogenically induced challenges to mesopredator populations: climate change and declines in populations of apex predators. I will also assess how intraspecific variation in diet selection by mesopredators will be affected by the drying of East Africa as global climate change progresses.
---
Charley Hubbard
Advisor: Cynthia Weinig
---
Brett Jesmer
Advisors: Matt Kauffman and Jake Goheen
---
Guinevere Z. Jones
Advisor: Scott Shaw
My research has an entomological foundation and currently focuses on vertical stratification of insects within the high altitude cloud forests of the Eastern Ecuadorian Andes. My concentration is on the relationship between neotropical cloud forest plants, their lepidopteran herbivores and the hymenopteran parasitoids that use the caterpillars as hosts.
---
Melanie LaCava
Advisor: Holly Ernest
I am interested in applying genetic and genomic techniques to study wildlife populations, with a foundation in conservation. For my PhD, I will be applying molecular techniques to study the genetic health of pronghorn populations across the state of Wyoming. I also hope to incorporate other disciplines into my research, including landscape ecology and disease ecology.
---
Michele Larson
Advisor: Amy Krist
I will be studying factors associated with the invasion success and persistence of invasive gastropods in the Greater Yellowstone Ecosystem. One part of my dissertation research will focus on determining the influences of conductivity and calcium concentrations on the growth and survival of native and invasive gastropods to determine if conductivity is a limiting resource for the expansion of invasive gastropods. I will also be conducting field experiments on the dilution effect which looks at the influence of P. antipodarum on the level of parasites found in native snails. Additionally, I will be conducting a field study at multiple geographic locations to determine if trematode parasite diversity in snails can be used as a bioindicator of overall macroinvertebrate diversity in a stream or pond. And finally, I will be looking at the influence of eutrophic conditions on the spread of invasive snails.
---
Hilary Madinger
Advisor: Bob Hall
My research interests are broadly within stream ecology and aquatic biogeochemistry. Specifically, I am interested in using quantitative measurements of stream biogeochemistry to explain spatial and temporal variation in stream nutrient processing and aquatic microbial production.
---
Liz Mandeville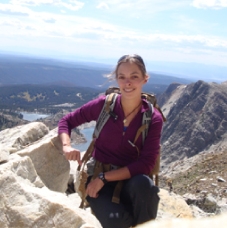 Advisor: Alex Buerkle
Website
I am interested in speciation, adaptation, and hybridization in aquatic systems, primarily in fish. My current research is focused on quantifying genomic outcomes of hybridization in Catostomus ​fish species ("suckers") in the Upper Colorado River basin in Wyoming and Colorado. By studying hybrids, I hope to better understand how reproductive isolation between species evolves and is maintained in natural populations. My research also has direct conservation implications, because hybridization in the Catostomidae​ is also a potential threat to conservation of native fish.
---
Robby McMinn
Advisor: Cynthia Weinig
---
Libby Megna
Advisor: Matt Carling
---
Kellen Nelson
Advisor: Dan Tinker
My primary interests lie in forest ecology, disturbance ecology, and landscape ecology. I holds a BS in Forestry Biology (2004) and a MS in Forest Ecology (2009) from Colorado State University.  For the last decade, I have participated in forest ecology research throughout Colorado and Wyoming examining forest management and carbon offsets and the effects of the recent mountain pine beetle outbreak on lodgepole pine forests.  After graduating with my MS degree, I spent two years working for the USDA Forest Service; first, as a monitoring analyst for the Washington DC office then as a technology transfer forester for the National Inventory and Monitoring Application Center.  In 2012, I decided to return to forest ecology research and pursue a PhD at the University of Wyoming.
---
Christopher North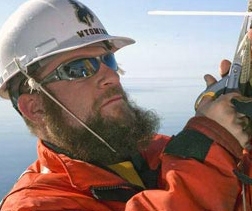 Advisor: James R. Lovvorn
Our work in the Bering Sea examines the effects of global warming, particularly decreases in the extent and duration of sea ice cover, on the bottom-dwelling (benthic) community. Reorganization of the benthic community due to climate change could have major impacts on species of conservation interest, such as the spectacled eider, gray whales, and walruses. Important snow crab and ground fish fisheries, among the most productive in the world, will also be impacted. Our group is building a food web-based ecosystem model to help managers plan for the changing future. I'm looking at the effect of climate change on the prey base, including abundant clams, which are the main food for many benthic predators (eiders, walruses, crabs, etc.). I'm also investigating the diet of sea stars and snails which are largely understudied but potentially important predators of the shared prey base.
---
Kennan Oyen
Advisor: Michael Dillon
---
Cody Porter
Advisor: Craig Benkman
I am interested in speciation, especially the evolution of reproductive isolation in incipient species, where the processes directly giving rise to divergence are most easily studied.  I am particularly interested in how natural and sexual selection interact during the speciation process and adaptive evolution in general.  Additional interests of mine include utilizing a quantitative genetics framework for studying the evolution of isolating barriers, the dimensionality of sexual selection, and measuring natural selection and reproductive isolation in natural populations.  At present, I am developing a research project to estimate the contribution of various isolating barriers to reproductive isolation between Red Crossbill (Loxia curvirostra complex) call types and the role that ecological variation plays in this process.  I am a passionate proponent of the importance of natural history in evolutionary biology and my current fascination (obsession might be more appropriate) with crossbills stems from their unique and well-characterized natural history.
---
Aaron Pratt
Advisor: Jeffrey Beck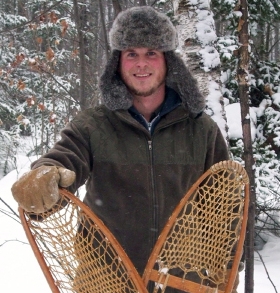 My experience and interests are in the field of wildlife ecology and management.  This has included working on large carnivores, ungulates, raptors, and upland game birds.  The project I am involved with here is looking at the response (demographic rates, movements, habitat use) of greater sage-grouse to bentonite mining in the Bighorn Basin.  We also have a secondary objective which is to describe the migration ecology of this population.
---
Cait Rottler
Advisor: Indy Burke
I grew up in Albuquerque, New Mexico, and during my undergraduate degree, I developed an interest in the relationships between people and arid/ semi-arid lands.  My current research focuses broadly on the impacts of human activities-- primarily those associated with energy development--  and climate change on semi-arid sagebrush steppe ecosystems in Wyoming.  Initially, I researched changes in vertical nutrient distribution in the soil across a sagebrush-lodgepole pine ecotone.  My future research will include plant community recovery, especially of forbs, on abandoned, unreclaimed well pads.
---
Ramesh Sapkota
Advisor: Pete Stahl
I am interested to work in the field of Restoration Ecology. My PhD research will focus on investigating forest community assemblage and quantifying the changes in forest dominance and other environmental variables due to forest degradation in Nepal. I hope to understand the nexus between change in forest structure and increased human pressures. I will try to investigate successful techniques for restoring degraded forest ecosystems in my study areas.  
---
Kurt Smith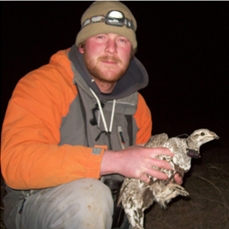 Advisor: Jeffrey Beck
I am broadly interested in fish and wildlife ecology, conservation, and management. My dissertation research seeks to identify response of Greater sage-grouse to treatments in Wyoming big sagebrush.
---
Heather Speckman
Advisor: Brent Ewers
---
Lauren Stanton
Advisor: Sarah Benson-Amram
My research interests lie in the cognitive mechanisms that facilitate adaptation. Specifically, I seek to understand how various aspects of cognition, such as innovation, learning, behavioral flexibility and personality, allow animals to cope with changing environments. I believe that, given our world's current biodiversity crisis, it is increasingly important for us to examine how an animal's ability to solve novel problems can increase its survival in a changing world. I will begin my dissertation research by investigating the advanced cognitive abilities of a familiar and highly adaptive species, the raccoon. By building an understanding of the skills raccoons employ when problem-solving, I hope to shed light on the cognitive processes used in successful adaptation to a variety of environments. Comparative studies between different populations, or among close relatives of raccoons, will further this understanding.  I anticipate that the results of my work will have important implications not only for wildlife conservation, but also for the welfare of ex-situ populations of animals living in captivity.
---
Rebecca Upjohn
Advisors: Ann Hild and Tim Collier
---
Richard Walker
 Advisor: Annika Walters
My primary research interest lies within the broad realm of aquatic ecology.  I am mostly fascinated in understanding how disturbances, natural or anthropogenic, influence the ecology of headwater streams.  My current research projects cover a broad range of topics but are particularly focused on how organisms survive and adapt in stressful environments.  I am continually in pursuit of projects that examine the resistance and resilience of aquatic organisms to stream drying.  For my dissertation project, I will be evaluating how multiple stressors interact to affect ecological change in headwater streams across multiple levels of ecological organization (e.g. physiology, population dynamics, community structure, and some ecosystem level responses).  To address my research questions, I plan to synthesize multiple years of fish presence/absence data, implement in-situ manipulative experiments in headwater streams of the Green River in the Wyoming Range, as well as conduct controlled laboratory experiments in which multiple stressors will be manipulated to assess their interactive effects.  With these projects I hope to gain a better understanding of how multiple stressors interact within headwater streams to influence ecological change.  Furthermore, I plan to disseminate our finding to managers and conservationists in hopes that they can better inform and change environmental policies that protect highly vulnerable ecosystems like headwater streams.
---
Rebecca Wilcox
Advisor: Corey Tarwater
---
Megan Wilson
Advisor: Tim Collier and Scott Shaw
I'm interested in reclamation and restoration science associated with energy development and how different reclamation practices affect the insect community and in turn, higher trophic levels.  My research is primarily focused on insects of importance to sage grouse chicks.  I'm interested in manipulating the plant species originally used to reclaim the land, to include more forbs and shrubs, to potentially increase the biomass of insect species vital to sage grouse development.  I'm also very curious about the effect ants have on a reclaimed community through seed dispersal and predation and possible protection of plants from herbivores.  
---
Yulia Yarkhunova
Advisor: Cynthia Weinig
My dissertation research focuses on the genetic basis of ecophysiological traits. More specifically, I'm studying how different Brassica rapa croptypes (cabbages, turnips, brocolletos and seedoils) vary in the expression of different ecophysiological traits like photosynthesis, stomatal conductance, biomass accumulation etc. For my current project, I'm growing Brassica rapa and associating those traits with circadian rhythms.