Tackling Campus Visits
September 13, 2018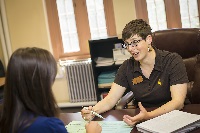 Talk to faculty and advisors to learn more about a university's culture.
By Sam Stein, School of Energy Resources Student Ambassador
Tackling Campus Visits                                                                                                                          
Your final year of high school is a crucial time to be thinking about the next steps towards your future. College visits are a great way to explore your areas of interest, get to know the campus and learn more about what to expect in the next phase of your life. To help you prepare for and get the most out of your college visits, we have come up with a few things to do while on campus.
Come prepared – Before making a trip to campus, be sure to look at the university's website and see what they have to offer. What majors are you interested in? Do they have student organizations that you might join? What type of community events are offered? These are all things to take into consideration and ask questions about during your visit to help you narrow down the colleges you might apply to.
Talk to advisors and faculty – While touring a campus you get to check out the majors you are looking into. Make it a point to meet the advisors or faculty (or at least get their contact information) because they will be able to provide you with more information about the program and help you discover your best fit. Here at the School of Energy Resources, you get to meet our advisor the day you visit – and we are more than happy to meet with you if you schedule an independent campus visit.
Places to study – Checking out places to study may help you decide how fruitful your college experience will be. Knowing where you can go to focus on English homework or get free tutoring on math problems is the best way to guarantee success. At the University of Wyoming we offer free tutoring for a wide range of subjects, as well as online tutoring, writing and oral communications assistance and more. You are always more than welcome to ask tour guides where the best places are to hammer out your homework!  
Student organizations and on-campus activities – Getting involved on campus can make college feel like home. University of Wyoming has over 250 Registered Student Organizations (RSO's) to choose from, but if you aren't able to find ones that speaks to you, you are encouraged to start your own organization! UW also offers a wide variety of clubs and intramural sports for our students.  Joining an RSO or club is a great way to get involved and make friends at the college you choose to attend.
Check out the town – Most of your first year of college is spent on or near campus, but that doesn't mean you shouldn't check out the town! See what restaurants and activities are within walking or biking distance so that when you do have the urge to go out with friends, you know what's available. This also gives you an idea of the kinds of things you can do later on in your college career when you live off campus and have the ability to go out more. Remember, feeling comfortable in the area your college is located plays a big role in how happy you will be in the long-run.
Visiting a college campus can be overwhelming, so make your experience as smooth and easy as possible by coming up with a list of activities, interests and must-haves for college. This is a great tool for you to ask pertinent questions when touring and to find a school that best suits you and your needs.
We hope that the general list we have provided gives some ideas as to what to look for, and that every campus visit you make lets you look forward to this new and exciting chapter in your life!
Schedule your UW campus tour today! Click here for more information.