SER Researcher Charles Nye Conducts Collaborative Soil Gas Sampling to Advance Wyoming CarbonSAFE Project
April 9, 2021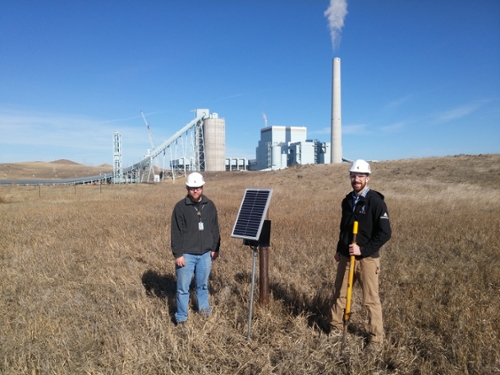 Pictured: Charles Nye (left) and Ben Flickinger (right) in front of Dry Forks Station
Charles Nye, a Research Scientist at the School of Energy Resources' (SER) Center of Economic Geology Research (CEGR) spent time in the field during March to install soil gas monitoring systems in an effort to advance the $33.1 million Wyoming CarbonSAFE project. The project, which is in its third phase of development, seeks to determine the feasibility of subsurface carbon storage in the Powder River Basin.
Soil gas analysis is one of the many pieces that make up the large-scale undertaking to fully characterize and monitor the area. As part of the environmental field operations, soil sample composition is intended to establish a baseline of the test site prior to any CO2 injection.  
"Much like rain seeping into the ground, atmospheric air can fill the empty space between dirt-particles in soil," explains Nye. "Because surface atmospheric air has some difficulty diffusing through the dirt-particles into the deeper subsurface, depths below ten feet have remarkably constant gas-composition year-round. At depths around three feet this constant subsurface gas is mixed with atmospheric air. By sampling gas from that depth, we can get enough contribution from the subsurface to determine what amount of CO2 is normal for the site."
In order to gain a comprehensive dataset of the soil gas composition over a long period of time, CEGR was faced with the challenge of devising an automated system for CO2 collection.
"The goal of this work is to learn how CO2 varies over a day, over different pressure weather cycles, and over a year of four seasons to establish a baseline for comparison if CO2 were injected by someone who chose to operate the site," says Nye. "We needed a system which takes many data-points so we could reliably filter out the surface effects and look for signs that a change has occurred in the deep soil."
As a revolutionary solution, Nye along with UW graduate Ben Flickinger of Earth Platform Systems (EPS) installed eight soil gas monitoring systems at the CarbonSAFE test site at Basin Electric Power Cooperative's Dry Fork Station and Western Fuels Dry Fork Mine near Gillette, Wyo. The soil gas monitors were placed near abandoned oil and gas wells.
According to Nye, the natural geology near Dry Fork Station is generally favorable for carbon storage/disposal, but the soil-gas instrumentation will help researchers determine the level of risk posed by these abandoned wells.  
"Human-made penetrations like these deep abandoned wells are one of the few remaining risks to CO2 storage," he says. "While this risk is fairly low, knowing the deep soil gas composition near the abandoned wells prior to injection will enable us to determine if any CO2 escapes from the storage reservoir along that pathway."
The systems themselves are the result of innovative and collaborative partnership. CEGR worked with Wyoming technology start-ups Engineering Design Group, LLC (EDG) and EPS to design systems that would allow data samples to be recorded and transmitted to a secure cloud-based web application multiple times throughout the day. For the fully integrated system, EPS designed the enclosure that collects the CO2 sample data, while EDG supplied their hardware and software platform which reads the CO2 sensor, secures the data path, and uses cellular technology to transmit the sensor readings to a web application. Regulated power is supplied to each system using EDG's smart battery charger, which sources power from a solar panel outside of the enclosure.
"EDG is proud to be a contributor of this important work," says Ryan Alford, founder and CEO of the company. "We've seen too many teams fall short creating reliable sensor monitoring platforms from scratch. While it can be straight-forward to prototype a concept with something like a Raspberry Pi or Arduino, there are major architectural challenges to maintain security and reliability for large datasets spanning multiple data paths. EDG is here to provide a platform that is rock solid and allow CEGR to maintain focus on their data." 
In addition to being efficient, the sensors are also versatile and cost-saving. Installation only takes around 15 minutes and if operations in the area require, the monitors are designed for easy relocation.
"This system has the advantage of collecting a sample every hour, and being affordable enough that we can deploy an array of sensors over the site," says Ben Flickinger of EPS. "The array-methodology allows us to tolerate the loss of a monitor – if for example, a cow knocked it over – and it reduces the need for researchers to make repeated trips to the site, saving valuable time and expense."
The soil gas monitoring system is scheduled to remain in place for two years, with an extension to a third year if funding permits. If CO2 is stored in the area at some future date, then it is possible the existing network will be expanded to become part of the long-term monitoring plan.
With nearly a month of data collected, Nye has already seen encouraging results from the sensors and a favorable outlook for long-term carbon storage.
"In addition to data from typical days, we've already seen the effects of a sudden spring blizzard which added over a foot of snow on top of the soil. That is data we never would have had if we collected soil gas manually," says Nye. "EPS and EDG's system has already returned more data than we would otherwise have, including situations we never would have sampled. Given enough time we should have good confidence determining integrity along these abandoned well pathways."
Nye has been with the School of Energy Resources since 2015. As a research scientist in the Center for Economic Geology Research (CEGR) he specializes in soil and water geochemistry and has served as task lead or Principal Investigator on several of CEGR's grants. Prior to the formation of CEGR, Nye worked as a research scientist at the UW Carbon Management Institute (CMI). He holds a bachelor's degree from Saint Olaf College and a master's degree from UW in Geology.