UW School of Energy Resources Staff Members Part of UW's Grand Challenges Initiative Planning Grants
June 29, 2021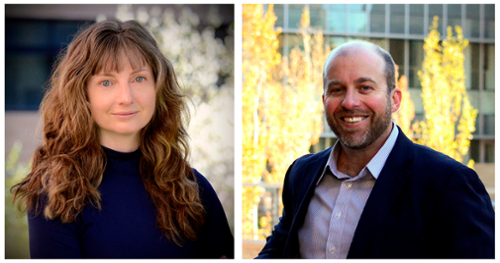 Spearheaded by UW's Office of Research and Economic Development, the Research Planning Council (RPC) of the Grand Challenges Initiative engaged the campus and the state to identify major themes for research investment at the University of Wyoming.
The Grand Challenges program promotes transdisciplinary, cross-college, Wyoming-wide collaborations addressing five themes: biodiversity and Earth system change; energy transition and economic diversification; rural health issues; public trust in research and information; and quality of democracy and equality.
Five collaborative projects have been selected as part of the program and address issues ranging from rural health to developing next-generation, secure, digital platforms that promote sustainable energy production, transport and consumption.
The School of Energy Resources' (SER) Emma-Jane Alexander and J. Fred McLaughlin are part of collaborative teams that were among the selected projects.
Alexander, who serves as the manager for the Shell 3D Visualization Center (3D Viz Center), is part of the project "Adapting Pandemic-Driven Technological Advancement to Expand Ecosystem Service Reach and Virtual Access to Wyoming's National Parks." This project aims to integrate digital technology with social media-driven and crowd-sourced conservation fundraising to build global and virtual, livestreamed access to Wyoming's world-class but remote wildlife viewing experiences."
Additional collaborators working with Alexander include: Jacob Hochard, the Knobloch Assistant Professor of Conservation Economics in the Haub School of Environment and Natural Resources; Amiee Reese, director of development with the UW Foundation; and Abby Sisneros-Kidd, an assistant professor of outdoor recreation and tourism management economics in the Haub School of Environment and Natural Resources.
"The 3D Viz Center is delighted to support Dr. Hochard's innovative project and is looking forward to exploring how digital technology can support virtual access to Wyoming's beautiful National Parks," says Alexander.
Along with Alexander, the project will be showcasing the talents of the 3D Viz Center's team. Mr. Patrick O'Toole, who is the 3D Viz Center Lead Scientific VR Developer, will be providing technical support, along with Mr. Josh Fitzsimmons, the 3D Viz Center Technology Associate Program student intern.
Meanwhile, McLaughlin will be working on an interdisciplinary team comprised of scientists, educators, and economists to address issues related to energy transition and economic development in Wyoming. Their project, "Next-Generation Secure Digital Ecosystems at the Nexus of Climate and Energy," aims to develop next-generation, secure digital platforms and promote sustainable energy production, transport and consumption via secure, decentralized monitoring and control systems.
McLaughlin serves as the interim director of the SER's Center for Economic Geology Research (CEGR) and brings a wealth of knowledge to the project. He will be working alongside Mike Borowczak, Department of Computer Science, College of Engineering and Applied Science; Christelle Khalaf, Center for Business and Economic Analysis; Alison Mercier, School of Teacher Education, College of Education; Bradley Rettler, Department of Philosophy and Religious Studies, College of Arts and Sciences; and Soheil Saraji, Department of Petroleum Engineering, College of Engineering and Applied Science.
"I really enjoy being a part of this project," says McLaughlin. "It is one of the most diverse research groups that I have ever worked with on campus, and it is very forward looking with respect to setting up new energy technologies to benefit the state."
Each of the successful planning grant teams had to develop collaborative research projects based on the Grand Challenges themes and presidential priorities. These planning grants are intended to help multidisciplinary teams of researchers build new areas of distinction and to develop further capacities for current projects.
To see further details of the five Grand Challenges projects, including project descriptions and team members from across campus, visit the Office of Research and Economic Development website.