SER Welcomes Karolina Klatka as New College Relations Representative
October 14, 2021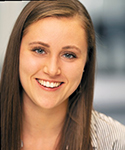 The School of Energy Resources (SER) recently hired Karolina Klatka as the new College Relations Representative. In her new role, Klatka will work directly with SER's Academic Program to actively recruit new students to the Energy Resource Management and Development (ERMD) degree program as well as the Energy Resource Management (ERM) minor.
A graduate from the University of Wyoming, Klatka earned dual degrees in Dance and Environmental Systems Science in 2020. Following graduation, Klatka spent a year at the Jagiellonian University in Kraków, Poland to complete a language certificate in Polish.
Originally from Poland, Klatka grew up in Colorado and has current familial ties to Rock Springs, Wyo. She was drawn to the University of Wyoming for its affordability, extremely reputable education, and her love of the outdoors.
"I really fell in love with Laramie," says Klatka. "Breathtaking nature and outdoor recreation are so accessible here. I love to hike, climb, snowboard and simply be outside. Paired with an affordable education, low student debt, and an emphasis on real-world learning, the University of Wyoming was the obvious choice."
Klatka will share her affinity for Wyoming with new and incoming students by drawing upon her recent experiences on campus, and utilizing her educational background to serve as a relatable, face of the School of Energy Resources.
"I am really Interested in energy and energy development because it is the future," she says. "It is important because Wyoming supplies so much energy to the rest of the US, and as much as I enjoy conservation, it goes hand in hand with energy. I look forward to bringing people with interests at both ends of the spectrum together."  
During her undergraduate degree at the Haub School of Environment and Natural Resources (ENR), Klatka gained valuable experience in multiple field internships throughout Wyoming and the region. She interned with the Teton Regional Land Trust doing conservation work, and also worked as a field technician to sample Wyoming plants and soil.  
In addition to applying the concepts she was learning in the classroom to real-world scenarios, the internships afforded her the opportunity to travel around Wyoming.
"I really enjoyed traveling around Wyoming so I am looking forward to doing more traveling and connecting with new people," adds Klatka. "I think the ERMD degree is exceptional and I'm excited to talk to prospective students about it and to diversify their interests. This degree has so many job opportunities and the potential to make an impact."
When Klatka isn't on the road or meeting with students, she is fully embracing an active lifestyle and immersing herself in the community. As an independent yoga instructor, Klatka can be found teaching in yoga studios both on campus and around Laramie.
The School of Energy Resources is pleased to welcome Klatka and excited about the zeal, accessibility, and knowledge she will bring to the position.
Dr. Kami Danaei, who serves as the Academic Director for the program, notes how uniquely qualified Klatka is for the position.
"Few things are as important as hiring the right person for a job, and we are fortunate to have Karolina at SER," she says. "Karolina is a prime example of how the University of Wyoming can offer educational opportunities for students to pursue all their interests and passions."
The ERMD degree program at SER focuses on interdisciplinary education and the role that energy plays in a wide spectrum of professions and career paths. The degree opens a world of possibilities, says Danaei.
"We are grateful that Karolina has expressed such praise in the strengths of our degree program and how valuable it can be for other students," adds Danaei. "We look forward to having her inform other students about the unique opportunities SER can offer."