Kyle Moore, M.S.
Vice Provost, Enrollment Management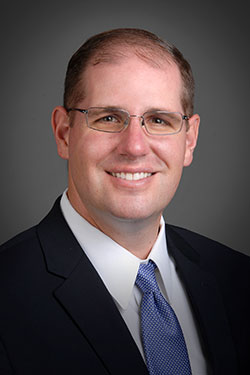 Kyle Moore serves as Vice Provost for Enrollment Management, guiding activities and offices that support student enrollment at UW. Examples of these areas of oversight include: orientations, room scheduling, Office of Admissions, Registrar, Scholarship and Financial Aid and Transfer Relations. At UW, Moore provides leadership for the university to recruit, enroll and support an academically strong and diverse student body in alignment with UW's goals for enrollment.

Kyle brings a track record of driving enrollment increases. It has continued at the University of Wyoming, which celebrated its first of many anticipated enrollment achievements in fall 2018, when it welcomed the largest entering class of first-time students in the university's history (1,879 FTIC). Although Moore's pathway into higher education is a bit unconventional -- he holds both a bachelor's degree in biological and wildlife science, and a master's degree in plant, soil and environmental science from West Texas A&M -- he believes he is a testament to other first-generation college students that completing a degree opens opportunities that would otherwise not be available.

Moore enjoys taking full advantage of the outdoor activities within the beautiful scenery around Laramie. He can often be found during the summer months enjoying time with his wife, Liz, and their two kids as they enjoy fly fishing as a family. Moore says his educational background has always paid off.