Office of Academic Affairs
1000 E. University Ave
Dept. 3302
Laramie, WY 82071
Phone: 307 766-4286
Fax: 307 766-2606

Professor Carol Frost,
Associate Provost for Undergraduate Education and Budgets

Education
Ph.D., Cambridge University, 1984
A.B., Dartmouth College, 1979
Dr. Carol Frost currently serves as UW's Associate Provost for Undergraduate Education and Budget.  She joined the University of Wyoming faculty in 1983 as an assistant professor in the Department of Geology and Geophysics, where she established the radiogenic isotope geology laboratory. Her research interests include the origin and evolution of the continental crust, the classification and petrogenesis of granites and related rocks, and the application of environmental isotopes to problems related to energy and environment. Although her geological research spans the globe from Norway to New Zealand, many of the critical observations that catalyzed new ideas and interpretations have come from the spectacular exposures in Wyoming of some of the world's oldest and best-preserved ancient crust.
Professor Frost teaches a wide array of undergraduate and graduate courses, including physical geology, geochemistry, mineralogy, petrology, isotope geology, and Earth system science.
Dr. Frost has served UW in a variety of administrative positions including founding Director of the School of Energy Resources, Associate Vice President of Research, and Vice President for Special Projects. In these roles she undertook varied initiatives, including the formation of an institutional research program in carbon sequestration, development and implementation of a strategic plan to raise the quality of graduate education, coordination of a faculty task force establishing an interdisciplinary program in biodiversity conservation, and a successful program to raise undergraduate assured admission standards at UW.
Carol and her husband, Eric Nye, are the parents of a grown son and daughter who refer to their mother as "a bit of a jock." She tries to live up to this description by doing as much skiing, running, hiking, and climbing as possible.
Professional Awards
2008: George Duke Humphrey Award (UW's highest faculty award)
2001: Wyoming Professor of the Year
2000: University of Wyoming Presidential Speaker
1998: Fellow, Mineralogical Society of America
Selected Professional Service
2011-present: Vice President, Wyoming State Geological Survey Advisory Board
2009-present: Science Editor, Geosphere
2011-2013: President, Phi Beta Kappa Alpha of Wyoming
2007-2010: Councilor, Mineralogical Society of America
2005-2009: Board of Professional Geologists, State of Wyoming
1993-2011: Service on 5 NSF and Canadian NSERC panels
1991-2012: Service on 3 editorial boards and guest editor of 5 themed issues
Selected Recent Publications (from a total of more than 125 papers and books)
Frost, B.R., and Frost, C.D., 2013, Essentials of Igneous and Metamorphic Petrology, Cambridge University Press.
Frost, C.D., and Frost, B.R., 2013, Proterozoic Intraplate Ferroan Magmatism. Precambrian Research v. 228, 151-163, doi: 10.1016/j.precamres.2013.01.016.
Quillinan, S.A., and Frost, C.D., 2012, Spatial variability of coalbed natural gas produced water quality, Powder River Basin, Wyoming: implications for future development. Wyoming State Geological Survey Report of Investigation No. 64, 58 pp.
Frost, C.D., and Mailloux, J.M., 2011, Establishing appropriate water quality numeric standards under the Clean Water Act: lessons from a case study of coalbed methane produced water discharge to the Powder River, Wyoming and Montana. Wyoming Law Review, v. 11, no. 1, 1-23.
Frost, C.D., and Frost, B.R., 2011, On ferroan (A-type) granites: their compositional variability and modes of origin. Journal of Petrology, v. 52, 39-53.
Frost, C.D. and Jakle, A.C., 2010, Geologic carbon sequestration in Wyoming: prospects and progress. Rocky Mountain Geology, v. 45, 83-91.
Fenner, J.N., and Frost, C.D. 2009, Modern Wyoming plant and pronghorn isoscapes and their implications for archaeology. Journal of Geochemical  Exploration, v. 102, p 149-156.
Sharma, S., and Frost, C.D., 2008, Tracing coal bed natural gas co-produced water using stable isotopes of carbon. Ground Water, v. 46, 329-334.
Carol Frost's departmental webpage - visit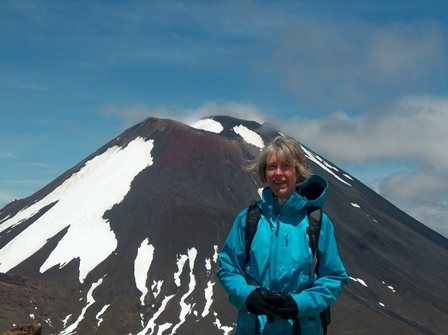 Carol at Mount Ngauruhoe, New Zealand.
Share This Page: