Archived Academic Initiatives
The
Tier-1 Engineering Initiative
was created to elevate the college to new heights of excellence in education, research and service.  It provides greater opportunities for students to work with world-class faculty in nationally ranked programs and engage in cutting-edge research and learning. Subsequently, degrees from a Tier-1 institution have a brand that is nationally recognized and globally respected.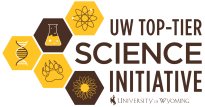 The
UW Science Initiative
began in 2014 when Governor Mead and the Wyoming Legislature challenged the University of Wyoming to develop a plan to address outdated science laboratories at UW and improve the quality of instruction and research in the sciences. A task force, appointed by Governor Mead and informed by faculty representatives, developed a transformational vision for UW's core science programs in Botany, Zoology & Physiology, Molecular Biology, Chemistry, and Physics & Astronomy.
The purpose of
Trustees Education Initiative
(TEI) is to elevate the College of Education to the status of a preeminent college in professional educator preparation. The TEI Governing Board will receive recommendations from a TEI National Advisory Board and work groups comprised of Wyoming students, parents, educators, school leaders, state officials, and university faculty.