West Campus Energy Plant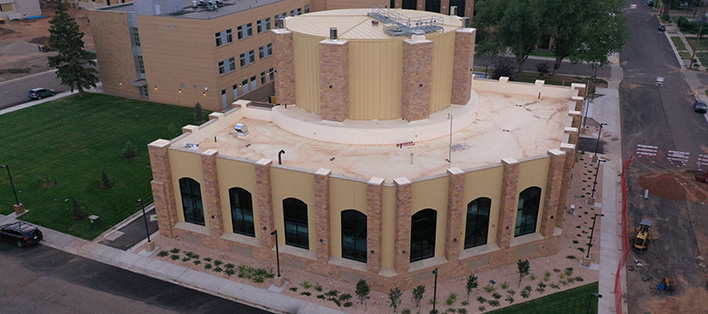 ---
The University of Wyoming West Campus Satellite Energy Plant (WCSEP) was constructed to accommodate the heating and cooling demands of the growing north campus corridor and provide more efficient systems to main campus buildings. The project supports the Campus Utilities Master Plan including the new Student Housing and Dining project.
The facility is a combination boiler plant and thermal energy storage tank. The thermal energy storage component provides cooling demand. Thermal energy (chilled water) is produced during periods of off-peak electrical demand, collected in a thermal energy storage tank, then withdrawn and distributed to facilities during on-peak periods. Chilled water enters and exits the tank through diffusers located at the top and bottom of the tank. These diffusers are designed to eliminate turbulence and allow the water in the tank to stratify, with the colder and denser water at the bottom and the warmer water at the top. A narrow and sharply defined thermocline, or transition layer of water, will form between the warm and cold-water regions. When the discharge operation is complete, the tank will contain mostly warm water and is ready for the start of the "charging" mode. In the charging phase warm water is withdrawn through the top diffuser, sent to the University of Wyoming Central Energy Plant (CEP) cooling towers. After being cooled the water is returned to the tank through the bottom diffusers.
The boiler component is no different than the mechanical process in the majority of buildings along Lewis St. The boilers in the building heat water and distribute it through fan coil units, fin-tube radiators, or terminal boxes with variable air volume for temperature control. In the case of the WCSEP, boilers are housed in the plant and hot water is distributed through direct-buried piping to campus buildings. The boilers are energy efficient condensing boilers fueled by natural gas. The total direct buried piping installed in the initial phase of this project contains approximately 5,500 lineal feet of 12-14" hot water supply and return piping and 10-12" chilled water supply and return piping.
Contractor: GE Johnson Construction, Jackson WY 
Architect: GLHN Architects & Engineers, Inc.
Construction Schedule:
Construction Start: Fall 2019

Construction Complete: Fall 2021
Project Size: 13,000sf
Project Budget: $37,000,000
Project History:
Design Team Selection – Spring 2017

Exterior Design Advisory Committee Approval - October 2018
Campus Impacts: