Homecoming 2020
Saturday, October 10 – Saturday, October 17, 2020
   UWAA COVID-19 UPDATE:
In alignment with the University of Wyoming's (UW) efforts to further reduce transmission of the Coronavirus, the UW Alumni Association staff will be working remotely indefinitely until we receive further guidance from the university. While working remotely, we will have limited access to some resources, but will continue to respond to inquiries as promptly as possible. During this challenging period, we are committed and prepared to move our work forward effectively in service to our alumni, students and friends. Check the university's official coronavirus page for more information. Thank you and Go Pokes!

The game date may move to Friday, October 16th for a nationally televised broadcast.
 Thank you to our Homecoming 2020 Sponsor
---
 50th Club Reunion
The 50th Club Reunion will be from Thursday, October 15th to Saturday, October 17th celebrating the class of 1970 and all alumni who have graduated prior. Registration details will be made available this summer.
It is recommended to book your hotel stay early. The UWAA has a limited hotel block at the Holiday Inn. For instructions on how to book, please contact our office at 307-766-4166 or uwalumni@uwyo.edu.
Other hotels in the area for reference:
AmericInn: (307) 745-0777 | 4712 E Grand Ave.

Best Western: (307) 745-5700 | 1767 N Banner Rd.

Comfort Inn: (307) 459-4262 | 1655 Centennial Dr.

Fairfield Inn: (307) 460-2100 | 1673 Centennial Dr.

Hampton Inn: (307) 742-0125 | 3715 E. Grand Ave.

Quality Inn: (307) 721-8856 | 3420 E. Grand Ave.
---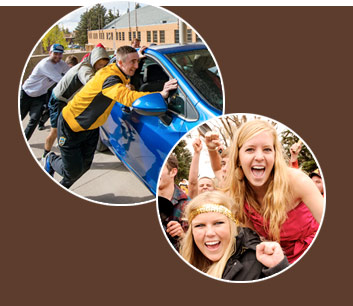 Student Activities 
All University of Wyoming students are welcome and encouraged to participate in the student activities taking place during Homecoming. Homecoming events are posted as they are confirmed.  Learn more >
Homecoming Activities
Homecoming events are posted as they are confirmed.
---
Parking & Campus Maps
---
Distinguished Alumni and Medallion Service Awards
The recognition of alumni who have distinguished themselves after graduation is a testament to the quality of the academic and student life at the University of Wyoming. The Distinguished Alumni and Medallion Service Awards have served as a long-standing Homecoming tradition recognizing outstanding UW alumni and individuals who have attained excellence in their careers or professions or have provided outstanding service through time, talent, affection, and dedication to the University of Wyoming and thus brought honor to UW. The first Distinguished Alumnus was Emory Land in 1953 and the first Medallion Service Award Recipient was Lloyd Eaton in 1968. To date, 201 and 40 individuals have been recognized as Distinguished Alumni and Medallion Service Award Recipients. A list of the recipients can be found on the UW Alumni Association website.