Saturday, October 12 to Saturday, October 19
2019 Homecoming Sponsor
---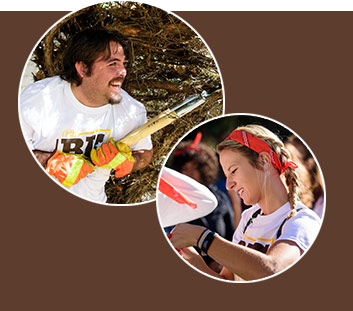 The Big Event and 2019 Homecoming Kickoff
Saturday, October 12 | 9:00 a.m. - 2:00 p.m.

Presented by the Service, Leadership and Community Engagement Office          
WHAT IS THE BIG EVENT? Throughout the years, the community of Laramie has shown endless support to the students of UW. The Big Event's goal is to reciprocate that appreciation to residents.
MISSION Through service-oriented activities, The Big Event promotes campus and community unity as University of Wyoming students come together for one day to express their gratitude for the support from the surrounding community.
CORE VALUES The Big Event is an event that strives to uphold the ideals of unity and service. This one-day event is not based on socioeconomic need, but rather a way for the student body to express their gratitude to the entire community which supports the University. It is important to remember The Big Event is not about the number of jobs completed or the number of students who participate each year. Instead, it is the interaction between students, and residents and the unity that results throughout the community that makes The Big Event such a unique project.
Volunteer registration will be open early August through October 7 and volunteers can register at uwyobigevent.com.
For questions regarding The Big Event, please email bigevent@uwyo.edu or call 307-766-3117.
---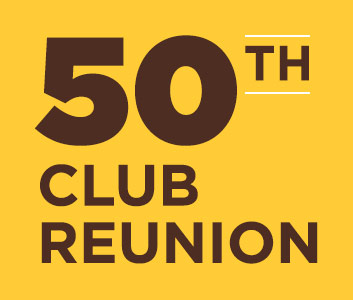 50
th
Club Reunion
Friday, October 18 - Saturday, October 19. Celebrating the Class of 1969 and all alumni who have graduated prior. For a hardcopy registration packet, please contact the UW Alumni Association office at 307-766-4166 or uwalumni@uwyo.edu. You can register online at uw.uwyo.edu/reunion. 
---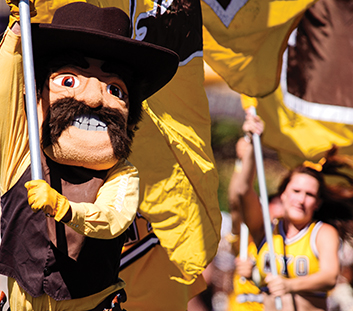 Cowboy Coffee, Alumni and Friends Reunion, Pokes Pre-Game Pep Rally
Saturday, October 19 | 7:00 a.m. – 12:00 p.m.
Join the UW Alumni Association and the UW Foundation for Cowboy Coffee from 7:00 a.m. to 10:00 a.m. at the Marian H. Rochelle Gateway Center, 222 S. 22nd St. Complimentary UW Travel Mugs (one per person) and breakfast items available while they last. Following Cowboy Coffee, join us at 10:00 a.m. for the Alumni and Friends Reunion in conjunction with the Pokes Pre-Game Pep Rally. Complimentary appetizers while they last and a cash bar. The first 100 people to attend the reunion will receive a complimentary Homecoming pin and lanyard. UW head football Coach Craig Bohl will speak at the Pokes Pre-Game Pep Rally at 10:45 a.m. followed by the Cowboy Walk. The pep rally will also feature Western Thunder Marching Band and UW Cheer. The title sponsor for the reunion is First Interstate Bank and is also sponsored by Black Hills Energy. The reunion will conclude at 12:00 p.m.
---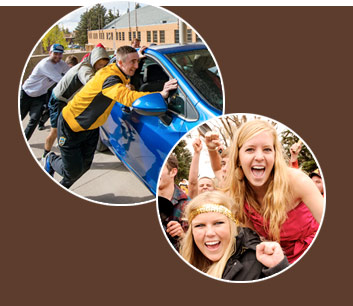 Student Activities 
All University of Wyoming students are welcome and encouraged to participate in the student activities taking place during Homecoming.  Learn more >
---
 Pre-register to receive Homecoming t-shirt!
Pre-register for Homecoming by Sunday, October 6th to receive your UW Alumni Association Homecoming t-shirt. The t-shirt is only available through pre-registration. Limited quantities. T-shirts must be picked-up in person, will not be mailed. To pre-register and for more information visit http://uw.uwyo.edu/register19.
---
Golden Boot Competition for UW Offices and Laramie Businesses!
The Golden Boot Competition is a long standing homecoming tradition where any UW department or Laramie business can decorate their office based on the current year's Homecoming theme. Your decoration photos will be judged based on UW spirit/enthusiasm and originality/creativity in keeping with the 2019 Homecoming theme "Breaking Through."
Submit decoration photos by Wednesday, October 16 at midnight to uwalumni@uwyo.edu. One UW department and one Laramie business will be selected as winners and be announced through the UW Facebook page on Friday, October 18. The winners will get to proudly display the Golden Boot for the year!
Restrictions: You may only use personnel & decorations created from your office. Smaller offices with only a few personnel may join another office in close proximity to compete.
Contact Emily Vernon at evernon@uwyo.edu or Sarah Luke at sarahc@uwyo.edu.
---
Submit a Homecoming Activity
The Alumni Association is currently gathering information for the 2019 Homecoming schedule. We are happy to provide publicity for anyone sponsoring an activity over Homecoming in which you would like to have alumni and general public involvement. Your activity will be promoted in the online Homecoming schedule and in the printed booklet that is available during Homecoming registration.
In order to have your event listed online and in the printed version handed out at Homecoming, please submit the event form by Monday, October 7 to Emily Vernon at evernon@uwyo.edu or fax to (307) 766-6824. You can also submit your activity electronically at uw.uwyo.edu/hc2019. Please contact the Alumni Office with questions at (307) 766-4166 or uwalumni@uwyo.edu.  
---
---
Parking & Campus Maps
---
Distinguished Alumni and Medallion Service Awards
The recognition of alumni who have distinguished themselves after graduation is a testament to the quality of the academic and student life at the University of Wyoming. The Distinguished Alumni and Medallion Service Awards have served as a long-standing Homecoming tradition recognizing outstanding UW alumni and individuals who have attained excellence in their careers or professions or have provided outstanding service through time, talent, affection, and dedication to the University of Wyoming and thus brought honor to UW. The first Distinguished Alumnus was Emory Land in 1953 and the first Medallion Service Award Recipient was Lloyd Eaton in 1968. To date, 198 and 40 individuals have been recognized as Distinguished Alumni and Medallion Service Award Recipients. A list of the recipients can be found on the UW Alumni Association website.