Animal Science Internship Program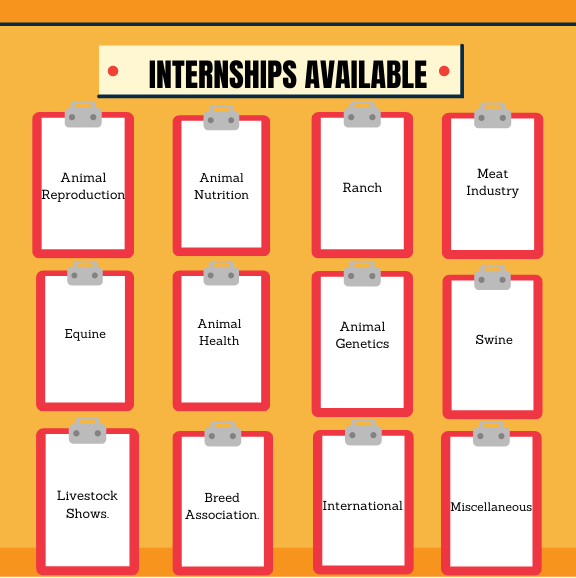 Virtual Internship Board
Are you looking for internships to apply for? Check out our virtual internship board! There are many internships available across different fields of animal science. To see a list of current internships available, click on the image to the left. Then, click on the clipboard that corresponds to the field you are interested in!
Internship Spotlight!
Elana TerAvest, a senior in the UW Animal Science Department, completed a 3-month internship with the 6666 Ranch in Guthrie, TX during the summer of 2020. As a Sales Prep Technician intern, Elana was able to not only witness the work and commitment put into the historic 6666 ranch, but was able to develop her veterinary and horsemanship skills through immense hands-on training. Her days started early and ended late, but the time spent treating horses, training yearlings, and assisting the ranch operators in daily tasks was well worth it. Be sure to watch the video she put together to showcase her summer experience!
The application deadline for the Sales Prep Technician Internship is Dec. 31.
For more information on all internships offered by 6666 Ranch, visit 6666ranch.com/employment-and-internships/
---
Student Internship Testimonials
Learn more about various internships by watching the student internship testimonials. Past UW Animal Science Department students created these promotional videos after completing their internships across the country.
---
Cowboys Across the Country
Interactive Internship Map
Want to see all the great places our students have gone to intern and learn more about the companies they have worked with? Check out our interactive internship map below! Simply click on a cowboy to learn about the internship and the company it was completed with. Who knows, maybe the next cowboy on the map will be you!
---
Here is how the internship program works.
Internships are a great way to acquire "hands-on" experience in a field of interest to the student and provide learning experiences that are difficult, if not impossible, to realize in a classroom setting. Although internships are completely voluntary, all undergraduate students are encouraged to do an internship at some point in their academic career. Internships are especially recommended for students with sophomore/junior status as it allows for evaluation of career choices and opportunities prior to graduation. Although most internships are conducted during the summer months, internships can be done any time of the year (i.e. during the semester, during holiday breaks, or simply on weekends, etc.). 

The University of Wyoming allows students to earn academic credits for their internships. Students are limited to a maximum of 8 credit hours of internship during their academic career. For each internship completed, students will earn 2 hours of credit after preparing a paper describing their internship learning experiences and a 5 to 10-minute promotional video. More detailed requirements for each of these may be found at the bottom of this page in the "Internship Overview" link.

Our departmental internship coordinator, McKensie Harris, is available to help students find and secure internships. Initial contact with a potential cooperator may be made by the student or at the suggestion of their academic adviser or the internship coordinator. Once an internship opportunity is secured by a student, a completed Memorandum of Agreement Form (found in a link at the bottom of this page) must be completed before the start of the internship. This is an online form that requires approval by the cooperator, academic advisor, department head, and internship coordinator. 
---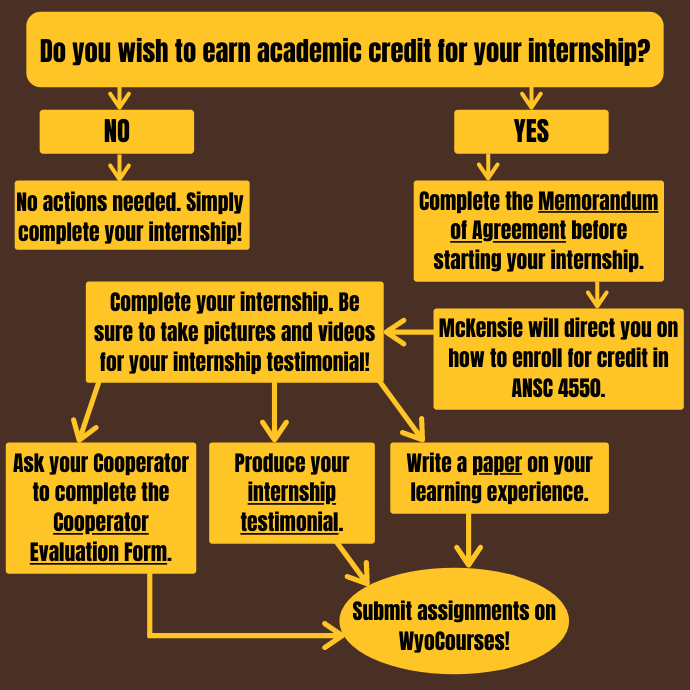 I've been accepted as an intern with a company. What's next?
This flowchart gives simple, step-by-step instructions as to how to complete your internship for credit. Click the flowchart. Then click the underlined words to access the forms and rubrics needed for your internship. If you have questions, please contact the internship coordinator, McKensie Harris. 
---
If you have any questions about the internship program, please contact:

McKensie Harris
Internship Program Coordinator
AS/MB Rm 112, Department of Animal Science, University of Wyoming
1000 E. University Avenue, Laramie, WY 82071
Phone: 307-766-2334
Fax: 307-766-2355
Email: mckensie.harris@uwyo.edu
---