About University of Wyoming Army ROTC
Cowboy Battalion
Army ROTC is a physically and intellectually challenging program available at 276 universities across the nation.  We strive to make our cadets and program the very best of those 276.  
Our goal is to produce servant leaders of high character and achievement. Cadets will complete a curriculum of leadership training, while also completing an undergraduate or graduate degree.  The end result of completing ROTC and your degree? Commissioning into the Army as a Second Lieutenant. The available options after commissioning are serving on active duty, in the national guard (you choose the state), or in the Army reserves.
There is no commitment to serve in the Army while participating in the first two years of Army ROTC unless the student is on an ROTC scholarship.* Prior to the junior year of Army ROTC, all students must contract with the Army in order to complete the junior and senior years of the program and agree to a minimum service obligation.
*If you are not initially awarded a scholarship, you can still come to our program and compete for available scholarships.
---
Life as a Cadet
Weekly Schedule
Physical Training
Monday, Wednesday, Thursday @ 0550-0700
Classroom Instruction
A class taught  twice a week by Cadre that teaches Cadets the science of leadership and Army tactical concepts.

Offered Monday/Wednesday and Tuesday/Thursday*
Tactical Lab
A weekly training event that develops Cadets' tactical knowledge.

Gives cadets practice at leading and using teamwork to accomplish a mission.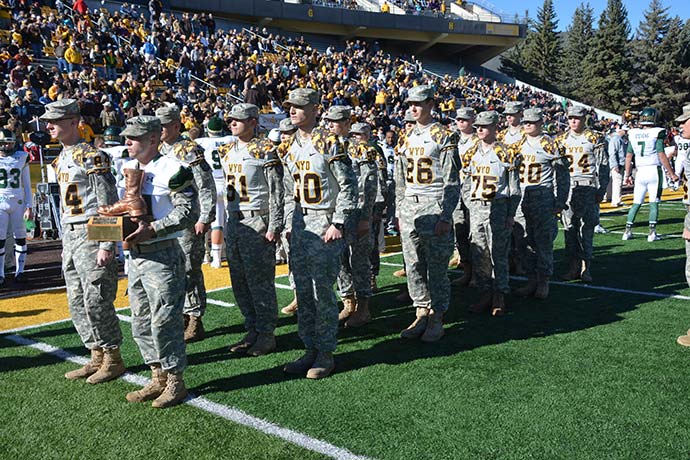 Fall Semester Events
Dining In
Participate in at least two home football games (Cannon Crew, Field Goal net, LESS)
Bronze Boot Run
Field Training Exercise at Camp Guernsey (3 day weekend)
Junior Raider Challenge (1 Saturday)
Fall Semester Available Special Teams
Army 10 Miler
Cannon Crew
Color Guard
Ranger Challenge
Spring Semester Events
Military Ball
Participate in at least one basketball game (LESS)
Field Training Exercise at Camp Guernsey (3 day weekend)
Spring Semester Available Special Teams
Bataan Death March Team
Color Guard
Ranger Buddy