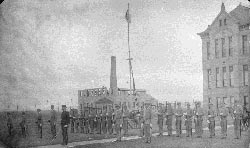 Military training at the University of Wyoming began in 1891 under 1LT D. L. Howell. In that first year, 55 cadets were organized into a battalion of two companies and trained in marching and foot drills as there were no rifles to train with. Cadets were required to provide their own uniforms at a cost of $18.
---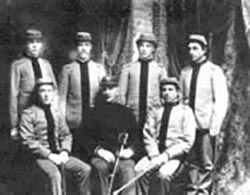 From 1895-1898, CPT Charles Varnum served as the Professor of Military Science.  As a Lieutenant he served under Lieutenant Colonel George Armstrong Custer at the Battle of the Little Big Horn as chief of scouts.
---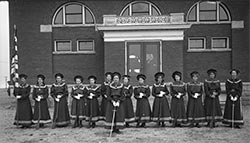 Wyoming cadets first saw action during the Spanish American War. Twenty-six students volunteered. Six served as enlisted Soldiers and three obtained commissions as Army officers.
After the Spanish American War, the Department of Military Science expanded, allowing two all- girl drill companies in 1902. These companies participated in regular drills with the male military students. During these early days, students received training in three areas Cavalry, Infantry, and Artillery.
---

In 1916, the National Defense Act created the Reserve Officer Training Corps (ROTC). On October 31, 1916, the University of Wyoming became one of the first seven institutions in the nation to install an ROTC unit.
World War II brought many changes to ROTC training on campus. In 1941, the Army and Navy preliminary ground school and flight training program was created and in 1943, a Cadet Nurse training program was established.
---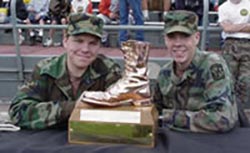 After the Army Air Corps became the U.S. Air Force in 1947, the Army ROTC program split into two entities. In 1949, the Air Force ROTC department was officially established.
A proud tradition was born in 1968 that still stands to this day. The Bronze Boot Run began in when CPT Dan Romero and MAJ Vic Fernadez of CSU decided the school should have a traveling trophy. One of CPT Romero's combat boots from Vietnam was bronzed and has been presented as the Bronze Boot trophy at each UW and CSU football game ever since.
---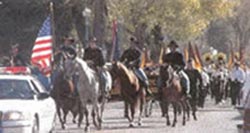 In 1972, females were allowed to enroll for the first time in Senior ROTC. In 1973, 8 females participated in the program at UW. The program had its first female Battalion Commander in 1976.
For the last four decades, the University of Wyoming Cowboy Battalion has continued the traditions of leadership excellence that began in 1891. The Cowboy Battalion has gained recognition across the country for its proud legacy of producing servant leaders of character for our Army.
---
For a complete history of the Cowboy Battalion read this UW Army ROTC History (Microsoft Word).
For more historical photos of the Cowboy Battalion view our archive at the American Heritage Center.
More photos coming soon! Additionally, here is a brief history (PDF) of our Mounted Color Guard team.
---