RE-ENVISIONING THE LABORATORY: SCI-ART SYMPOSIUM
Catalyzing collaboration, scholarship, and community through interdisciplinary conversations and presentations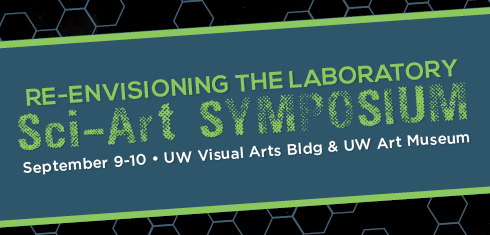 ---
SYMPOSIUM INFORMATION
The 2016 Sci-Art Symposium provided a forum for inspiration, scholarly research, networking and opportunities to get the tools, methods and momentum to take on innovative interdisciplinary work across community, disciplinary, and topical boundaries. Sessions were organized into five thematic categories: influences and opportunities, processes and methods, outcomes and products, challenges and opportunities, and next steps and future applications. Keynote address featured artist-biologist Brandon Ballengée.
SCHEDULE OF EVENTS

SESSION DESCRIPTIONS

PRESENTER BIOS

LOCATION
University of Wyoming
Visual Arts Building
22nd and Willet Drive
Laramie, WY 82071
---
Re-envisioning the Lab: 2016 Sci-Art Symposium was made possible by University of Wyoming Art Museum, in partnership with the Biodiversity Institute, Haub School of Environment and Natural Resources, Department of Art and Art History, Science and Math Teaching Center and MFA in Creative Writing.