Interstitial: Between Earth and Sky
Ongoing 2012
---
Interstitial: Between Earth and Sky by Gerri Sayler (American, b. 1950) explores her fascination with water, clouds and the spaces that exist between land and sky. Perpetually in flux throughout the day, the gossamer sculpture transitions between opacity and translucency, light and shadow. The artist creates the membrane-like fibers by drawing onto water with molten hot glue, which rapidly cools to form the filigree strands.

During artist residencies in Wyoming last year, Sayler was inspired by the freeze-thaw cycles of mountain-fed rivers and the cloud-forming processes of evaporation, condensation, and precipitation. The shape, materials and tactility of her sculpture reflect her explorations of form and texture, which also function metaphorically for the artist to reference the cycles of nature and the nature of time.  

Interstitial is the final installation featured as part of Sculpture: A Wyoming Invitational, an exhibition that began in 2008.
Funded in part by an anonymous sponsor and the Wyoming Cultural Trust Fund.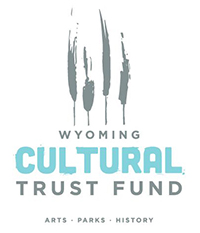 ---
Suspended from the skylight beams in the museum's lobby, Interstitial is a site-specific installation by Idaho artist Gerri Sayler that evokes a canopy of overhanging clouds. Comprised of thousands of feet of monofilament hand drizzled with hot glue, the work sparkles in the morning sun and creates a continuous interplay of light and shadow. Sayler discusses her installation that is the final work to be included in Sculpture: A Wyoming Invitational.
---
Image:
Gerri Sayler (American, b. 1950), Interstitial: Between Earth and Sky, 2012, hot glue, monofilament, installation view, Centennial Complex Lobby, courtesy of the UW Art Museum.