February 17 - August 11, 2018
South Two Gallery
---
Interface
noun \ in·ter·face  \ ˈin-tər-ˌfās \
1. a: a surface forming a common boundary of two bodies, spaces, or phases
2. a: the place at which independent and often unrelated systems meet and act on or communicate with each other
    b: the means by which interaction or communication is achieved at an interface
An interface occurs whenever any two things come in contact. A thing could be defined as almost anything, including people, places, objects, physical process, or even ideas. Contact could be defined as simply as physical contact, or more complex interactions like a relationship between two people. The act of reading a book, or the point at which your feet meet the ground, are both examples of distinct interfaces.
Jon Lodge is an artist that finds himself motivated by the interface between process and material. To that end, the works on display in this exhibition were composed by interfacing the stochastic process with carefully selected materials. The stochastic process, as described by the artist, is a 'planned random' method of art generation; Planned, in that the artist designs a system with a number of possible outcomes; Random, in that any of those potential outcomes may be generated as the processes play out. Using the stochastic process, the artist is capable of generating an almost infinite number of visually striking combinations by carefully engineering only his processes to interface in meaningful ways with his materials.
Jon Lodge was born in Red Lodge, Montana in 1945. In the 1960s, he studied jazz performance and composition at the Berklee College of Music in Boston. Even after he transitioned into photography, printmaking and visual art in the 1970s, Lodge continued to find himself influenced by his time as a musician. Lodge lives and works in Billings, Montana.
Lunchtime Conversations with Curators, Wednesday, May 2, 2018, 12:10 - 12:50 p.m.

Visiting Artist, April 17-19, 2018;  Gallery Walk-through & Live Materials Demonstration, Thursday, April 19, 10:30-11:30 a.m.

Funded in part by UW Art Museum Gala Funds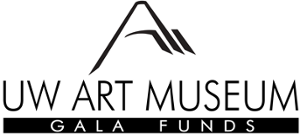 Images: 
Left: Jon Lodge (American, b. 1945), Surface tension 29: Vibration/Pulse Sequence Modules (Tone Row), 2017, gesso, carbon particle substrate, and graphite on Fuji Mylar laminated paper, 29.125 x 26.5 inches, courtesy of the artist
Right: Jon Lodge (American, b. 1945), Polyphonic Sound Module, 2017, pre-stressed/torqued paper filaments, gesso, graphite, glue, and litho ink on Fuji helium-neon laser sensitive aluminum printing plate, 29.125 x 26.5 inches, courtesy of the artist