WyoSecure VPN Information and Frequently Asked Questions
Connecting Securely to the UW Network from Off-Campus
IT provides protection from hacker attacks. This requires balancing computer and network access for faculty, staff and students with securing sensitive data such as student information, personnel materials, financial records, and medical information. UW's network firewalls help limit these hacker attacks coming over the Internet by requiring valid usernames and passwords from our users accessing our network from off campus. This access to the UW computers is called a VPN or Virtual Private Network. UW's VPN is named WyoSecure. There are different types of VPN connections and each one gives a different level of access. Below is an overview, followed by more detailed information on each connection type.
UW Connection Types
WyoSecure VPN
Use for any remote connection; including non-public websites and self-service.

Log in at: https://wyosecure.uwyo.edu

Requires username and password.

Two-Factor Authentication

›

Use when downloading software from the UW network.

Within WyoSecure, click Start next to Network Connect.

This will install a program on your computer allowing network access.
WyoSecure is used as part of all remote access connections. Two Factor Authentication and Network Connect allow access to areas that cannot be accessed with WyoSecure alone. WyoSecure will allow access to self-service and non-public websites. It requires a valid UW username and password to login. Some of these areas may require a higher level of security in the future.
Through WyoSecure (https://wyosecure.uwyo.edu) a user can create a VPN connection without installing any additional programs on your computer. Since no additional program is needed, WyoSecure can be used on any device equipped with Internet access, including smartphones, public computers, or tablet computers. There is also a feature to allow users to create bookmarks to automatically connect to internal UW websites and UW file storage. Only certain browsers are supported (http://www.uwyo.edu/infotech/services/network/vpn/sslvpncompat.asp).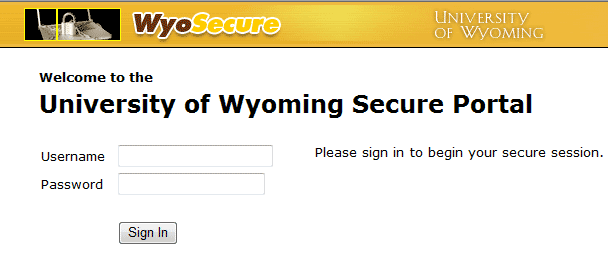 Two-Factor Authentication
UW usernames and passwords can, and often are, compromised (hacked).
Users who access HRM, PeopleSoft, or UW financial information remotely need two-factor authentication for that access to be secure.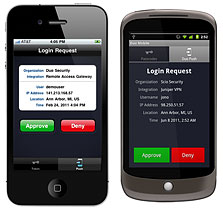 Similar to your online bank accounts, UW users who need to access certain UW computers from off campus are now requested to use two methods to verify their identity. This is called two-factor authentication, since the identity of the user is verified in two ways: 1) their username and password and 2) their identity through a, simple, easy to use application on their cell phone. While hackers half a world away may be able to steal or hack a username and password, they cannot get access to a phone in the user's possession. Users will need to log into the two factor authentication site (https://wyosecure.uwyo.edu/2f) to use two factor authentication.
For users who do not have a smartphone, authentication can also be created by entering a passcode that is sent to any phone, through a phone call, or by a key fob (there is a one-time $20 fee to pay for the key fob).
Signing up for two-factor authentication takes just the few quick steps listed out in How To Use Your Two-Factor Authentication Account (http://www.uwyo.edu/askit/displaydoc.asp?id=3302).
Network Connect
Network Connect is needed for downloading software from the UW network or connecting to a UW storage location. It requires the installation of a small software utility onto the user's computer which allows the remote computer to connect directly to and use resources on the UW network. Because this connection allows access to the UW network, it is important to make sure the remote computer does not have viruses that could be spread to the UW network. Remote computers connecting with Network Connect are automatically checked for an active firewall, up-to-date patches and antivirus software.
To install Network Connect, log into WyoSecure (https://wyosecure.uwyo.edu) and click the Start button next to the Network Connect client application session. This will install the program, which can then be launched by opening the Network Connect application listed under Juniper Networks.
WyoSecure VPN Frequently Asked Questions
Reviewed: 0413 By: JM