UW Email Security Frequently Asked Questions
In general, email should be considered insecure unless the content is encrypted or all systems transporting the email from the sender to the recipient are known to be using secure protocols.
On the UW campus, mail is securely transmitted using TLS between the UW gateway, Exchange email servers and Office 365. Although each actual message is not encrypted, messages are transmitted in a manner similar to using HTTPS for web pages. Other UW mail systems may use TLS, but users should not depend on email between other UW mail systems being secure unless they have confirmed that secure protocols are used by these servers. Mail sent off campus may or may not be transmitted through servers that use secure protocols and so cannot be depended upon to be secure unless the actual mail message itself is encrypted.
UW provides access to the Office 365 Message Encryption service for employees to send sensitive mail securely outside campus. The service encrypts the message and attachments into an encrypted file.
Messages containing confidential, privileged or sensitive University of Wyoming business information should be sent to off-campus recipients through the Office 365 Message Encryption service.
As mail sent to uwyo.edu addresses may be redirected to mail services off-campus, sensitive messages may be sent to uwyo.edu addresses using this service to ensure they are delivered securely.
University of Wyoming email accounts with an Office 365 E3 license can use Office 365 Message Encryption (everyone with Voice Mail has an E3 license). Other users attempting to use the Message Encryption Service will receive a notification that the message was not encrypted or sent. Users without an Office 365 E3 license that need to send encrypted messages should contact the IT Helpdesk for assistance in purchasing an E3 license.
How do I send an encrypted email?
Create the email as usual, including attachments, addressed to the recipient's email address and include WYOENCRYPT in the subject of the email.
Are replies and forwarded messages encrypted?
Yes. Responses continue to be encrypted throughout the duration of the thread. Replies and forwarded messages sent to users with a @uwyo.edu email address will automatically be decrypted and viewable in their mailbox.
What can I expect if I am sent an encrypted email through the Office 365 Message Encryption service?
When an external recipient receives an encrypted message, they see an encrypted attachment and an instruction to view the encrypted message.
The encrypted message appears as an attachment in a message in the recipient's inbox, with instructions for how to view it.
You can open the attachment right from your inbox, and the attachment opens in a new browser window. To view the message, you just follow the simple instructions for authenticating via your Office 365 ID or Microsoft Account. You must use a Microsoft account with an email address that matches the one the encrypted message was sent to. If you do not want to sign in with a Microsoft account there is also an option to request a one-time use passcode to read the message.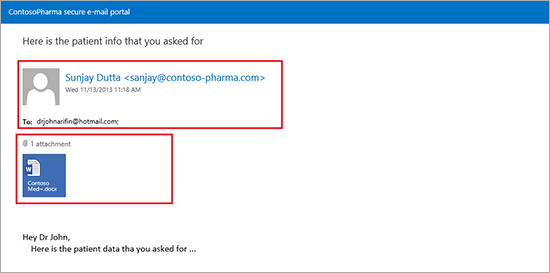 Once you are authenticated, the content of an encrypted message appears.
The Message Encryption interface, based on Outlook Web App, is modern and easy to navigate. You can easily find information and perform quick tasks such as reply, forward, insert, attach, and so on. As an added measure of protection, when the receiver replies to the sender of the encrypted message or forwards the message, those emails are also encrypted.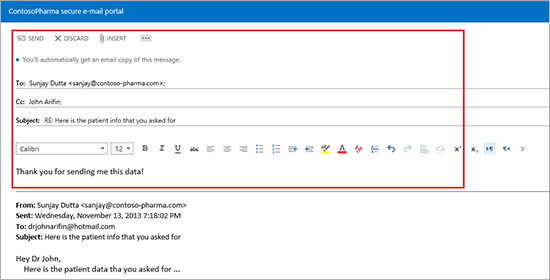 When you reply to an encrypted message you've received, your reply is also encrypted.
Reviewed: 0615 By: MV