Research Projects
Biomass burning aerosols and their climatic impacts




• Southern Africa is the world's largest emitter of biomass burning (BB) aerosols. The westward transport of these BB aerosols over the remote southeast Atlantic Ocean collocates with the Earth's major subtropical stratocumulus decks occurring in the marine boundary layer.BB aerosols can significantly perturb the radiative energy budget by scattering and absorbing the solar radiation, and modify the cloud microphysical properties by serving as cloud condensational nuclei (CCN).

• In this project, we use the regional model WRF-Chem in meso-scale to simulate the emission and transport of BB aerosols and to investigate interactions between these aerosols and stratocumulus over the southeast Atlantic Ocean. The overarching goal of this project is to elucidate the role of BB aerosols in observed diurnal cycle of low stratocumulus, and how the BB aerosols affect these cloud microphysical properties.
---
Variable-resolution climate modeling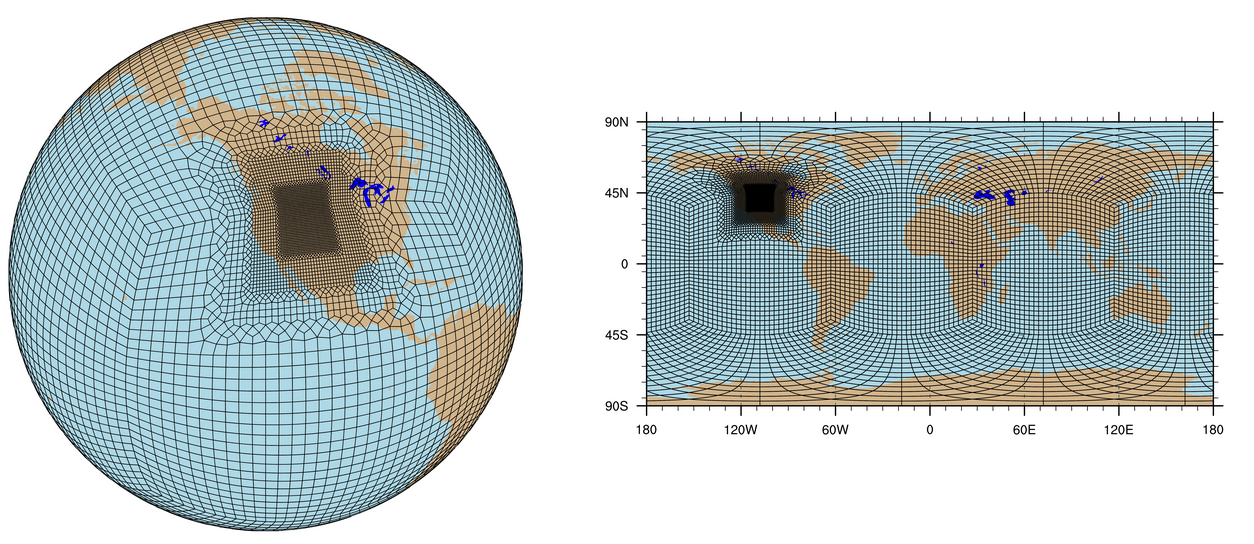 • Climate change is one of the grand challenges to human well-being and societal development. Therefore, it is critical to understand the past climate change and to project future climate change. A major tool for climate studies is the global climate model (GCM). However, the performance of GCMs is hindered by their model resolutions and physical representations. Particularly, GCMs with typical horizontal resolutions of ~100 km perform rather poorly in regions of complex terrains (e.g., Rocky Mountains). Therefore next-generation climate models are moving towards higher resolution (10–30 km or higher). With increasing their resolutions, GCMs will have much better simulations of regional and local-scale processes and phenomena, such as hurricanes, storms, deep convection, and meteorology associated with complex terrains. In this project, we will use variable-resolution version of Community Earth System Model (VR-CESM) to simulate the climate over the Rocky Mountain Region (RMR). This variable-resolution approach maintains the global modeling framework for the merits of consistent physics across the model domains as well as conservations of mass and energy. Moreover it has a refined high-resolution domain that can meet our regional modeling focus, while keeps the computational costs affordable. We will use VR-CESM to explore (1) the improvements of regional climate simulation associated with model resolution, (2) the role of deposition of absorbing aerosols (black carbon, organic carbon, and dust) on snow and (3) the impact of future climate change on the hydrologic cycles in RMR.
---
Dust promoting New Particle Formation
• Dust aerosols are soil particles suspended in the atmosphere, and they impact the climate system by influencing the radiation budget, cloud processes and various biogeochemical cycles. Magnitude and sign of radiative forcing of dust are considered to be two of the most uncertain aspects in determining the net radiative forcing from natural and anthropogenic aerosols. In this project, we implement dust mineralogy with new ice nucleation scheme into the latest version of Community Earth System Model (CESM) to investigate dust effect on ice nucleation. Observations from NASA A-Train constellation are compared with state-of-the-art COSP (aerosol-cloud simulator) simulated results.
---
Aerosol impacts on Rocky Mountain climatology and hydrology
• Aerosol deposition on snow and ice is explored using WRF-Chem with emphasis on fine and coarse dust, as well as black carbon (BC). The dry and wet deposition of these aerosol on snow remains a major source of uncertainty in climate forecasting. When deposited on snow, these aerosol decrease snow albedo, increase the absorption and temperature of the ground, accelerate ice growth processes in snow as in-snow liquid water content increases, and increase the near-surface air temperature. This ice-albedo feedback can have a significant impact on Rocky Mountain meteorology, climatology, and hydrology, and its importance relative to aerosol direct and indirect effects is of crucial interest in this study.
---
Ice clouds in climate models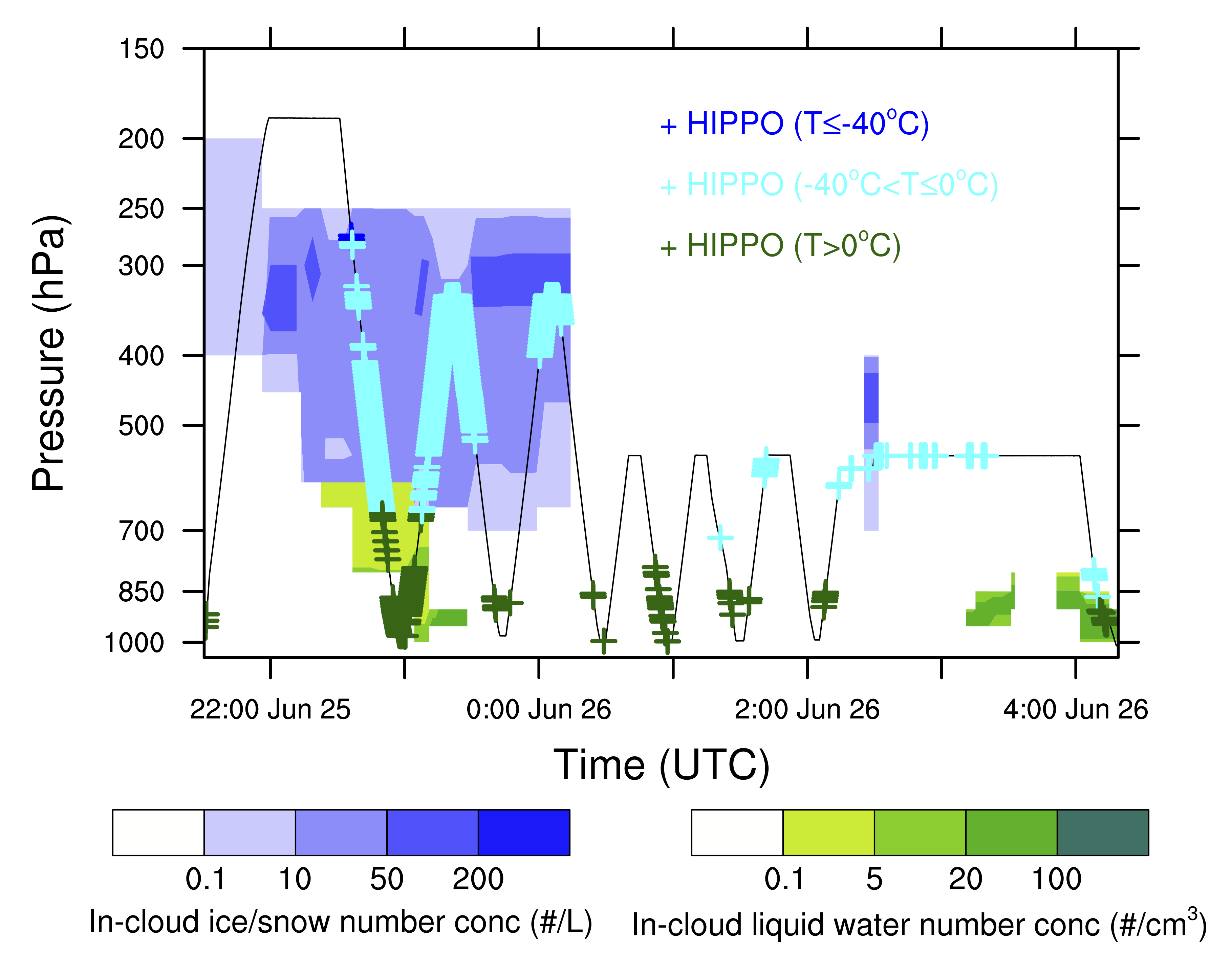 • Cirrus clouds, the type of clouds composed of ice crystals, are one of the key components in the climate system. Cirrus clouds cover about 30% of the globe and they have a significant impact on the earth's radiation balance. In addition, they can also regulate the humidity of air entering the stratosphere and are recognized as an important modulator for water vapor at the upper troposphere and lower stratosphere (UTLS). Despite its important role in the climate system, there are still large uncertainties in the representation of cirrus clouds in global climate models. Therefore it is desirable to compare model simulations of cirrus clouds with observations, such that the model biases and the reasons behind them can be identified for further improvement. We will use various in-situ observations such as the EU Interhemispheric Differences In Cirrus Properties from Anthropogenic Emissions (INCA) and NSF HIAPER Pole-to-Pole Observations (HIPPO) to evaluate and improve the CESM/CAM5 simulation of ice clouds.
---
Trajectory analyses using advection correction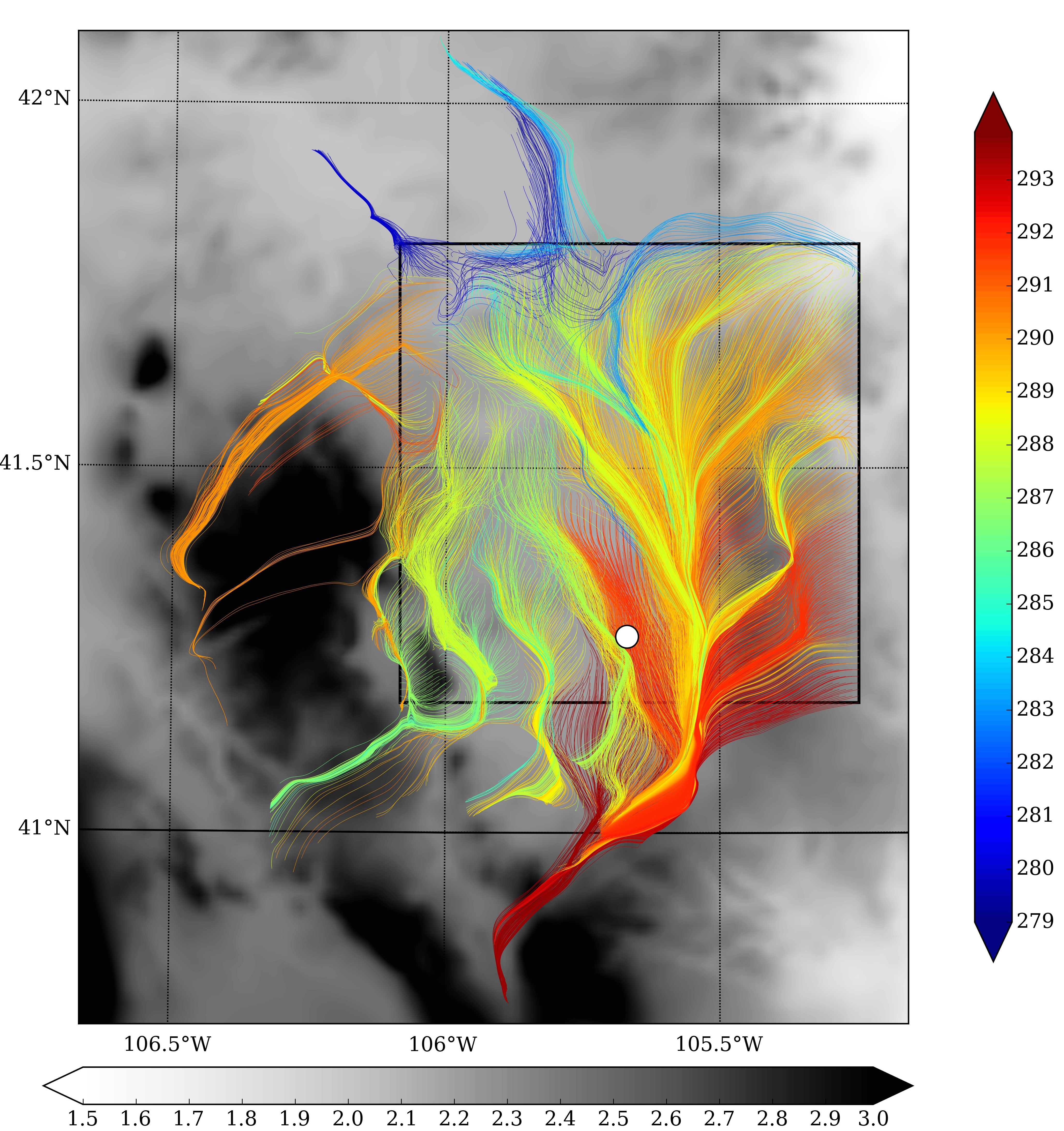 • Trajectory analyses are very useful in exploring the dynamics and kinematics of the atmosphere. Traditional trajectory methods make use of simple first order linear interpolation in both the velocity evaluation and integration steps at computational times. While simple to implement, large errors arise by approximating the velocity fields as linear, especially as the interval between "real" data input increases. An advection correction (AC) procedure is used to address the issue of data infrequency, as described in Shapiro et al., (2015). AC approximates the flow's intrinsic evolution as a translation effect (instead of a purely linear evolution), and uses an objectively estimated pattern translation velocity to shift the analysis domain in order to account for flow changes in time. This technique is currently being modified to accommodate three-dimensional trajectories, with future applications to studying aerosol transport and tornadic trajectories planned.