History
College of Business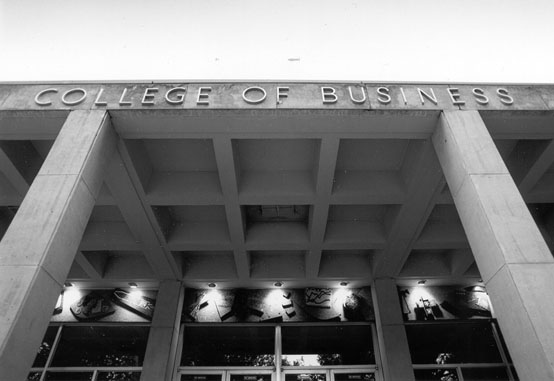 History
The College of Commerce and Industry, now known as the College of Business, was conceptualized and founded in 1899. The official establishment of the College of C&I wasn't until 1947 and official operations began that September. The original C&I building was later created and completed by 1962.
The University of Wyoming recognized a need and wanted to offer the background training needed by young people who wished to engage in business or professional fields. The College was able to not only succeed in educating students, but also aided students in securing positions with some of the largest corporations in the United States at the time and students were even finding work internationally post-graduation.
The College initially consisted of four departments: Accounting, Business Administration, Secretarial Science, and Statistics. The professional curricula offered through the College of C&I involved six majors: Accounting, Commercial Aviation, Retailing, Secretarial Science, Statistics, and a general degree in Business Administration.
In the late 1980's the programming at the College of C&I evolved. The Institute of Business and Management Services (IBMS) was created specifically to meet the ever-changing needs of Wyoming businesses. The IBMS focused on student internship opportunities, students learning through case studies of actual Wyoming businesses, conducting applied research for Wyoming businesses and governmental agencies, and providing development seminars, workshops, and conferences for practicing managers at all levels of organizations around the state.
Finally, in 1991, the College of C&I had been renamed to the College of Business and the departments we now recognize were formed: Accounting, Economics & Finance, and Management & Marketing. A Ph.D. in Economics was offered along with Master's degrees in Accounting, Economics, Economics and Water Resources, Finance, and a formal MBA Program.
While the Business programs offered have changed over the years, the college remains firmly committed to a tradition of excellence. This includes our dedication to excellence in teaching, internationally recognized intellectual contributions, integration of teaching with scholarship, and service that has tangible impacts on the state and professional community.