College of Business Advisory Board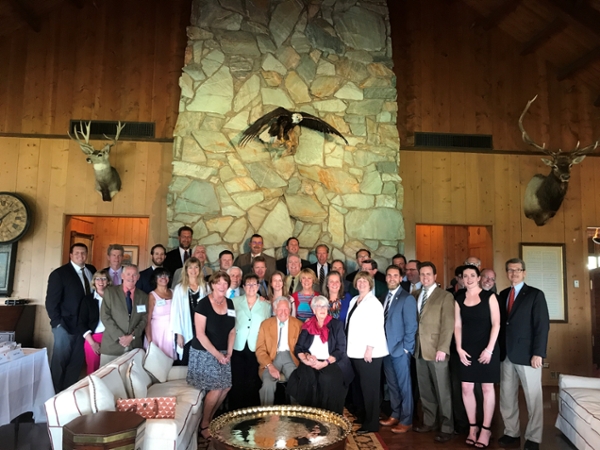 The College of Business Advisory Board (COBAB) consists of business leaders from throughout the Rocky Mountain region and the United States.
The COBAB serves in a working partnership with University of Wyoming and College of Business students, faculty, and administrators to promote the growth and development of the college and the university, as well as to positively impact the economic development of communities throughout Wyoming.
The activities of the COBAB encompass a wide range of advisory and proactive undertakings. Board members advise on academic programs, promote the college's visibility around the nation, and identify internship and career opportunities for students. They also assist the college through development efforts and their own financial support.
For more information about the COBAB, contact Steve Russell
---
2017-2018 Membership
Chair: Gregory C. Dyekman (B.S. 1977, accounting; J.D. 1980) – Attorney/Partner, Dray, Dyekman, Reed & Healey, P.C.; Cheyenne, WY
Vice Chair: David Emery (B.S. 1985, petroleum engineering) – Chairman, President, and CEO, Black Hills Corporation; Rapid City, SD
David Auge (B.S. 1977, general business management) – President, Teton Motors, Inc.; Jackson, WY
Tyler Batchelor (B.S. 2004, economics and finance) – Commercial Coordinator, Chevron Corporation; Houston, TX
Even Brande (B.S. 1991, business administration; MBA 1993) – CEO, Handel Information Technologies, Inc.; Laramie, WY
Tori Campbell (B.S. 1991, business administration) – President, Mizzen Energy, LLC; Denver, CO
Dennis Carruth (B.S. 1966, management information systems; MBA 1968) – President, Carruth Properties; Littleton, CO
Joan K. Evans (B.S. 1988, finance, M.Ed. 1998) – Cheyenne, WY
Stig Hallingbye (B.S. 1977, general business management; M.S. 1982, agricultural economics) – Senior Vice President, Security First Bank; Cheyenne, WY
Patrick J. Higgins (B.S. 1975, accounting; MBA, 1981) – CEO, Orrison Distributing, Ltd; Cheyenne, WY
Kyle A. Hultquist (B.S. 1984, journalism) – Senior Vice President, Marketing & Communications, StandardAero; Tempe, AZ
Heath R. Hunter (B.S. 2003, finance; M.S. 2005, finance) – Chief Financial Officer, Warbonnett Construction, Inc.; Greeley, CO
Peter M. Johnson (B.S. 1972, finance) - President, Sinclair Oil Corporation; Salt Lake City, UT
Donald J. Kany (B.S. 1969, business administration; MBA 1975) - Owner, KARKCO, LLC; Englewood, CO
Scott D. Macdonald (B.S. 1984, accounting) – CFO, Starz; Centennial, CO
Brandy M. Marrou (B.S. 2000, accounting) – CPA/Partner, McGee, Hearne & Paiz, LLP; Cheyenne, WY
Ann M. Nelson (B.S. 1986, business management and accounting) – Director of Corporate Development, Laramie County Community College; Cheyenne, WY
Scott P. Nolan (MBA 2008) – Business Instructor and Department Chair, Casper College; Casper, WY
Michael J. Peck (B.A. 1987, finance) – Vice President, First Interstate Bank of Laramie; Laramie, WY
Todd A. Peterson (B.S. 1978, international ag) – Regional President, Pinnacle Bank; Torrington, WY
Shawn Reese  - CEO, Wyoming Business Council;
Richard P. Reimann (B.S. 1982, accounting) – Partner, Lenhart, Mason & Associates, LLC; Casper, WY
James H. Rinehart (B.S. 1986, business management) – Real Estate Broker, Western United Realty, LLC (www.ranchbrokers.com); Laramie, WY
Kevin Rochlitz (B.S. 1993, marketing) – Chief Sales Officer, Corporate Sales & Business Development, Baltimore Ravens; Owings Mills, MD
Pamela C. Ruehle (B.A. 1978, journalism; MBA 1982) – Retired Senior Executive, Accenture; Denver, CO
William R. Scarlett, IV (B.S. 1992, business administration) – President, Popo Agie Captial, LLC; Jackson, WY
Bill Schilling - Retired President, Wyoming Heritage Foundation; Casper, WY
Diane J. Shober (B.S. 1984, marketing) – Director, Wyoming Office of Tourism; Cheyenne, WY
Christopher M. Tice (B.S. 1993, finance; MBA, 1984) – CEO, Pharmacy Solutions and CEO, PharmaC, LLC; Jackson, WY
Diemer True – Diamond Companies; Casper, WY
Jim Willms – Consultant, University of Wyoming Manufacturing-Works; Cheyenne, WY