Graduate Student Programs and Resources
The ECTL recognizes that graduate students play an important part in the UW teaching and learning community. We encourage students to utilize our programs and resources to develop their knowledge, skills, and abilities as instructors. 
Every year we offer and promote educational development opportunities for Graduate Teaching Assistants which are funded through an endowment from the John P. Ellbogen Foundation.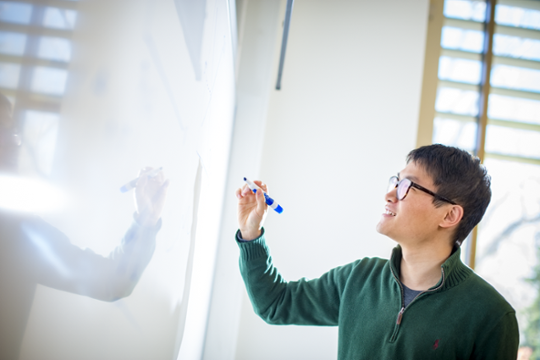 ---
Spring 2023 Learning Community
Graduate Teaching Assistant Learning Community – A Practical Approach to Effective Teaching

This learning community is for Graduate Teaching Assistants. We will use the book, "The Successful TA: A Practical Approach to Effective Teaching" Nomme, K. M., Pollock, C. (2022) as a guide to structure our five meetings together. Building teaching self-efficacy and facilitating the best learning for students is the objective. Each participant will receive a copy of the book. 
Participants who attend four of the five sessions will receive a $250 scholarship. Please note that payment of scholarships can differ depending on the student's status in the financial aid system. Some students may receive a scholarship deposited to their Banner account, and some may receive compensation paid directly to their bank with taxes taken out. If you have questions about the taxes on your payment, please contact Casey Green in the Tax Office at tax@uwyo.edu or 766-2821.  If you have questions about when your scholarship will be paid, please reference this page: http://www.uwyo.edu/sfa/contact-us/index.html.     
The learning community will be split into two groups, one is offered in an online format via Zoom and the other is in-person at the ECTL. Note: If both dates, times, and meeting styles work for you, select both options and we will assign you to a group.  Space is limited; please complete the application form and answer every question fully to be considered. 
Applications are appreciated by Friday, January 20. Participants will be notified of acceptance by Friday, January 27.
Program Details:

| | |
| --- | --- |
| When: | Tuesdays | Feb. 7, Feb. 21, Mar. 7, Mar. 21, Apr. 4 |
| | In-Person: 10:00am - 11:30am |
| | Online:      12:00pm - 1:30pm |
| Application:  | Applications are closed for this semester. |
| Questions: | Megan Jones at mconnor2@uwyo.edu |
---
This three-credit S/U course is offered in the spring semester for graduate students who want to broaden their skills and knowledge in the area of teaching in higher education.  Dr. Janel Seeley will provide opportunities to develop skills and knowledge needed to design learning materials; create a rich, interactive, and effective classroom; effectively assess student learning; develop a personal teaching philosophy, and reflect on teaching and learning experiences. The course is listed in the Registrar's Spring Class Schedule under "Other Programs" GRAD-Graduate School. This course is generally offered in-person on Tuesdays from 4:10-7:00 pm. For more information, please contact Janel Seeley at jseeley1@uwyo.edu. 
---
Graduate Student Network (GSN)
This Recognized Student Organization (RSO) is mainly focused on improving the professional and social aspects of being a graduate student. GSN activities include research-specific seminars and speakers, focus-group discussions, conference presentation feedback, and social hours. For more information, please see the Graduate Student Network at UW Facebook page.
---
The Graduate Teaching Assistant Handbook was developed to facilitate the growth of Graduate Assistants as effective instructors. The handbook contains fundamental teaching strategies and approaches to engage students, as well as important legal and ethical responsibilities that all instructors need to know about.
Creating Professional Documents 
---
Suggested Reading
These books are available to checkout in the ECTL Library.
First Day to Final Grade, 3rd Edition (Curzan & Damour, 2011)
How Learning Works (Ambrose, et al., 2010)
Teaching Your First College Class (Lieberg, 2008)
Small Teaching: Everyday Lessons from the Science of Learning(Lang, 2016)
Small Teaching Online: Applying Learning Science  in Online Classes(Darby & Lang, 2019)
---
Additional Resources
The ECTL has a wealth of resources that promote "best-practice" pedagogies in support of the active pursuit of teaching and learning excellence. We encourage graduate assistants to browse our website for more information about the ECTL and the resources we make available to UW's teaching community.
For additional information or for questions, please contact us at ellbogenctl@uwyo.edu.