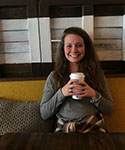 Cassia Catterall
Outreach Graduate Student

ccatter1@uwyo.edu
Research Interests: Anything to do with British Literature, especially the Romantics. Also, I love looking into how history and culture have impacted literature. B.S. in English, Minor in Library Media, Black Hill's State University
Meghann Conwell
English Teacher, Cheyenne, WY

mconwell@uwyo.edu
Research Interests: Meghann graduated from the University of South Florida with a B.A. in English. She began her teaching career in Tampa, FL before making a transcontinental move to Cheyenne, WY where she now teaches English at Central High School. Meghann loves reading, writing, and exploring the beautiful western landscapes of Wyoming with her daughter.
Leslie Gallagher
Academic Advising Professional, College of Engineering and Applied Science, University of Wyoming

leslieg@uwyo.edu
Research Interests: Leslie graduated with a BA in English from the University of Wyoming in 2011. As an undergraduate, she was a non-traditional student. Leslie worked full time, completed 6-9 credit hours/semester, and raised her son. Leslie's son is now a college student himself, and she believes that now is the perfect time to pursue the MA in English. Leslie's interests in the field of English are wide, and she hopes to find an area of study in which to focus. Leslie enjoys working with students in her advising position, and she is excited to be a part of this cohort!
Brad Gisclair
English Teacher, Denver, Colorado

bgisclai@uwyo.edu
Research Interests: Brad Gisclair is a middle-school English teacher just north of Denver, Colorado. Originally from the bayous of the Louisiana gulf coast, he gave up his Cajun roots for the Rocky Mountains in adulthood. He holds degrees in world religions (Louisiana State University) and English (University of Colorado at Boulder). When not reading, teaching, or studying, Brad can be found playing percussion in community bands of Denver, along with his husband, who teaches music. The short list of Brad's research interests include children's literature, British literature, the serialized Victorian novel, queer theory, serialized television as texts, and the religions and history of India.
Rebecca Haynes
Outreach Graduate Student

rhaynes7@uwyo.edu
Micah Jayne
Outreach Graduate Student

mjayne1@uwyo.edu
Research Interests: Micah is a rootless human. He has visited 53 different countries, lived in seven, speaks three languages relatively well and mumbles somewhat convincingly in a handful of others. He started a newspaper in Prague, spent two months floating down the Mekong river on a leaking, second-hand fishing boat and cycled from Jerusalem to Cairo the long way round. In various past lives, Micah worked as an advertising creative, as a sailboat rigger, a film editor and as a journalist. In cultural terms, he is currently obsessed with travel documentary, propaganda and partisan movements.
Michael Konsmo
Outreach Graduate Student


Terra Ochsner
Language Arts Teacher, Torrington, WY

tochsner@uwyo.edu
Research Interests: My name is Terra Ochsner, and I graduated from Colorado State University in December of 2018. I am just finishing my first year of teaching 8th grade Language Arts at Torrington Middle School in Wyoming, and my second year as an assistant girl's basketball coach for Torrington High School. My husband is fifth generation at his family's ranch, and I am proud to spend my weekends, holidays, and summers helping on our family's operation. I have been missing the rigor of being a student, and couldn't be more excited to join this program!
Ida Olson
Teacher Librarian, Cheyenne, WY

iolson4@uwyo.edu
Research Interests: Ida has a B.A. in French and History from Mount Holyoke College and a M.Ed. from the University of Alaska Fairbanks. She enjoys walking her dogs, horseback riding, reading mountains of books, and writing.
Paul Primrose
Teacher, Lander, WY

PRIMROSE@uwyo.edu
Research Interests: Paul grew up in Casper and graduated from the University of Illinois with a BA in English Rhetoric in 1996. After some lost years that included a strange career at Amazon.com, he returned to Wyoming to teach, participating in UW's Post Baccalaureate program from 2004 - 2006. He's taught high school English in Lander ever since, receiving an MA in Curriculum and Instruction from UW in 2010. His interests include playing guitar and pedal steel guitar, road and mountain biking, gardening, and raising his twin sons with his lovely wife. Research interests: secondary and college freshman composition; mental health representation in young adult literature.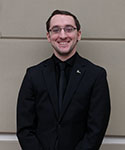 Donald Seagreaves
Outreach Graduate Student

dseagrea@uwyo.edu
Research Interests: Donald graduated with a B.S. in Business Administration from Edinboro University. He is now pursuing an M.A. in English to become an English teacher. Moving recently from Pennsylvania to Wyoming to be closer to his parents, he is enjoying this beautiful state. Donald's interests include contemporary film and television analysis, screenwriting, creative writing, and literary analysis.
Melissa Suchor
5th Grade Teacher, Sheridan, WY

msuchor1@uwyo.edu
Research Interests: Melissa is a 5th grade teacher in Sheridan who has taken the long road to finally study English - her one true love. She has a BA in journalism from the University of Montana and a BS in elementary education from Chadron State. When she's not hanging out with her amazing 5th graders, she enjoys running, traveling, spending time with her husband, and obviously reading. She is very excited to be a part of this cohort!
Kailyn Washakie
Middle School English Teacher, Fort Washakie, WY

kwashaki@uwyo.edu
Research Interests: Kailyn graduated from the University of Wyoming in May of 2018 with her B.A. in English/Secondary Education and a minor in Professional Writing. She is a mother that enjoys reading, beading, and teaching. Kailyn's interests in the field of English include Native American literature, mythology, classical literature, as well as creative and professional writing.