Ethics Outreach Initiatives
Bill Daniels Ethical Leadership Award
This recognition was conceived in the fall of 2016 at an early-morning meeting at Turtle Rock Café in Laramie. Meeting participants from the UW College of Business and the Wyoming Business Alliance/Heritage Foundation determined it was time for Wyoming to honor leaders who have lived a life of integrity at work, at home, and in their communities. The meeting participants took their concept to the Daniels Fund as well as to their respective organizations and in a matter of a few short weeks, the Bill Daniels Ethical Leadership Award became a reality.
In short, the award recognizes Wyoming citizens who embody the ethical leadership principles exhibited by Bill Daniels, a cable-television pioneer who started his professional career in Casper, Wyoming. 
In 2017, Powell's Dave Bonner was selected as the inaugural recipient of the ethical leadership award (see picture below). Dave was recognized for serving as president of the University of Wyoming's board of trustees, his 50 years as a highly-regarded newspaper publisher, and for his selfless service as a legislator and state elected official.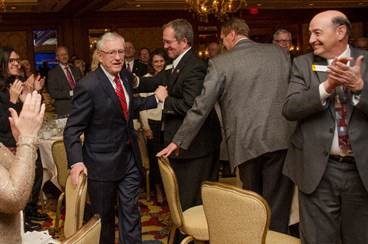 Attorney Greg Dyekman was the 2018 recipient of the Bill Daniels Ethical Leadership Award. The award was presented in November at the Wyoming Leaders and Legends Banquet at Little America in Cheyenne. The evening was the centerpiece of the annual Governor's Business Forum and attracted Wyoming's top business, government, education, and civic leaders. Below, Greg Dyekman (center left) is pictured with former Governor Matt Mead, Daniels Fund Senior Vice President Bo Peretto and others.
Future awards will continue to be presented during the Governor's Business Forum – however, going forward, it will be a biennial recognition. Nominations for the next edition of this award will be taken in the fall of 2020. Those considered for this prestigious award will be evaluated based on the Daniels Fund Ethics Initiative Principles: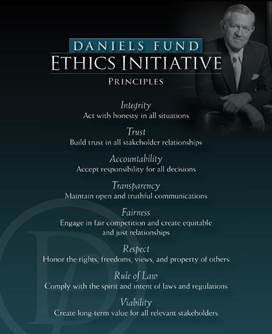 ---
Wyoming Athletics Department Ethical Leadership Award
Each year, the University of Wyoming Student-Athlete Advisory Committee hosts the WESPYS, an awards program which honors great team and individual accomplishments from the past season. 
In 2017, the UW College of Business partnered with the organizers of the WESPYS to create the Wyoming Athletics Department Ethical Leadership Award, an award that recognizes a University of Wyoming team, coach, player, donor, and/or volunteer who embodies the Daniels Fund Ethics Initiative Principles on the field, in the classroom, and/or in the community. 
Recipients are selected by the UW Athletics Department in cooperation with the UW College of Business.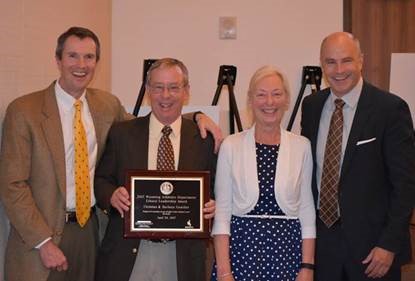 Pictured above are the 2017 recipients of the Wyoming Athletics Department Ethical Leadership Award, Chris and Barbara Gunther who have served as mentors and academic volunteers to dozens of UW student athletes over the years.  
Dr. Janet Constantinides was the 2018 recipient. Dr. Constantinides was recognized for her service as a professor, faculty athletics rep, interim athletic director, and now in her retirement, as an academic mentor (see picture below).
 The 2019 recipient of the award won a record 314 games and led Wyoming to 10 postseason appearances, including a WNIT Championship in front of a sold out Arena Auditorium crowd of 15,462 fans. However, the recipient did a lot more than with basketball games. He also worked tirelessly with ranchers, politicians, nonprofit organizations, the energy industry, tourism professions, donors, and University personnel – all in an effort to build a better Wyoming. Furthermore, he did it in a way that honored and reflected the Daniels Fund Ethics Initiative Principles. For these reasons, UW's Women's Basketball Coach Joe Legerski was the recipient of the 2019 Wyoming Athletics Department Ethical Leadership Award.
---
What Do You Stand For?
The UW College of Business has two primary outreach vehicles for business and community leaders. The first is What Do You Stand For?, a 90 to 120-minute personal development program. During this session, we guide participants through a process where each person creates a personal code of ethics based on what matters most in their lives and careers. Throughout the process, we demonstrate how the Daniels Fund Ethics Initiative Principles relate to one's personal code. The following three-minute promotional video provides an overview of the program. 
---
What's Your Brand?
The other primary outreach offering we have is What's Your Brand? and it really resonates with a variety of audiences. In brief, we ask participants to consider these "personal branding" questions:
Who am I?
How do others see me?
How can I improve my brand?
Here's how it works.  After we put participants through a quick self-evaluation exercise, we reveal our opinion, which is: In order to have a GREAT personal brand, we believe you need to be known for your integrity, attitude, and grit! We then spend time discussing practical ways we can use the Daniels Fund Ethics Initiative Principles to build our brands in each of these three areas.  
Toward the end of the program, each participant identifies their aspirational personal brand. We then conclude with a 66-day challenge that's self-reflective and possibly life changing. A recent participant offered the following feedback:
Sixty-six days ago, you spoke to us regarding personal branding and the 66-day challenge. Every day when I leave my home, I see my brand hanging next to the door. I remember that the choices I make need to be reflective of the legacy I want to leave, and that my choices are always in my control. Every day, I tell myself that even though I'm not the smartest, the strongest, or the most charismatic, I can always control whether or not I am gritty. Sixty-six days later, I am a much different person than I was at the beginning of the challenge. My outlook, mindset, and approach are dramatically altered, and I intend to keep growing better from here.  Hannah R.
What Do You Stand For? is typically a 75 to 90-minute presentation. 
---
UW's Student Center for the Public Trust Chapter
The mission for UW's Student Center for the Public Trust (SCPT) Chapter is to promote ethical thinking in the developing character and conscience of students. UW's local chapter accomplished that in a number of ways, including the following outreach efforts:
UW's chapter of the SCPT raised $12,500 during the fall of 2018. Spring 2019, chapter members used the DFEI Principles to evaluate nonprofit organizations in Southeastern Wyoming to determine where to invest the resources. In the end, $9,000 went to the students' top choice, Interfaith-Good Samaritan (see picture below), with the remaining $3,500 split among four other nonprofit organizations.  
UW's SCPT chapter cohosted a Marijuana Summit featuring Ashley Kilroy, Director of Marijuana Policy for Denver; Dr. Christian Thurstone of the Anschutz Medical Center;  Mitch Morrissey, former Denver District Attorney; and Rich Todd, CEO of Innovest Portfolio Solutions.
During the Summit, UW students posed as board members for a hypothetical investment firm. Their assignment was to evaluate the information from the panel of experts and then answer the following question:
Chapter members hosted a food drive at a UW Men's Basketball game. Proceeds went to Interfaith-Good Samaritan in Albany County.
The executive team of UW's SCPT chapter selected the winning proposal for creating an ethical culture within an organization during the University's John P. Ellbogen $50K Entrepreneurship Competition. The Daniels Fund Ethics Initiative principles were used to evaluate the team's proposals.
---
University of Wyoming/Daniels Fund Ethics Initiative Recognition Cards
If a UW College of Business student, staff or faculty member hands you one of these cards, give yourself a high five and a fist pound as you have just been recognized for your ethical leadership. 
| | |
| --- | --- |
| | |
| Front of card | Back of card |
The purpose of these cards is to acknowledge people for various ethical acts, both large and small.  In other words, it is a way to express appreciation/gratitude for displays of principled behavior, while also building awareness of the Daniels Fund Ethical Initiative Principles on the University of Wyoming campus, as well as around the state and region. 
Students also distribute these cards as part of an in-class assignment.  The assignment helps our next generation of business leaders become more aware of ethical and unethical behavior as it is encountered.  
---
Better Business Bureau Torch Awards
The BBB Torch Awards for Ethics is a national program of the BBB Center for Character Ethics that began in our local area in 1999. Since then, the award has been bestowed upon dozens of businesses in BBB's 38-county territory in Northern Colorado and Wyoming.
The BBB Torch Awards for Ethics shines the spotlight on businesses and charities that exemplify outstanding ethics. In addition, the program provides hands-on ethics education for students at the College of Business at Colorado State University, Monfort College of Business at the University of Northern Colorado, and the University of Wyoming College of Business.
Companies and charities of all sizes are nominated for the awards by the public and vetted by a nomination panel that convenes each summer. During fall semester, student groups meet with representatives from nominated companies and conduct a thorough review of the company's business practices.
Students then prepare a nomination paper based on the criteria of the Six TRUST! Principles of Ethical Enterprising:
Transformation at the Top
Reinforce and Build
Unite the Team
Steer Performance
Treasure People
! Enthusiastically Reinvest!

Successful completion of the students' nomination papers results in a financial honorarium of $2,000 awarded to the business honor society or college of business at each university to enhance business education opportunities. The honorarium is funded by voluntary contributions from BBB Accredited Businesses.
An independent panel of judges consisting of past award winners, BBB Board members and other distinguished business professionals convenes in January to review submissions and to determine finalists and award winners.
In April, BBB Accredited Businesses, current nominees, past winners, university partners, sponsors and others gather for a ceremony honoring BBB Torch Award winners.
You can learn more about the BBB Torch Awards by watching the following video: