1200 E. Ivinson Street
Laramie, WY 82070
Phone: (307) 766-6300
Toll Free: (888) 831-7795
Fax: (307) 766-4045
Email:
foundation@uwyo.edu
Impact on Facilities
UW Breaks Ground on Buchanan Center for Performing Arts
Citing retiring President Tom Buchanan's dedication to the arts in Wyoming, the University of Wyoming today (Friday) broke ground to begin construction on the new Buchanan Center for the Performing Arts.
The facility, scheduled to be completed in December 2014, will be a lasting tribute to Buchanan's commitment, not only to the arts, but to the unprecedented growth of the campus that took place during his presidency, says Dave Bostrom, president of the UW Board of Trustees. Buchanan is retiring this year after eight years as president and a 35-year career at UW. Read more ...
UW Board Picks Contractor for Arena-Auditorium Project
A Wyoming company has been chosen to manage the first phase of a major renovation of the University of Wyoming Arena-Auditorium.
The project will be funded by $7 million in private donations and $5 million in state matching funds. Construction is scheduled to begin in March 2014, and be completed in time for the start of the basketball season in October 2014. Read more ...
Drilling Simulator Will Allow UW to Expand Courses, Provide Industry With Experience
Drilling Simulator Teaching Lab is expected to expand course offerings in engineering at the University of Wyoming, provide students and industry personnel drilling experience, and will eventually offer professional well control certifications for drillers.
The 1,296-square-foot lab, expected to open this fall on the second floor of the new Energy Innovation Center, will provide UW students with the full simulated experience of drilling oil reservoirs. Read more ...
New Center at UW Will Lead Literacy Education, Research
Wyoming's efforts to help children succeed in school and careers will receive a major boost with the opening of the University of Wyoming Literacy Research Center and Clinic next year.
First Lady Carol Mead was joined by Gov. Matt Mead, university and UW Foundation officials to announce the success of a fundraising campaign for the Literacy Research Center and Clinic (LRCC). It will be located in the UW College of Education Annex Building in Laramie, following renovations totaling $3.8 million. The work will be funded by private donations matched by state appropriations.  Read more...
UW Breaks Ground on Marian H. Rochelle Gateway Center
The University of Wyoming broke ground Saturday on the Marian H. Rochelle Gateway Center, a dramatic state-of-the-art welcoming center that, among other things, will launch students into successful lives through recruiting and networking opportunities.
The planned center will be located at the intersection of Grand Avenue and 22nd Street in Laramie, near War Memorial Stadium.
The Marian H. Rochelle Gateway Center is funded completely through private support -- including historical gifts from philanthropists Marian Rochelle ($10 million) and Mick and Susie McMurry ($6 million) -- as well as UW Foundation reserve dollars. Read more ...
UW's Energy Innovation Center Will Provide World-Class Capabilities
University of Wyoming researchers, students and industry will soon have world-class energy research facilities at their disposal when the Energy Innovation Center (EIC) opens in January.
The $25.4 million state-of-the-art research and collaboration facility will help the School of Energy Resources (SER) and its various centers of excellence -- including the Enhanced Oil Recovery Institute (EORI)  -- realize their full potential in such areas as enhanced oil recovery, carbon management and advanced coal technology. Read more ...
War Memorial Stadium to get Paved Parking Lot
Improvements at the University of Wyoming's War Memorial Stadium will continue with a 660-space paved parking lot on the stadium's east side.
UW's Board of Trustees today (Friday) awarded the project to Hamaker Excavation of Laramie for $1,316,998 for all phases of the work. The project includes creating a paved parking lot with spaces ranging from standard vehicle parking to spaces for larger vehicles such as recreational vehicles. Accessible handicapped parking spaces and bicycle racks are included in the design. Read more ...
UW Dedicates Berry Center
The ribbon was cut Friday on a state-of-the-art biodiversity conservation facility at the University of Wyoming. The center has been created through the generosity of Bob and Carol Berry and a match from the State of Wyoming.
The 40,000-square-foot Robert and Carol Berry Biodiversity Conservation Center is a focal point for the study, documentation, and conservation of natural history and biodiversity (the number and variety of organisms found within a specified geographic region) at UW. This includes variations on a macro to micro level, from ecosystem-level spatial and temporal variations to those within single genes. Read more ...
Our Shared Energy Future 
Energy is our future. It is the keystone of our state's economy and an area of true distinction for the University of Wyoming.
Part of that energy future is clean coal technology, which aims to reduce the environmental impact of coal energy generation. Peabody Energy is helping ensure that future through its gift of $2 million to create the Energy Clean Coal Technology Laboratory within the Energy Resource Center. Read more ...
Sullivan Family Student Center Dedicated
A state-of-the-art student center located within the College of Education named in honor of former U.S. Ambassador and Wyoming Gov. Mike Sullivan, his wife Jane, and the Sullivan family was formally dedicated today (Friday) at the University of Wyoming.
"The Sullivan family has been a good friend of the University of Wyoming for many years, and I'm very pleased that this new student center honors their many contributions," says UW President Tom Buchanan. "It reflects well upon the commitment of the Sullivans to UW and the education of our students. And it is one of the most visually appealing locations we have on campus. Our students will enjoy it tremendously." Read more ...
UW Opens High-tech Lab
With 128 cores and 128 virtual cores combining for an estimated teraflop of computational power - about 256 times the performance of a consumer desktop computer - University of Wyoming faculty, students and industry movers present at Friday's ribbon-cutting for the Encana Integrated Data Simulation Data Center had a lot to celebrate.
"I look so forward to seeing what these young guys (students) are going to do for us in the next 10 years, because what we need is affordable clean energy," Encana executive vice president and UW alumnus Eric Marsh said. "We have that in natural gas, and I think these guys will make it even better going forward. By giving them the tools such as the Halliburton (and Schlumberger) software and the data to work with, these guys are going to come out of Wyoming and be able to do fantastic things for us as a society... you guys are going to have what I think is a state of the art facility." Read More ...
UW Celebrates Opening of Encana Integrated Simulation Data Center
The newest laboratory in the University of Wyoming's College of Engineering and Applied Science was funded through a generous gift from Encana Oil & Gas USA.
It's only fitting, then, that the center has the look and feel of a facility Encana would build to suit its own research needs.
The new Encana Integrated Simulation Data Center, designed to resemble a professional industry data room, officially opened Friday with a ribbon-cutting ceremony attended by Encana and university officials who touted the lab's many attributes, including its abundance of work space and audio-visual capabilities. Read more ...
Share This Page: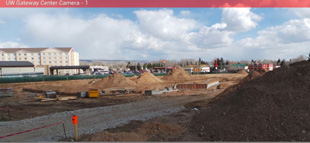 Click to view live construction of the Marian H. Rochelle Gateway Center