Chris Christofferson, MS, 2011, Petroleum Geologist
I feel nothing but gratitude for the fantastic opportunity I was given at UW. Not only did my time there help me develop my career as a geologist, but it also helped me develop as a person, and taught me what it means to be able to take on a large project and complete it. I got to study really cool stuff, work with wonderful advisors, become an expert operator of a Scanning Electron Microscope (SEM), and my studies even took me on a trip to Cyprus one summer! Now I'm a professional petroleum geologist and I couldn't have done it without my graduate degree from UW.
---
James Durnan, BS, 2010, Petroleum Geologist
After I graduated with my B.S. in Geology in 2010 from the University of Wyoming, I worked as a well site geologist in Wyoming, North Dakota, and Montana until I was offered and accepted a position as a geologist with Statoil in 2011. I was initially based in Austin, Texas with Statoil's Bakken business unit, but have since transferred to Houston's Eagle Ford group when they began operating. I currently work in the operations group concerned with drilling operations, well planning and development of the Eagle Ford shale. In the near future, I will begin pursuing a professional master's degree in petroleum geology from the University of Houston.  The knowledge and skills I gained during my time at UW have been immensely helpful in my career. I cannot express enough gratitude for the support and dedication that I received from the Department's faculty and staff as I further my education and career.
---
Sarah Garlick, MS, 2007, Author and Science Education Consultant
After finishing my MS at UW, I left the world of research to write a book about geology for general audiences. I'd been a dedicated rock climber for many years and I saw a natural parallel between geology and climbing. The end product was "Flakes, Jugs, and Splitters: A Rock Climber's Guide to Geology," published by Falcon Guides in 2009, and winner of a Banff Mountain Book Award that same year.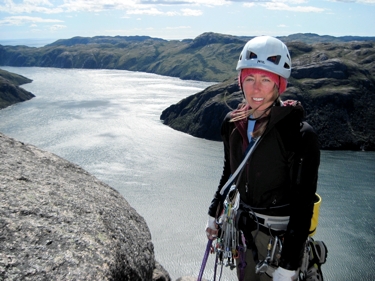 The successes of my first book led me to the field of Informal Science Education: a catch-all profession that advances public understanding of science in out-of-school settings, including science-related books, films, museum exhibitions, and community programs. These days, I work as a science education consultant and project director, working one-on-one with scientists, schools, museums, and media production companies to develop educational and entertaining products related to Earth and environmental science. I'm currently curating a museum exhibition about the geology of New Hampshire and its effects on tourism and recreation and I'm writing a field guide to rocks and minerals for the National Geographic Society. Never a dull moment!
My flexible career has also allowed me to continue to climb at a high level. In the past two years I've led expeditions to Greenland, Thailand, Jordan, Malawi, and Mozambique, and I work with the American Alpine Club to develop community programs for climbers in the Northeastern U.S.
My career is sometime chaotic, always interesting, and certainly non-traditional—and I know I wouldn't be here without the training and support I received at UW. I achieved a depth of scientific knowledge and understanding as a graduate student in the Department of Geology and Geophysics that has been invaluable. I can speak the same language as the scientists I work with on education projects and I have a skill set that allows me to efficiently research topics that are less familiar. Perhaps more than anything, I rely on a sense of professional and intellectual confidence that I attribute to my time in Wyoming.
---
John Jasbinsek, PhD, 2009, Assistant Professor
After graduating I accepted a tenure track position at Cal Poly San Luis Obispo's physics department. As a seismologist this has been very cool because I get to interact with both Physics and Earth Science majors on campus in both teaching and research. A couple of things that stick out in my mind about my time in the UW geophysics program are the opportunities for geophysical field work I had and the freedom to zero-in on topics for research I was really interested in. I think my being experienced in geophysical field work played an important role in obtaining my current position at Cal Poly. In fact, the research projects while at UW are still some of my favorite memories.
---
Mark Olson, BS (1995), MS (1999), Manager of Sedimentology & Stratigraphy in Geological Technology for ConocoPhillips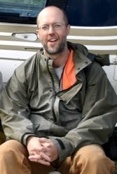 I have worked in the oil and gas industry since I graduated from UW, living in Oklahoma, Texas, Venezuela, and Alaska. Travel is one of the reasons I chose a career in geology and I also had the opportunity as an undergraduate to work on seismic projects throughout the United States (Minnesota, Washington, Oregon, Nevada, Arkansas and Montana) and Russia with Dr. Scott Smithson. My thesis work was closer to home in the Rock Springs Uplift but what I have found from my travels was that some of the best outcrop exposures in the world are right in Wyoming's backyard and I continue to run field trips there for ConocoPhillips geoscientists.
A geology degree from UW is unique in that much of what you learn from the textbooks is exposed nearby. Take advantage of the opportunities that UW has to offer and get into the field.
---
Tim Schroeder, PhD, 2004, Associate Professor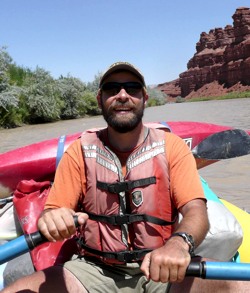 Since graduating from UW I have held faculty positions at Eastern Connecticut State University and now at Bennington College, a small liberal arts college in Vermont. As the only geology member faculty at Bennington, I need to develop courses and teach across many geology sub-disciplines in order to offer a coherent Earth Science curriculum. My geology curriculum must also work in conjunction with the other sciences and serve diverse student interests and needs at a very small college.
I found the UW G&G faculty to be highly supportive and demanding. The program emphasizes developing research skills from the very first semester and requires even beginning graduate students to be active participants in research seminars. Many of the courses that I took during the program allowed me to apply questions from my dissertation research to class and lab projects. The Department also has strong industry connections, from which many students that I knew developed career opportunities. I found that the industry connections also helped give the program a window into practical problems and applications, rather than purely academic pursuits.
The Department also taught me to expect the unexpected. I entered the program expecting to be doing a field project in the Mohave Desert or Klamath Mountains, but instead wound up doing my field work via submersible from 8000 feet below the surface of the Atlantic Ocean. I have found being flexible and able to adapt quickly to new challenges useful in my career, especially when I find myself doing things like teaching physics Bennington's to pre-med students.
---
Mark Shuster, PhD, 1986, Vice-President of Exploration for North and South America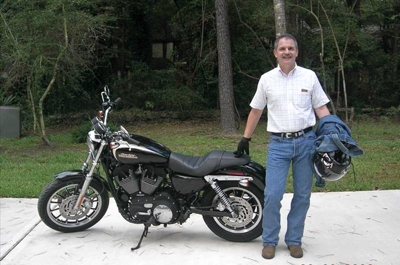 My current job is Vice-President, Exploration Middle East and North Africa for Shell Exploration and Production International. I have spent 26 years working for Shell in Research and Exploration, trying, sometimes successfully, sometimes not, to find oil and gas in basins around the world. It has been a great gig. Yes, I learned about rocks and how the Earth works at UW, but just as importantly, I learned how to be collaborative, how to think "big," and fundamentally, how to deliver against my goals. I can't say that it was all fun, the experience stretched me at times, but it provided a great foundation for becoming a professional.
I had great relationships with students and faculty at UW. The environment was such that we could work together, play together and importantly challenge each other to gain different perspectives, and occasionally make connections, which resulted in new ideas and insights. Having experienced the environment of creative collaboration at UW, I think it has made it easier for me to try to replicate this environment in my career. I was also encouraged to pursue many areas of interest as part of my PhD at UW. These ranged from field work to laboratory analysis to computer modeling. This broad foundation has in hindsight helped me to better get the big picture. I am not sure if I could have had the breadth of education and experience elsewhere. I certainly wouldn't have had the world-class geology outside my front door. I was very fortunate. Another aspect at UW was that as graduate students we were provided with lots of opportunities to lead whether it was teaching classes or defining and conducting a research program or co-creating and coordinating a regional symposium.
Ultimately, I felt that I owned my education, which is a great thing to be able to say. The Wyoming ethos of accountability and commitment is really powerful, and has helped shape me professionally and personally.
---
Walter A. "Bill" Sullivan, PhD, 2007, Assistant Professor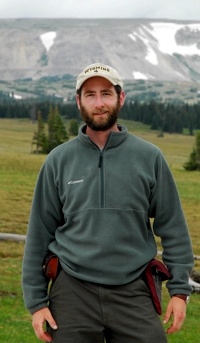 After completing my Ph.D. at UW, I became an assistant professor at Colby College—a small, selective liberal-arts college in northern New England. Colby demands high-quality teaching and a productive research program involving undergraduates. Graduate work at UW helped prepare me for this career in many different ways, but four things stand out.
First, UW has a lot of geology majors who fill a lot of undergraduate courses. This gave me the opportunity to help teach a wide range of subjects during my graduate career. Moreover, the faculty at UW take undergraduate education seriously, and I learned a lot as a teaching assistant.
Second, the structural geology and tectonics group at UW is very vibrant. The faculty are all highly respected in their subfields, and faculty and students study all sorts of processes using many different techniques in many different geographic locations. The very broad knowledge base I developed in this environment enables me to create interesting research questions and teach a wide range of undergraduate courses at Colby.
Third, the state of Wyoming is a world-class Earth science laboratory. Within a day's journey of UW's campus, you can see everything from Archean high-pressure metamorphic rocks to fluvio-deltaic sedimentary sequences to active volcanic centers to beautifully preserved Jurassic mega fauna, and living in Wyoming for four years made me a better geologist.
Finally, my advisor and committee at UW gave me all kinds of invaluable professional advice and I continue to have a close friendship and great professional relationship with my advisor to this day. In conclusion, I had a hard choice when selecting a PhD program, but I have never once regretted choosing UW.