Department of Geology and Geophysics
Graduate
The Graduate Experience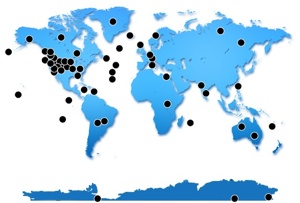 Excellence in graduate student mentoring is a key goal of our department. Our graduate program is research-focused and thus has few required courses. Instead, your program is custom-designed between you, your major professor and your advisory committee. The emphasis is on the one-on-one interaction with your advisor(s) as you develop the skills to be a research scientist. You will be taught the laboratory and field methodologies for data collection, with research localities ranging from the mountains and lakes of Wyoming to the volcanoes of Africa, the ice sheets of Greenland and Antarctica and the ocean basins (see map). You will discover how to analyze your data and, perhaps most importantly, learn how to convey your discoveries through written and oral presentations. We offer numerous opportunities to promote efficient scientific research and enhance your employment prospects, many of which are unique to the geosciences. These include:
Fundamentals of Research
For incoming graduate students, we offer one required course that will introduce you to your peers, faculty, and departmental research facilities. This course emphasizes successful proposal writing, oral and written scientific communication, and encourages rapid development of your thesis proposal. The goals are to immediately engage you in your thesis topic, provide the tools for efficient research, and develop skills for competitive success in funding.
Distinguished Lecturer Series
Thanks to generous donations, we offer a weekly lecture series hosting experts from a wide range of geosciences so you can learn about cutting-edge research. We promote these visits as a way to encourage breadth of understanding for students and faculty alike. 
Field Trips
For most, field experience is an invaluable part of graduate education in the Earth Sciences. The Western Cordillera provides excellent opportunities to study natural phenomena out our back door. Hence, we offer a wide range of field experiences. Every fall a Rocky Mountain Field Trip is conducted to provide all with a chance to learn about aspects of Earth science outside one's focus area, and get to know other new graduate students. In addition, other field trips are found in various course offerings, through geology clubs, as well as on an informal basis.
Recruitment Events
Besides general recruitment by energy companies within the Department each year, we are proud to host the yearly Rocky Mountain Rendezvous — a job fair that brings together numerous national and international companies and graduate students from across the Rocky Mountain region and beyond. Every fall, the event spans a long weekend of interviews, field trips and short courses. Co-hosted by the UW School of Energy Resources and the American Association of Petroleum Geologists, this is a premier recruitment event in the United States.
Interdisciplinary Programs
Our department is involved in a range of interdisciplinary programs and research centers that have recently been developed at UW. These include the Program in Ecology, the School of Energy Resources, the Roy J. Shlemon Center for Quaternary Studies, and the Program in Hydrology. These programs offer a natural way for you to broaden your course selections and faculty interactions while maintaining an academic home within the Department.
Scientific Meetings
We encourage our students to present research results at national and international scientific meetings. Funding is provided, as available, towards attending these meetings. The experience is beneficial for the student, and helps promote our department and its students.