Department of Geology and Geophysics
News
Nature Publishes Former UW Doctoral Student's Paper on Global Warming Event 55 Million Years Ago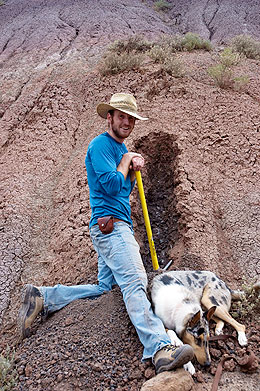 October 24, 2012 — A significant global warming event that occurred 55 million years ago witnessed increased carbon dioxide levels, and altered precipitation, vegetation and sediment accumulation patterns -- all of which contributed to rivers becoming deeper, wider and more mobile in western Colorado, according to a University of Wyoming doctoral student.
Brady Foreman's paper, titled "Fluvial Response to Abrupt Global Warming at the Paleocene-Eocene Boundary," was published by Nature today (Oct. 24). Mark Clementz, an associate professor of geology and geophysics, assisted Foreman with lab work, while Paul Heller, department head and professor of geology and geophysics, assisted in the collection of field data.
"Brady's work is significant in that it shows how abrupt climate change can impact not only biological communities on land, but also the physical processes that shape the environment around them," Clementz says. "He's provided a bar that other researchers can use to evaluate whether changes they observe in the sedimentary record may have resulted from similar episodes of climate change in the past."
Since 2008, Foreman has studied the Piceance Creek Basin, an area of rock formations noted for its red and pink bands that mark ancient soil development. The rock formations are located along I-70, east of Grand Junction, Colo., and west of Rifle, Colo. The research is part of his doctoral dissertation.
"In my field of geology – stratigraphy – there are a lot of questions about how climate and mountain-building events affect rivers on 10,000- or 100,000-year time scales," Foreman says. "This particular time period was probably the most abrupt climate change event in the past 65 million years. "
The event, called the Paleocene-Eocene Thermal Maximum (PETM), occurred 55 million years ago. It was associated with rapid global warming, profound changes in ecosystems and massive additions of carbon into the atmosphere. Global temperatures rose approximately 11 degrees Fahrenheit over a period of approximately 200,000 years from the late Paleocene to the early Eocene epochs.
"There has been a very fair amount of interest in this period as an analog for current global warming," Foreman says. "Many features are similar to what's going on today."
"You see changes in vegetation, evolution and extinction, and ocean chemistry (with this event) that are all similar to what people predict is going to happen in the future," he continues. "With this perspective, we can see how rivers reacted to increased CO2 levels. We can see this without human modification of water ways. We can see how the rivers would naturally react. It gives you a sense of the magnitudes of baseline changes for rivers." The Piceance Creek Basin's rock formation is distinguished by its red and pink bands.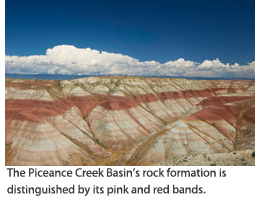 An increase in carbon dioxide levels and temperature changed ocean currents and atmospheric circulation during that event, Foreman says. As a result, those changes impacted the level of rainfall, seasonal distribution of the rain, and plant growth in the Piceance Creek Basin.
"Based on circumstantial evidence of near-shore marine records, my hypothesis was we should see some sort of change in behavior of the rivers, size of the channels and the grain size (of sediment) deposited," Foreman says.
Based on his observations of rock strata in the basin, increased rainfall surged down the mountain into the basin. Coarse sediment was transported far downstream in large, deep rivers that frequently breached their banks and flooded the surrounding lowlands. Excess sediment and changes in flow conditions likely altered river movement within the basin, allowing rivers to "jump position" more frequently and efficiently fill the basin, Foreman says.
Change in fluvial deposition (the river's behavior) in this region persisted long after the period of elevated atmospheric carbon dioxide, according to Foreman's study.
"If you look at the near-shore marine records, this increased terrestrial clay export and river run-off," says Foreman, who recently became a post-doctoral researcher at the University of Minnesota. "With few exceptions, no one had looked at the river deposits directly to determine how rivers reacted to this event."
"So much of our understanding of how rivers respond to these sorts of changes is based on models and simulations," Clementz says. "Here, we have a record of a natural experiment that occurred about 55 million years ago, which provided Brady the perfect opportunity to test how rivers really respond to periods of abrupt climate change."
Photo:
Working in an area east of De Beque, Colo., Brady Foreman, a UW doctoral student, exposes fresh rock through a sequence of ancient soil horizons (different-colored rock bands) to obtain samples for carbon isotope analyses. His dog, Dermot, also is pictured. (Photo: Marie Zangs)


Listen as UW researcher Brady Forman discusses the implications of his research findings published in the journal Nature.