Department of Geology and Geophysics
News
UW Geological Museum Project Expands, Delays Reopening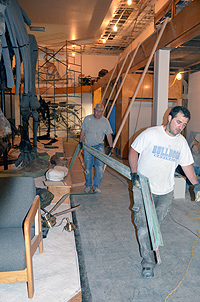 August 29, 2012 — Supporters of the University of Wyoming Geological Museum were hoping to see it reopen in early September following its first significant renovation in decades.
As it turns out, the museum isn't ready to reopen yet. But that bad news is far outweighed by good.
Additional major maintenance funding allows for additional work to be done on the museum. That means an extension of the remodeling project, probably through mid-October.
"We've been able to do a lot more work than we had originally planned," says Chet Lockard, associate director of UW's Facilities Planning Office. "We're picking up parts of the project that had been designed, but we didn't think we'd be able to do."
This summer's work includes modernizing of the building's mechanical, electrical, lighting and fire protection systems; upgrading technology; updating and reinstalling existing exhibits, including new signs; and designing and installing some new exhibits. Lockard says the additional major maintenance funding -- which brings the total project to a little more than $1 million -- will allow for complete replacement of the mechanical air handling units; complete finishing of a newly remodeled prep lab; a new exterior door for a new traveling exhibit room; an upgraded lighting control system; and additional light fixtures.
Marshall Contracting of Laramie is the general contractor. Some $200,000 of the renovation cost is being funded by proceeds from a $1.14 million endowment -- half provided by noted UW supporters Brainerd "Nip" and Anne Mears of Laramie, half from the state of Wyoming.
"It's difficult to postpone the reopening, but the extra funding will really move the museum up to the next level and put us ahead of schedule in terms of the things we thought we'd be able to do," says Mark Clementz, associate professor in the UW Department of Geology and Geophysics, who's helped in planning for the renovations. "The quality of the structural changes and the exhibits is going to be first-rate. People are going to be impressed."
The remodeling is the first phase of a project aimed at making the museum a focal point for student and faculty research, while giving the public an appreciation of Wyoming's geologic history and mineral resources.
Clementz notes that with the museum's structural needs largely being addressed by this summer's work, "nearly 100 percent" of private and public contributions from this point will go toward exhibit design. One exhibit -- focusing on the Cretaceous period -- is being crafted this summer, and Clementz describes it as "state of the art. It will give people a good idea of where we're going in the future."
Museum backers hope the remodeling will be completed by mid-October, in time for UW Homecoming festivities. They plan to host a reception at that time "to introduce everybody to the new look of the museum," Clementz says.
The roots of the Geological Museum reach back to 1887, the year UW opened.
For more information, go online to http://www.uwyo.edu/geomuseum/, email geolmus@uwyo.edu, or call (307) 766-2646.
Photo:
Employees of Marshall Contracting of Laramie work on the remodeling of the University of Wyoming Geological Museum. Reopening of the museum has been delayed because of an expansion of the renovation project. (UW Photo)



Listen to Kelli Trujillo, museum manager, discuss the remodeling and future exhibits of the Geological Museum.