Department of Geology and Geophysics
News
UW Geology Publication Marks 50 Years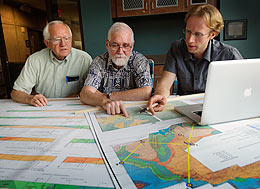 August 30, 2012 — In the world of geology, Wyoming is a mecca of sorts.
It offers a geological history that goes back more than 4 billion years, from the enormous uplifts of ancient rocks in the Wind River Mountains to the much more recent thrusts in western Wyoming. There's the active hydrothermal system in Yellowstone National Park. World-renowned formations and exposures are accessible across the state's wide-open spaces. And geology plays a big role in the state's minerals-based economy.
"It's a great place to be a geologist, a great place to take students for field trips," says longtime University of Wyoming Geology Professor Art Snoke. "Within just an hour of Laramie, you can see absolutely fabulous geology."
So, it's no surprise that the UW Department of Geology and Geophysics has long been considered one of the university's best programs. With a strong national and international reputation, the department attracts post-doctoral researchers from around the world, and large numbers of scholars apply for its rare faculty openings.
Further evidence of the department's prominence is that it publishes UW's only peer-reviewed scientific journal, Rocky Mountain Geology. The semiannual publication, this year marking its 50th anniversary, is recognized as the premier journal for research on the geology of the Rockies.
"It's a sign of the high profile of geoscience at the University of Wyoming and its national recognition," says UW Vice President for Special Projects Carol Frost, also a faculty member in the Department of Geology and Geophysics. "Very few universities are publishing internationally recognized scholarly journals. Rocky Mountain Geology fills a really important niche."
The journal was first published in 1962, the brainchild of faculty member Ron Parker. It was called Contributions to Geology, with Parker as editor-in-chief and six other faculty members serving as co-editors. While it included papers on the geology of the Rockies, its topics were not limited to the region for its first three-plus decades.
In 1998, the name was changed to Rocky Mountain Geology as part of a complete makeover of the publication.
"We thought, 'Well, we're in the Rocky Mountains, and we publish a lot of papers about the region, so why not just take that name and focus on the Rocky Mountains?' After that, things just fell into place," says Snoke, who joined the journal's editorial board that year and continues in that role today.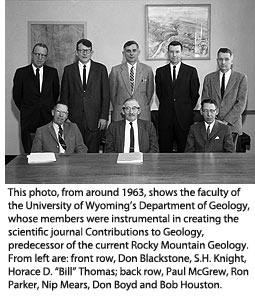 Other editorial board members are retired Professor Jay Lillegraven and Managing Editor Brendon Orr.
In 2004, Rocky Mountain Geology helped found GeoScience World, an online collection of 42 journals. That Internet association has dramatically increased Rocky Mountain Geology's visibility, and has boosted the quality and diversity of submissions it receives, Orr says.
"We have an international reach, even though we're kind of a targeted publication," he says. "We still identify as a small fish in an ocean with much bigger fish, but we fill an important regional niche."
The latest edition of Rocky Mountain Geology includes articles examining the South Fork Fault in northwest Wyoming, Triassic fossils in south-central Colorado and quartzite rock in central and northern Colorado. The work of UW researchers is published regularly, but submissions come from academics at a wide variety of institutions.
"I think it has improved a lot since the beginning," says Lillegraven, who has helped edit Rocky Mountain Geology for 35 years. "The quality of the papers, as a whole, has improved markedly."
Lillegraven, though retired since 2004, says he enjoys working on the journal. He and Snoke donate their time to edit Rocky Mountain Geology, as did longtime Professor Don Boyd until a couple of years ago.
"I feel that this is a way I can contribute to the discipline in some small way," Lillegraven says. "Plus, I continue to learn from every paper that we deal with."
While each edition of Rocky Mountain Geology usually includes papers on a variety of topics, sometimes the editors choose specific themes. Such was the case in 2010, when the fall issue was dedicated to the topic of carbon dioxide sequestration – a significant issue for Wyoming industry.
"The theme issues are good for us," Snoke says. "When you have a group of papers on one theme, it attracts attention, leads to citations and gets people noticing the journal."
Snoke and Lillegraven agree that publishing Rocky Mountain Geology contributes to the field of geology and UW's research mission.
"I just think it's something a research university should be doing -- publishing original research that has been peer-reviewed," Snoke says. "It's just another manifestation of the strength we have in geology and geophysics."
"It's a way for the university, as a whole (and) at very minor expense financially, to contribute to the entire discipline of geology," Lillegraven says. "And it brings attention to the school."
The journal succeeds financially, in part, because of an endowment established by an anonymous donor. Subscriptions generate some money, but "if we didn't have the endowment, we might be cutting it pretty close," Snoke says. "The endowment has given us a certain amount of financial security."
Orr says the day is coming when the journal is published only digitally -- its affiliation with GeoScience World will assure continued wide distribution. But, for now, there is still demand for the printed product. In addition, issues from all 50 years are accessible online.
"I hope it continues well into the future," Lillegraven says. "We're doing everything we can to make it something the university can be proud of."
Photo:
From left, retired Professor Jay Lillegraven, Professor Art Snoke and Managing Editor Brendon Orr -- who comprise the editorial board of Rocky Mountain Geology -- examine maps in preparation for an upcoming edition of the scientific journal. Rocky Mountain Geology, the only peer-reviewed scientific journal published by the University of Wyoming, marks 50 years of publication this year. (UW Photo)


Listen as Geology and Geophysics Professor Art Snoke discusses the history and mission of "Rocky Mountain Geology."