Department of Geology and Geophysics
News
UW Professor's Delayed Greenland Ice Melt Research Published in Nature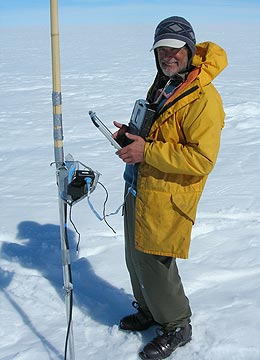 November 8, 2012 — Neil Humphrey agrees there's no denying that the Greenland Ice Sheet is melting. But he and other scientists who have recently documented surface melt of the country contend Greenland is melting at a slower rate than the current world consensus of scientific thought.
Humphrey, a University of Wyoming professor of geology & geophysics, co-wrote a paper with four other researchers that contends this point. The paper, titled "Greenland Ice Sheet Contribution to Sea Level Rise Buffered by Meltwater Storage in Firn," will appear in today's issue (Nov. 8) of Nature.
"We're not saying Greenland is not melting," Humphrey says. "What we're saying is it will be one to two decades longer before we start seeing the melt."
That's because Humphrey and other researchers' data -- collected on the western flank of the Greenland Ice Sheet from 2007-2009 -- shows that the water generated by repeated recent melt events penetrates deeply into the snow and firn (partially compact snow). This fills the pore space and diminishes the amount of meltwater that actually runs off into the ocean.
As future surface melt intensifies due to Arctic warming, a fraction of meltwater -- that would otherwise add to the rise in sea levels -- fills tens of meters of existing pore space of the percolation zone. The percolation zone is a region of the accumulation area that is perennially covered by snow and firn, Humphrey says.
"The snow is so deep and so cold that, even though it's melting, the melt infiltrates into the lower, colder snow and refreezes," Humphrey says. "We calculate there is one to two decades of pore space within the snowpack. You get denser snowpack. After 10 or 20 years, it (the pore space) fills up."
Thus, the routing of surface meltwater -- that fills the pore space of the partially compacted snow -- acts as a buffer between climate warning and sea-level response. As a result, this delays expansion of the ice sheet area contributing to sea-level rise.
"While other people (scientists) are predicting up to a one-half foot sea rise by 2050, we're actually saying our data shows that any rise that will occur will be delayed by one or two decades," says Humphrey of the paper he termed as "controversial." "A half-foot rise is significant. Half of Florida would be under water. New Orleans would be gone."
If the entire Greenland Ice Sheet – which is about 660,000 square miles or nearly three times the size of Texas -- were to melt, that would add approximately 20 feet of water above the current sea level worldwide and would be catastrophic, Humphrey says.
To obtain their research data, Humphrey and his research group traversed a roughly 100-kilometer area in the western interior of the Greenland Ice Sheet. The group drilled holes in the snow and ice, and installed temperature sensing strings 30 feet down into the snowpack. Each string included 32 sensors that recorded temperatures at five-minute intervals over a three-year period.
The core of the firn should be approximately 15 degrees, which is the temperature at which snow falls in Greenland, Humphrey says. Data logged by the sensors revealed the core's temperature was much warmer than that, meaning water was infiltrating the firn, he says.
The available pore space in the partially compacted snow showed strong elevation dependency. Infiltration of meltwater and refreezing events filled available pore space in the firn column with ice, and reduced remaining pore space. This 2,000-meter height represents the lowest elevation at which partial snowpack was not reduced by prior meltwater infiltration and refreezing, Humphrey says.
With decreased elevation, where it is warmer, meltwater infiltration events were of greater magnitude and increase in number, Humphrey says.
"There's been a lot of media hype about the melting of Greenland. It's caught the public's imagination," he says. "Other than the media, scientists have been predicting significant amounts of snowmelt will occur quickly in Greenland."
However, despite the snowmelt, the meltwater runoff will not be so fast, according to Humphrey's research.
Photo:
Neil Humphrey, a UW professor of geology & geophysics, stands next to a temperature sensor instrument in Greenland. He co-wrote a research paper that appears in the Nov. 8 issue of Nature.