Department of Geology and Geophysics
News
UW Scientist to Explore Volcano in Antarctica This Fall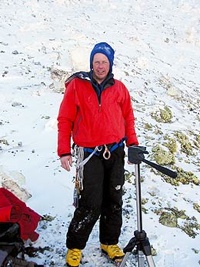 August 3, 2012 — Pictures of Antarctica usually revolve around snow, ice and penguins. Kenneth Sims' thoughts are on an active volcano in this remote region of the world.
An associate professor in UW's Department of Geology and Geophysics, Sims has received a $571,068 National Science Foundation (NSF) grant to study and better understand the origins of Mount Erebus. At 12,448 feet, Erebus is Antarctica's second highest and most active volcano, and the largest of four volcanoes that form Ross Island. Located on the western half of the island, Erebus is considered part of the Ross Sea rift system. It has had continuous eruption activity since at least 1972.
UW will receive approximately $294,000 through the grant that funds a collaborative research project with New Mexico Institute of Mining and Technology. It will support three years of UW doctoral student Erin Phillips-Writer's education, Sims says.
"It's unique. We know it's continuing to form with this active lava lake," Sims says of Erebus. "It's very well structured and its composition is different. It required a large amount of crystallization to get to this stage. It is one of only three volcanoes worldwide with a permanent lava lake."
Sims hopes to determine whether Erebus is a hot mantle plume, a hypothesis in which convection in the lower mantle, or crust layer, moves heat from the Earth's core to its surface in the form of narrow, rising columns.
Entering Erebus
During his trip, scheduled Oct. 18-Nov. 30, Sims will go where few have ventured, walking in the footprints of explorers Sir James Clark Ross and Sir Ernest Shackleton.
The volcano, located in one of the world's harshest and most remote regions, was discovered in 1841 by polar explorer Ross, who named it Erebus after one of his ships. In 1908, members of Shackleton's (an Anglo-Irish polar explorer) party were the first to climb to the rim of Mount Erebus.
While those early adventurers accessed Antarctica after long, enduring voyages by ship, Sims will rely on helicopters and snowmobiles to get around the island to collect various rock samples near Erebus, as well as samples near volcanoes Mount Terror and Mount Bird.
And he will keep a keen eye out for lava bombs spewing from the crater's rim.
Gas bubbles, which Sims described as "sticky boiling honey," often rise from Erebus's lava lake, which is approximately 1,700 degrees Fahrenheit. "Strombolian eruptions" (named after the Italian volcano Stromboli) catapult these hot globs from the volcano's summit, much like a mischievous child hurling misshapen water balloons.
"It (Erebus) erupts all the time when it sends out those lava bombs," Sims says. "It has a persistent lava lake. It's brilliant."
After the lava has cooled, it also leaves behind magma rock samples that can provide important clues about the volcano's origins and development, Sims says. Mount Erebus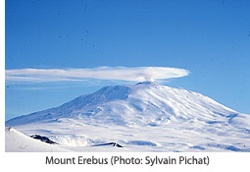 Radioactive isotopes naturally occur in Earth's interior and Sims wants to learn whether these elements play a role in volcano formation. He plans to collect cooled lava rock samples near Erebus's rim as well as on ice shelves situated along the coastline, where the ice will still be solid enough to traverse on foot.
"There will probably be some change around the summit and the sea ice," Sims says of topographical differences he likely will encounter since his last trip to Erebus in 2003.
This will mark Sims' eighth visit to Erebus and his 10th expedition to Antarctica. Some of his early treks to the continent were as a mountain guide for other scientists, he says.
While Erebus may be remote, the volcano is well monitored. The Mount Erebus Volcano Observatory, operated by the New Mexico Institute of Mining and Technology, and NSF, conducts regular field surveys and measurements from McMurdo Station. A webcam is even situated on the rim of the crater.
Putting in the preparation
However, one just can't say, "Hey, pack your bags. We're going to Antarctica."
Before departing, Sims says he has to undergo a battery of rigorous physicals and a stress test. Sims stays in shape by mountain biking, and rock climbing at Vedauwoo and on an artificial 13-foot-high rock-climbing wall in his home. He put his doctoral student through a two-week first aid course.
Erebus's summit height is similar to that of the peaks in the Snowy Range, but the atmosphere is even thinner in Antarctica because it's near the poles, Sims says. It's also 30-40 degrees below zero in Antarctica at that time, he says.
"You have to acclimatize properly," Sims says.
During his six-week trip, Sims will blog and tweet expedition updates on the National Geographic Explorers' site at http://www.nationalgeographic.com/explorers/. Additionally, he plans to establish a Web link so that students from Laramie High School, Snowy Range Academy, Laramie Montessori Charter School and Cathedral Home for Children can follow his research progress and ask questions along the way.
"With education, you need to reach across the spectrum and you need to write papers to convey to scientists what you're discovering," he says. "But, you also want to convey the science to elementary school kids. You want to present pure fundamental science and show the applications to society."
Before he departs for Antarctica, Sims will present a talk on volcanos Oct. 2 at the Denver Museum of Nature and Science. For more information, click here.
Photo:
UW Professor Ken Sims during a previous expedition to Mount Erebus, an active volcano located on Ross Island in Antarctica. He will return there this fall. (Photo: Rich Karstens)