Department of Geology and Geophysics
News
Assistant Professor Ye Zhang's Research Project Among Six Chosen for Second Cycle of Supercomputer Use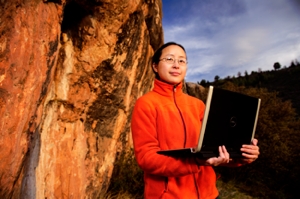 February 4, 2013 — Assistant Professor Ye Zhang was one of six UW faculty chosen to conduct research on the NCAR-Wyoming Supercomputing Center (NWSC) in Cheyenne this winter.
Zhang's research project, titled "Optimal Model Complexity in Geological Carbon Sequestration," will focus on creating computer models relative to carbon sequestration, which is capturing carbon dioxide and storing it, long-term, in geologic formations underground.
For more information, visit http://www.uwyo.edu/uw/news/2013/01/six-uw-research-projects-chosen-for-second-cycle-of-supercomputer-use.html.