Department of Geology and Geophysics
News
Jackson State University Contingent to Study Hydrology at UW This Summer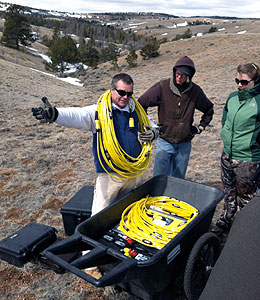 May 16, 2013 — Students from the University of Wyoming and Jackson State University will pair up this summer to focus on research projects centered on hydrology, ecology and geophysics in the Laramie and Snowy ranges.
A contingent of Jackson State University (JSU) students and faculty will visit UW for the field course, which runs June 13-27.
"It's a chance for them (Jackson State students) to see geography and ecological systems that are very different from what they are used to in Mississippi," says Steve Holbrook, a professor in UW's Department of Geology and Geophysics. "The climate here is arid. We have mountains, and different flora and fauna. We hope it is an enriching experience for those students."
Ezat Heydari, a Jackson State professor of geoscience, will accompany the Jackson State students. He considers the Wyoming visit as "a lifetime opportunity" for the JSU students.
"The mountainous topography, diverse geological structures, extensive outcrops and complex groundwater hydrology of southeast Wyoming are sharply different than the coastal plain geological framework of central Mississippi," Heydari says. "Exchanges between students and faculty from JSU and their counterparts in Wyoming are extremely valuable aspects of collaboration."
"Next year, the idea is to send our students to Mississippi to study organic soil and deciduous forests," Holbrook says. "That will be enriching for our students."
The collaborative activity is part of the outreach component of the five-year, $20 million grant award from the National Science Foundation (NSF) to Wyoming Experimental Program to Stimulate Competitive Research (EPSCoR).
The grant, the largest in UW's 126-year history, provides for new physical and intellectual infrastructure that enables a comprehensive research program that links surface and subsurface watershed hydrology, geophysics, remote sensing and computational modeling. This highly interdisciplinary award, bringing together researchers and educators from four UW colleges and 11 departments, is led cooperatively by three principal investigators: Anne Sylvester, a professor in molecular biology; Holbrook; and Scott Miller, an associate professor in ecosystem science and management.
As part of the grant, the Wyoming Center for Environmental Hydrology and Geophysics (WyCEHG), a multidisciplinary center, was established at UW in July 2012.
In the Field
Holbrook, a co-director of WyCEHG, says there will be an equal number of students participating from each of the universities. The UW student group will be a mix of undergraduate and graduate students majoring in ecosystem science, hydrology, botany and geography. In addition to Holbrook and Miller, UW faculty participating include Dave Williams, a professor of ecosystems science and management, and director of UW's Stable Isotope Facility; Brent Ewers, an associate professor of botany; and Brad Carr, a senior research scientist in geology and geophysics.
The Jackson State students in the group all major in earth systems science, Heydari says.
In the field, students will use geophysics to understand where water is located in the soil, and even to distinguish what percentage of that water is snowmelt and what percentage is from rainwater. Students will write short reports on the data they collect in the field and analysis they conduct in the lab.
"They will be asking those big questions that will help them understand how ecosystems function," Holbrook says. "They will answer questions with several different types of scientific data."
To assist them, students will use some of the WYCEHG equipment and tools, including:
--Sap flux meters, which measure sap movement in trees and how trees pull up water.
--Electrical resistivity equipment, used to determine electrical conductivity in the ground. Groundwater aquifers show up as zones that allow easier transmission of electrical current.
--Seismic equipment. By striking a metal plate with a sledge hammer, sound waves are sent out underground. The seismic equipment picks up the sound waves to determine water flow through the subsurface.
--Ground-penetrating radar transmit radar pulses into the ground to image the subsurface.
During their visit, the JSU students will live in a campus residence hall and eat their meals at Washakie Dining Center. While the field course will be "long days and hard work," Holbrook says he hopes to expose the Jackson State students to some time at a local dude ranch, where they can ride horses and have "a real Wyoming ranch experience."
Creating a Collaboration
One of NSF's goals for the EPSCoR grant is to find ways to increase diversity in universities that NSF works with. When he was looking for a potential collaboration with a historically black college or university (HBCU), Holbrook discovered that Jackson State had distinguished itself in earth systems science. According to the school's website, Jackson State is the only HBCU currently offering a degree in earth systems science. Holbrook says he contacted Jackson State to determine if there was interest in a collaboration, which there was.
Holbrook and Sylvester visited Jackson State last November to begin plans for the collaboration.
"We were very impressed with the quality of their students and the earth sciences program there," Holbrook says.
Jackson State faculty and administrators visited the UW campus in late March. These included Wilbur Walters, associate professor and head of the Department of Civil and Environmental Engineering; Rita Presley, associate vice president for research and sponsored programs; and Pamala Heard, director of the NASA Education Center at Jackson State.
"This is a collaboration that starts off as education. We hope it leads to research possibilities," Holbrook says. "I expect that this will be a larger and broader relationship in the future, beyond WyCEHG."
In addition, Holbrook says the collaboration provides recruitment potential: Jackson State undergraduate students may consider UW for their graduate education.
Photo:
Brad Carr of the Wyoming Center for Environmental Hydrology and Geophysics instructs (from left) UW students Matt Provart and Jorden Hayes in the use of electrical resistivity imaging equipment in Wyoming's Laramie Range. (Steve Holbrook Photo)

Hear Geology Professor Steve Holbrook describe the collaboration between UW and Jackson State University.