Department of Geology and Geophysics
News
UW Geoscience Students in Demand at Rocky Mountain Rendezvous Job Fair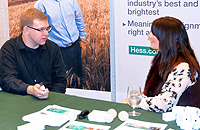 October 4, 2013 — Growing up in Houston, Texas, Karen Aydinian remembers her father, a petroleum geologist, working with few female geoscientists in what was then a predominantly male business. Today, about one-half of such geologists in the industry are women, she says.
Aydinian, a University of Wyoming master's student in geology, is likely to soon join those growing ranks.
She was interviewed for jobs by eight petroleum or oil and gas companies during the Rocky Mountain Rendezvous (RMR) Job Fair, which took place Sept. 27-30 at the University of Wyoming Conference Center and Hilton Garden Inn. The 12th annual fair drew recruiters -- many of them UW graduates themselves -- from 23 petroleum companies and roughly 375 geoscience students nationwide from 80 colleges and universities. Of that total, 44 were UW students, according to Randi Martinsen, a senior lecturer in geology and geophysics, and the event's founder and coordinator.
The UW Department of Geology and Geophysics and the School of Energy Resources (SER) were co-hosts of the event. The RMR is one of five regional job fairs and is sponsored by the American Association of Geologists (AAPG) and the Society of Exploration Geophysicists (SEG).
"I'm a fracture specialist, and they are hard to find," says Aydinian, who already has three internships with oil and gas companies on her resume. "Basically, I look at natural fractures in the earth and analyze the state of stress. It's crucial for companies involved in hydraulic fracturing. You want the fractures to go in an orientation where the oil and gas will flow up into the well."
In addition to her promising job prospects, Aydinian also placed second in the job fair's poster contest and took home $600.
Garnering face time
Like Aydinian, a number of UW students secured multiple interviews.
Ryan Armstrong, a first-year master's student in geology at UW, was hopeful he would secure an internship after he interviewed with Chevron, ExxonMobil and Marathon.
"I think my biggest strength is that I actually did a double major in geology and physics," the Fort Wayne, Ind., native says of his undergraduate days at Colorado College that included field work in all of his geology courses.
From his interviews, Armstrong said companies appear to have projects they need completed or help with, but no one available to take on these projects. That's why they are looking to interns for help, he says.
Ryan Herz-Thyhsen, a UW graduate student in geology and geophysics from Media, Pa., says he took the approach to just be himself and not oversell his qualifications during his interviews with Anadarko, ExxonMobil and Marathon.
Charles Nye, a UW graduate student majoring in geology, says his plan was to emphasize his communication skills and his ability to complete projects. He also was aware to be flexible, and not be over-prepared with his answers.
"That could result in a person ending up in a company and culture where they don't fit," says Nye, of Laramie. "These companies will be making an investment. They want to hire a good person as well as a good geologist."
Tom McClurg, a geologist with ConocoPhillips who received his master's in geology from UW in 1990, says that is true. During interviews, McClurg describes what it's like working for a larger oil company, where there may be many layers of approval for projects; or a smaller company, where there may be a little more freedom. The candidates can then make informed decisions on what size of company is a better fit for their personality.
He adds that ConocoPhillips has more resources than smaller companies and provides job opportunities overseas in addition to North America.
Finding strong candidates
Like other recruiters, Mark Olson says he finds good candidates at the RMR because most geology students in Wyoming and the Rocky Mountain region have had field experience due to the geology available for study. Olson is manager of sedimentology and stratigraphy at ConocoPhillips.
"We look for candidates with field experience," says Olson, who received his bachelor's and master's degrees in geology from UW in 1996 and 1999, respectively. "We can teach them how to use the software, the tools and the gas industry. We can't teach them fundamental geology."
"We are quite successful here. This is one of our high-profile recruiting events," says Kurt Tollestrup, a senior geophysicist with BP America and a 2000 UW graduate. "There is no graduate department in the country that has 200 students to choose from in one locale. That's the beauty of the RMR."
Aydinian says it was inspiring to see many of the recruiters were young women. Margie Kloska, a geological adviser for Hess Corporation, was a prime example.
Kloska, who spent the last seven years working as a geologist in Malaysia and Indonesia, as well as managing exploration for Hess in Indonesia, says this was her first time recruiting at the RMR.
"We love coming to UW. The students are well rounded in their skill outside the classroom, and the level of education in the department is very high," says Kloska, who received her master's degree in geophysics from UW in 1999. "I use all of my coursework in my job."
Hess interviewed 18 students, including Nye, at the RMR. In all, Kloska says Hess will look at about 1,300 students -- including those interviewed at other job fairs and during visits to universities -- to fill 10 available slots.
During his interview, Nye says he provided examples of situations in the lab or field, including those that involved safety, and how he handled them.
"The recruiters asked me to tell them about a situation," Nye says. "They wanted a story, not a list. With the details that fill a story, recruiters get a less canned response."
In addition to on-site job interviews, the four-day event included a vendor expo, receptions, short courses, student poster presentations that included cash prizes; and field trips, including an Anadarko oil rig tour and a visit to the Niobrara Formation, a major shale oil area in northern Colorado and southern Wyoming.
Photo:
Charles Nye, a UW graduate student in geology, talks with Margie Kloska, a geological adviser with Hess Corporation. Nye was one of 44 UW geoscience students who interviewed for jobs or internships at the recent Rocky Mountain Rendezvous Job Fair.


Hear Rocky Mountain Rendezvous of Geosciences chairman Randi Martinsen discuss the success of the RMR.