Department of Geology and Geophysics
News
UW Graduate Student Participates in Chief Scientist Training Program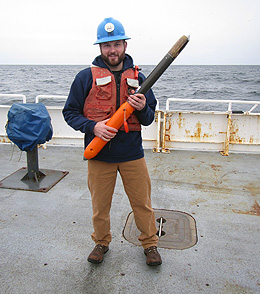 November 12, 2013 — Will Fortin finds time on the ocean peaceful, a place where he can block out daily diversions and focus squarely on the seismic marine research project of the moment.
"What I like best about being at sea is time to be totally focused on research," says the University of Wyoming doctoral candidate in the Department of Geology and Geophysics. "It's a time when you're with a bunch of other people who are motivated. You work 15-16 hours a day with no distractions. That's what I like best."
Fortin, of Avon Lake, Ohio, was one of 14 graduate students or early-career oceanographers nationwide who participated in a recent Chief Scientist Training workshop funded by the National Science Foundation and the Office of Naval Research.
The training program, coordinated by the University-National Oceanographic Laboratory System (UNOLS), took place Oct. 19-28 at the University of Rhode Island (URI) Graduate School of Oceanography and aboard the RV Endeavor, URI's research ship. The research cruise, which spent a week at specific locations in the middle Atlantic Ocean, began and ended at URI's Marine Operation Facilities in Narragansett, R.I.
"I'm looking at ocean turbulence, and how it can be meaningful to the world's climate," Fortin says. "It's (turbulence) a small specific part of it."
In addition to previous research cruise experience, Fortin believes he was chosen, in part, due to his background in marine geology and geophysics. Most of the other applicants, and those chosen, had traditional backgrounds in biological, chemical and physical oceanography, he says.
"I applied to work with acoustic instruments on board. Seismology is acoustics," Fortin says.
Toys and turbulence
During the cruise, Fortin used various high-tech instruments to study the interaction of ocean currents and the sea floor. He used an Acoustic Doppler Current Profiler (ADCP) that makes an acoustic sound and records a reflection back from suspended sediment.
"It's similar to when the sound of a siren is coming toward you and then away," Fortin says. "This instrument works on the same principle. If the current is moving toward you, it becomes a higher frequency. The frequency becomes lower when it moves away from you."
He also used an echo sounder that works much like a fish finder. The instrument emits a "ping" sound, and measures water depth by sending pressure waves down from the surface and recording the time until the echo returns from the bottom.
Additionally, an Underway Conductivity, Temperature and Depth Instrument, or uCTD that is shaped like a small torpedo, can provide salinity, temperature and depth readings. The instrument can be towed along while the ship is moving.
"In seismic oceanography, the way we image the ocean relies on small changes in temperature and salinity," Fortin says. "With data from the uCTD, I can get similar information and calculate approximate levels of turbulence." 
An old hand on deck
The training cruise and workshops were designed to help younger scientists understand the process of requesting ship time and the complicated logistics involved in planning an expedition; ensuring proper equipment is aboard; allocating space for scientists; and numerous other details necessary to make a research cruise run smoothly.
"Early career scientists often find it challenging to get access to research vessels and, sometimes on their first cruise, they have to serve as chief scientist," says Annette DeSilva, assistant executive secretary of UNOLS. "There is a lot of responsibility that comes with being chief scientist, so this cruise gives them hands-on practice that will help them for the rest of their career."
Fortin is no stranger to research cruises. During graduate school, he has been part of two cruises off Nicaragua and Costa Rica; two more in the Cascadia region near Oregon and Washington; and one in the Adriatic Sea off of Italy's coast.
As Fortin has learned, no cruise goes smoothly. Having accompanied his adviser, Steve Holbrook, a UW professor of geology and geophysics, on three previous research trips, Fortin learned a lesson early on.
"Steve says, 'Do what you can to get the core of your science accomplished,'" Fortin recalls.
During one research cruise in 2012, the science had to be shut down for a spell due to whales in the area. Rather than panic, Fortin says Holbrook just waited for the whales to move on before ramping up the expedition again.
That experience helped Fortin keep his cool when inclement weather at sea forced the RV Endeavor to reverse its original plan of going out to the deep ocean first before moving in toward the shallows. Instead, the vessel started in the shallow water before moving out to sea as the weather improved.
"The weather was pretty rough. We had to change our schedule before we even left," Fortin says. "If you had never been on a cruise before, that would crush you right off the bat."
"The oceanography community needs to train not only the next generation of sea-going scientists, but also the next generation of those who will step up and take charge to organize cruises," says David Smith, associate dean of URI's Graduate School of Oceanography. "That's what this program is all about."
Bridging his science
Fortin plans to use data gathered from this most recent cruise to help him answer questions to research he conducted off Costa Rica. There, he studied lee waves, which are vertical underwater waves that are stationary. Lee waves are formed when underwater currents make contact with rough topography, such as hills or ridges on the seafloor.
"Unlike a surface wave, it doesn't move. It's an underwater column," Fortin says.
His research there focuses on how much turbulence the lee waves create.
"I want to bridge the two data sets," says Fortin, who had to rely more on existing literature than direct measurements during his work in Costa Rica. "I will know more of how currents interact with the sea floor on this cruise. With that knowledge, I can better inform my work with lee waves off Costa Rica."
Areas of increased turbulence are important because of the "mixing problem" being studied in oceanography circles, he says. At the Earth's poles, water sinks in the oceans because of the cold temperatures. In the rest of the world, water must rise and mix with warmer waters. However, when open-ocean upwelling is measured, it accounts for only 10 percent of what it should be, Fortin says.
"In order to understand how our climate works, oceans are a major driver," Fortin says. "The ocean is what helps us regulate our planet's climate."
He adds, "If this turns out to be an analogous study, this will go in my dissertation."
To view the research cruise blogs, including one by Fortin, go to http://csw.unols.org
Photo:
Will Fortin, a UW doctoral student in geology and geophysics, participated in a Chief Scientist Training workshop funded by the National Science Foundation and the Office of Naval Research. Here, he holds an instrument called a uCTD that can provide salinity, temperature and depth readings of the ocean. (Gordy Stephenson Photo)