Department of Geology and Geophysics
News
Senior Lecturer Erin Campbell-Stone Receives Going the Extra Mile Award for Disability Support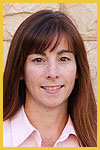 May 19, 2014 — On April 21, 2014, the University Disability Support Services (UDSS) presented its Going the Extra Mile Award to University of Wyoming faculty, staff and departments.
 
They were recognized for "demonstrating qualities of knowledge, sensitivity and helpfulness in assisting students with disabilities at the University of Wyoming," says Brynn Elliot, UDSS communication access services coordinator.
 
Senior Lecturer Erin Campbell-Stone, who is currently leading field camp received one of the awards. Congratulations Erin!