Department of Geology and Geophysics
News
Continents Tell Their Tale: Geology professor helps broaden picture of Earth's distant past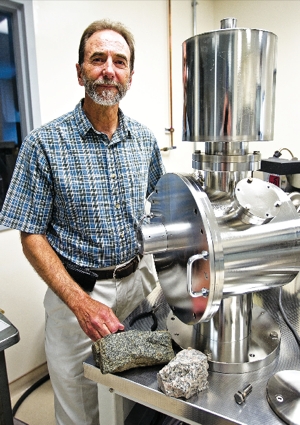 August 28, 2014 — 
By MARK HEINZ
Kevin Chamberlain likes taking the wide view — as in on the continental scale.
When he first started college in the 1970s, Chamberlain thought he wanted to be a doctor, but then, he found out about new doorways of discovery being opened in geology and related sciences. It was about that time the understanding of plate tectonics was beginning to bloom. Researchers were starting to understand the significance of Earth's crust consisting of large plates drifting on the molten layers below.
That in turn was driving an understanding of why, for example, the coastlines of some continents seemed to line up perfectly with the coastlines of others across oceans.
"All the professors were aglow with excitement" as it became clear how and why the continents seemed to fit together like pieces of a puzzle, Chamberlain said.
The enthusiasm for that knowledge and its implications captivated Chamberlain, and he left the study of medicine to pursue geology.
"My interest was in the big-scale picture," said Chamberlain, a geology and geophysics research professor who has been at the University of Wyoming since 1990.
"How do these continents move and what can that tell us about Earth's evolution?" he said.
Since the study of plate tectonics emerged, it's become widely accepted that, between 500-300 million years ago, most of the planet's land mass was consolidated in the supercontinent of Pangaea.
That's a relatively brief period of Earth's estimated 4.55 billion-year history. So, what happened before Pangaea?
By comparing observations and findings across the globe, Chamberlain and other researchers are discovering the continents could have come together and split apart numerous times.
In other words, the emergence of the world familiar to us from the break-up of Pangaea might have been only the latest cycle in a process that's been going on for billions of years and continues today, Chamberlain said.
"Earth is basically a big heat engine," he said, and the movement of the continents is one manifestation of that.
Chamberlain specializes in the study of "plumes," or dark layers of sediment and rock that formed along places where landmasses previously split.
"Trying to look back before Pangaea, we lost fossil records and the matching configuration of existing coastlines," he said.
However, plumes from various locations around the world can be mapped out, studied and compared, finally shedding light on how the ancient landmasses might have appeared, he said. The similarity of rock composition in seemingly unrelated places can be noted, and crystals from within the plume zones can be dated to help determine when specific movements might have occurred.
"Is there a frequency to (continental splitting)?" Chamberlain said. "Is there a cycle to it?"
The geology we see today isn't only the result of splitting, he said.
Landmasses have also slammed together.
That very thing happened in this region, he said.
"If you split down the middle of Idaho, everything west of that was added to North America about 300-400 million years ago," Chamberlain said.
Geology and geophysics can also reveal surprising information about where the material making up familiar landmarks might have come from, he said.
"The high peaks of the Snowy Range were once beach sand," Chamberlain said.
The rock in the Medicine Bow range is also remarkably similar to that found in Indonesia, suggesting other ancient connections, he said.
Much of Wyoming was once under large lakes, Chamberlain said. Studying how and why those lakes changed and shrank could also help predict the long-term effects of current climate change.
Chamberlain's research has taken many fascinating turns over the years. He helped study and date material from a Martian meteorite that was discovered in the Sahara Desert in northwest Africa. His work helped determine the meteorite had been ejected from the surface of Mars about 200 million years ago — via an asteroid impact on that planet's surface — and that it had been on Earth about 22 million years.
Chamberlain is also working on a project to determine whether bacteria can be used to stabilize and restore aquifers in reclaimed uranium mines.
He's never regretted switching the course of his study all those years ago; geology and geophysics have provided an endless source of fascination.
"It's that child-like ability to ask questions and get answers about the world around us," he said. "And, as scientists, we're very fortunate to live in a society that allows us to do that."
Photo: Kevin Chamberlain, University of Wyoming geology and geophysics research professor, has been working on discovering the secrets behind continental drift, Pangea and what Earth might have looked like before. Jeremy Martin/Boomerang photographer