Department of Geology and Geophysics
News
Graduate Student Josiane Pafeng Tchuindjang Receives Scholarship from Society of Exploration Geophysicists Foundation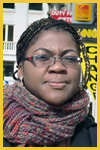 July 15, 2014 — Graduate student Josiane Pafeng Tchuindjang (Ph.D.) was recently awarded the James L. Allen Scholarship from the Society of Exploration Geophysicists Foundation (SEG). Dr. Allen is a geophysicist, foundation trustee, and alumnus of the University of Wyoming, who got his Ph.D. in Physics in 1974.
The scholarship will help support Josiane's research, which addresses seismic and EM inversions for subsurface characterization, as well as petrophysical inversion for reservoir rock and fluid properties.
Josiane is advised by Professor Subhashis Mallick.