Department of Geology and Geophysics
News
UW Professor Contributes to Rock Physics Handbook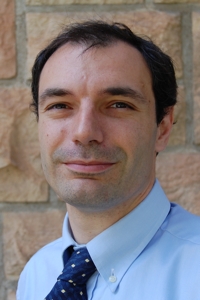 March 26, 2014 — A University of Wyoming faculty member is among three authors of a rock physics handbook that will be released next month.
Dario Grana, a UW assistant professor in the Department of Geology and Geophysics, co-wrote "Seismic Reflections of Rock Properties." The book is described as being accessible for researchers and petroleum geologists, both in industry and academia.
"This book is about rock physics, the discipline that links the properties of porous rocks to their seismic response," says Grana, who wrote his section in 2013 while a doctoral student at Stanford University. "The main application is for oil and gas reservoirs for the petroleum industry."
The book, published by Cambridge Press, provides a practical workflow guide on how to implement rock physics theory to reveal the underlying rock properties behind the seismic data; presents detailed descriptions of rock physics models and their relation to the geological conditions, giving readers a wealth of comparative data; and includes case studies based on real well data from oil and gas fields, which demonstrates the application of the theory in real-world situations.
The book catalogs various cases, including clastic sediments, carbonates and gas hydrates; and discusses the effect of rock properties on seismic reflections and time-lapse sediment monitoring.
Grana wrote a chapter in which he integrates rock physics models with statistical methods. Rock physics addresses the relationship between rock properties and elastic properties. These include porosity (empty spaces in rock materials), lithology (mineral composition of the rock) and fluid saturations (volume of space fluid occupies relative to the pore space); and elastic properties, which is the measurement of a rock's tendency to deform non-permanently in various directions when stress is applied.
"The goal of this chapter is to try to quantify uncertainty that comes from different sources," Grana explains. "You use geostatistics."
For example, if a researcher knows the porosity of a rock, he can determine the seismic response of the rock. Using geostatistics, a researcher also can quantify the uncertainty of this estimate provided in the book's formulas, he says.
"My main job was to describe the mathematical methods used in rock physics modeling," Grana says. "This is a really practical book. We have a lot of examples."
Grana wrote the textbook with Jack Dvorkin, a senior research scientist of rock physics at Stanford University, and Mario Gutierrez, a principal quality improvement geophysicist at Shell Exploration and Production Inc.
The 304-page book includes 15 color illustrations and 13 tables. Priced at $75, the book becomes available for order in April in Europe and in the United States in May.
"Cambridge has pre-orders from people working in research at oil companies," Grana says. "This book can bridge the gap between theoretical background (in academia) and research oil and gas companies do in their work."
But Grana stresses the book can be used in the college classroom. He is considering using it himself next fall in a new graduate-level course he developed called "Rock Physics and Reservoir Modeling." The class focuses on applications for oil and gas reservoirs, but could be applied to aquifer modeling in the shallow subsurface, he says.
The book has garnered some good early reviews from the business community.
"The authors superbly introduce readers to the field of rock physics and also educate practitioners on applying rock physics in seismic interpretation for hydrocarbon reservoirs," says Ivar Brevik, a project leader and specialist in geophysics at StatoilHydro, an international energy company. "Systematically designed using templates and catalogs, this guide to exploration for and production mapping of hydrocarbons  is honestly explained, including warnings for interpretation pitfalls. Supported by excellent figures, it is enjoyable to read and hard to resist turning to the next page."
"This invaluable companion to Mavko's popular 'Rock Physics Handbook' describes the deterministic and stochastic forward modeling tools a geophysicist needs to find reservoir parameter combinations whose seismic responses fit the data," says Sven Treitel, president of TriDekon Inc. "The authors illustrate key concepts with simple applets, and cover the latest developments in digital rock physics and gas hydrates."
Grana describes the end product as "a great satisfaction."
"It's essentially two years of work," he says. "It took a big part of my Ph.D."
For more information or to register your interest for ordering the book, email collegesales@cambridge.org.
Photo:
Dario Grana, a UW assistant professor in the Department of Geology and Geophysics, co-wrote the book "Seismic Reflections of Rock Properties." The book will be available in the U.S. in May.