Contact Us
Department of Geology and Geophysics
1000 E. University Ave.
Laramie, WY 82071-2000
Phone: 307-766-3386
Fax: 307-766-6679
Email: geol-geophys@uwyo.edu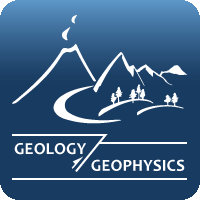 UW Petroleum Industry Job Fair Attracts 350
October 1, 2012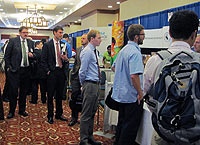 A record number of participants attended that annual Rocky Mountain Rendezvous.
While it continues to grow and expand, one thing remains constant about the University of Wyoming's annual Rocky Mountain Rendezvous (RMR): Everyone who attends has nothing but praise for the four-day fair that has evolved into one of the petroleum industry's major recruiting events.

When it began 11 years ago, about a dozen petroleum companies came to UW to recruit fewer than 60 students. But as word got out about the quality of the students and the friendly, relaxed environment that contrasts with similar fairs in larger cities, petroleum industry recruiters took notice. Now, many companies consider it to be a can't-miss event.

This year's fair took place Sept. 21-24 and attracted 24 companies and a record 350 students from throughout the United States seeking summer internships and the chance to land full-time jobs.

"It's really energizing to see these young students enthusiastic, eager and just so excited about their career opportunities," says Randi Martinsen, a lecturer in the UW Department of Geology and Geophysics and the event's founder and coordinator. "I get thank-you emails for weeks after the event, telling me how much they enjoyed it and what it meant to them."

Laura Murray, Chevron's CO2/Waterflood Earth Science Team leader, has recruited students at the last six RMRs.

"The sheer number of students, in addition to the success of the companies who attend in obtaining their hiring targets, should be proof that this is a worthwhile, if not critical, endeavor for AAPG (American Association of Petroleum Geologists that co-sponsors the event) and the University of Wyoming," Murray says.

Mark Olson, a manager with ConocoPhillips, has attended three RMRs. He says he continues to be impressed with the number and quality of the students.

"We made 10 offers last year and six of them have either started full time or have offers," Olson says. "We have the same number of truly exceptional candidates this year and will hopefully be able to extend them offers."

Chevron recruiter Heather Henry, who was hired at the RMR five years ago, recalls that, as a student, she had a great experience on the field trip and attending the poster session.

"I have had an excellent time participating in the same events, and I've enjoyed watching RMR grow," she says. "We see students of such great quality, I'm excited to come back every year."

Students appreciate the opportunities offered at the RMR, too. Jeff Nelson of Laramie, a UW graduate student in geology, has attended two of the events.

"Being able to interact with so many different companies, employers, geologists and human resource personnel was an eye-opening experience," Nelson says. "With each interview, I was able to get a glimpse at what every company holds as its core values as well as the type of people and work environment that I would interact with if given the opportunity to have an internship. The interactive skills that I gained through talking to so many different people absolutely cannot be recreated in any other environment."

He had accepted a job offer after attending his first RMR, and returned this year as a student volunteer.

John McFadden, the AAPG student chapter president at the University of Colorado, Boulder, led a group of 18 CU students to the UW event. Some were graduate students seeking full-time employment, others were undergraduates seeking networking and summer internship opportunities.

"I loved how easy it was to socialize with the students as well as the recruiters. Whether exchanging encouragements with a new face before an interview or comparing company swag items over lunch, I had a great deal of fun meeting new people," McFadden says. "In turn, the social atmosphere was so comfortable that I felt like I could easily convey who I am and what my goals are to the recruiters. "

But the opportunity to meet with recruiters isn't the only advantage for students. Erin Donaghy, an M.S. degree student at Northern Arizona University, says, "Students should take advantage of the short courses and field trips that are offered because they provide a unique learning opportunity that many students are not exposed to at their universities."

Donaghy seemingly summed up how all of the students felt about the RMR when she added, "The whole experience was awesome. I gained confidence and experience for interviews and learned more about the oil and gas industry than I ever have before. If a student is seriously considering pursuing a job in the oil and gas industry, attending the RMR is a must."
Contact Us
Department of Geology and Geophysics
1000 E. University Ave.
Laramie, WY 82071-2000
Phone: 307-766-3386
Fax: 307-766-6679
Email: geol-geophys@uwyo.edu