Contact Us
Department of Geology and Geophysics
1000 E. University Ave.
Laramie, WY 82071-2000
Phone: 307-766-3386
Fax: 307-766-6679
Email: geol-geophys@uwyo.edu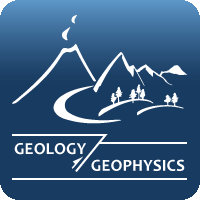 Fall 2013 Issue of Rocky Mountain Geology Published
December 16, 2013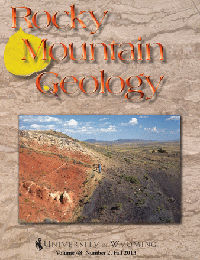 Rocky Mountain Geology Volume 48, Number 2, published by the University of Wyoming, is now available online and in print. 
In this issue:
Stephen T. Allard and Douglas H. Portis
Paleoproterozoic transpressional shear zone, eastern Black Hills, South Dakota: Implications for the late tectonic history of the southern Trans-Hudson Orogen

Steven M. Cather, Kate E. Zeigler, Greg H. Mack, and Shari A. Kelley
Toward standardization of Phanerozoic stratigraphic nomenclature in New Mexico

Troy Schinkel and Michael C. Wizevich
Silicified layers within the Paleogene volcaniclastic Brian Head Formation, southern Utah: Insights into the origin of silicified beds in nonmarine strata

William A. Clemens and Jason A. Lillegraven
Interpreting stratigraphic relationships and Laramide structural history of the northeastern margin of the Hanna Basin (Wyoming): Meniscoessus (Mammalia, Multituberculata) exposes its faults

Donald W. Tomlinson, Peter Copeland, Michael A. Murphy, and Thomas J. Lapen
Oligocene shortening in the Little Burro Mountains of southwest New Mexico

Kaitlin I. Singer and R. V. Fodor
Petrology of Stewart Mountain basalt field in central Arizona, U.S.A.: A lithospheric source with small-scale trace element and isotopic heterogeneities
The issue is available for purchase on the Geology Bookstore website, geobookstore.uwyo.edu/rmg-fall-2013-48-2 and also available for download at rmg.geoscienceworld.org.
"This scholarly journal is an important resource for professional earth scientists," says Brendon Orr, managing editor and editorial board member. "The high-quality, refereed articles report original research by top specialists in all aspects of geology and paleontology in the greater Rocky Mountain region."
Other editorial board members are Professor Art Snoke and Emeritus Professor Jay Lillegraven in addition to the journal's new board of associate editors.
Contact Us
Department of Geology and Geophysics
1000 E. University Ave.
Laramie, WY 82071-2000
Phone: 307-766-3386
Fax: 307-766-6679
Email: geol-geophys@uwyo.edu