Contact Us
Department of Geology and Geophysics
1000 E. University Ave.
Laramie, WY 82071-2000
Phone: 307-766-3386
Fax: 307-766-6679
Email: geol-geophys@uwyo.edu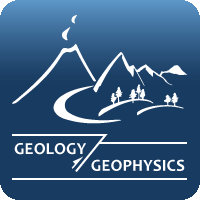 Special Quaternary-Themed Issue of Rocky Mountain Geology Published
June 18, 2014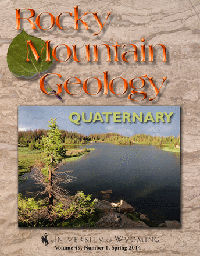 Rocky Mountain Geology Volume 49, Number 1, published by the University of Wyoming, is now available online and in print. This special-themed Quaternary issue includes the following articles: 
In this issue:
Bryan N. Shuman
Introduction: Studies in the Quaternary of the Rocky Mountains

John P. Kaszuba, Kenneth W. W. Sims, and Allison R. Pluda
Aqueous geochemistry of the Thermopolis hydrothermal system, southern Bighorn Basin, Wyoming, U.S.A.

Paul K. Link, Benjamin T. Crosby, Zachery M. Lifton, Elijah A. Eversole, and Tammy M. Rittenour
The late Pleistocene (17 ka) Soldier Bar landslide and Big Creek Lake, Frank Church-River of No Return Wilderness, central Idaho, U.S.A.

Bryan N. Shuman, Grace E. Carter, Devin D. Hougardy, Kristine Powers, and Jacqueline J. Shinker
A north–south moisture dipole at multi-century scales in the Central and Southern Rocky Mountains, U.S.A., during the late Holocene

Jacqueline J. Shinker
Climatic controls of hydrologic extremes in south-central Rocky Mountains of Colorado, U.S.A.

Thomas A. Minckley
Postglacial vegetation history of southeastern Wyoming, U.S.A.

W. John Calder, Cody J. Stopka, and Bryan N. Shuman
High-elevation fire regimes in subalpine ribbon forests during the Little Ice Age and Medieval Period along the Continental Divide, Colorado, U.S.A.
The issue is available for purchase on the Geology Bookstore website and also available for download at rmg.geoscienceworld.org.
"This scholarly journal is an important resource for professional earth scientists," says Brendon Orr, managing editor and editorial board member. "The high-quality, refereed articles report original research by top specialists in all aspects of geology and paleontology in the greater Rocky Mountain region."
Other editorial board members are Professor Art Snoke and Emeritus Professor Jay Lillegraven in addition to the journal's board of associate editors. Associate Professor Bryan Shuman also served as Guest Editor for this issue. Shuman also serves as the Director of the Roy J. Shlemon Center for Quaternary Studies.
Contact Us
Department of Geology and Geophysics
1000 E. University Ave.
Laramie, WY 82071-2000
Phone: 307-766-3386
Fax: 307-766-6679
Email: geol-geophys@uwyo.edu