Remembering Alumnus James A. Barlow, Jr. (M.A. 1950, Ph.D. 1953)
January 7, 2015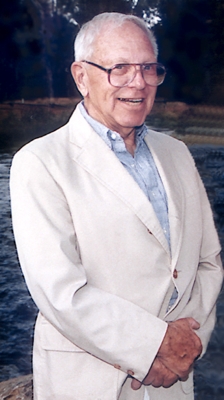 Modified from originally published obituary in Jackson Hole News and Guide, January 7, 2015
Alumnus James A. Barlow, Jr. passed away  on January 2, 2015 after a short illness, surrounded by the family he loved. He was 91. He will be very missed by his many friends and family.
Jim was born Sept. 4, 1923, in Englewood, New Jersey. His father, James A. Barlow, Sr., was from a homesteader family in Livermore, Colorado and later Sheridan. His mother, Emile Verge, was from Montelimar, France. They had met and were married in the city of New York.
Jim was the fourth of five children and grew up with his three sisters and a brother on the banks of Hackensack River in New Jersey. They spent many days exploring the river and even made a boat trip in their favorite boat around the island of Manhattan.
In World War II he served as an ensign in the Navy as an aviator with the squadron called the Jersey Skeeters. He was an accomplished pilot, landing the Hellcat and Corsair planes on the decks of aircraft carriers. This past summer, Jim was able, through the help of wonderful friends to revisit some of his flying experience with a tour in an open cockpit bi-plane, like the one he had learned to fly in. 
Jim met his future wife, Ann, in Brooklyn, New York, while he was stationed at Floyd Bennett Field, they married on Dec. 21, 1946.
After the war, Jim attended Middlebury College and received a Bachelor of Arts in 1949. Wanting to pursue a career in geology, Jim and Ann followed his father's Western heritage to Wyoming and to the University of Wyoming where he received his master's in 1950 and a doctorate in geology in 1953. They both adapted to life in Laramie and had many great stories of the time there. He and his future business partner, John Haun, received the first two doctorates in geology that UW awarded. After college he worked as an exploration geologist for Marathon Oil and Forest Oil. In 1957 Barlow & Haun Inc. was formed.
His love for the state of Wyoming and his belief in giving back to his community led Jim to put on his Wyoming hat, as he liked to call it, and he became involved in local government. In Casper he served on the City Council from 1960 to 1966. From 1966 to 1968 he served as mayor of Casper.
Jim later went on to the Wyoming state Legislature in the House of Representatives for two terms from 1982 to 1986. He is one of the few "oil men" in the Legislature to receive the Environmental Legislator of the Year award.
In 1988 he was awarded an honorary Doctor of Law degree from the University of Wyoming. Jim also served on the Wyoming Oil and Gas Conservation Commission and has been very active in the industry with both his field work and mapping. His love for geology was great and at 91 he still made it to the office and was active in the Geologists of Jackson Hole, which he helped to organize.
In 1974 Ann and Jim purchased land in Jackson Hole, which later became his permanent home. Dad loved to fly fish and was good in the workshop. He loved gatherings and good conversations and was very devoted to his family and friends. Jim is survived by his son Jim and his wife, Pam, his daughter Lee and his grandchildren Will, Hailey, Nicolas and Lucas. He is also survived by one sister and numerous nieces and nephews.
Jim was a beloved grandfather and father. Deeply loved by all, he will be missed.