Contact Us
Department of Geology and Geophysics
1000 E. University Ave.
Laramie, WY 82071-2000
Phone: 307-766-3386
Fax: 307-766-6679
Email: geol-geophys@uwyo.edu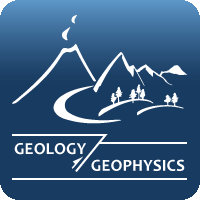 The Bearded Lady Project
February 21, 2017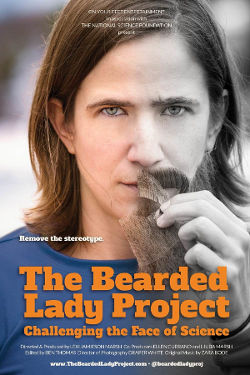 Ellen Currano used to joke with filmmaker Lexi Jamieson Marsh that her life as a paleontologist would be so much easier if she could sprout facial hair in what is traditionally a male-dominated field that has long celebrated large, grizzled or bearded men going out into the field, facing the elements, carrying a large pickax and moving boulders.
That good-natured exchange turned serious when Currano, a University of Wyoming assistant professor of botany, and geology and geophysics, teamed up with Marsh and Kelsey Vance to create the documentary film "The Bearded Lady Project: Challenging the Face of Science."
Currano, a UW paleobotanist, is featured in the film. Marsh, founder of On Your Feet Entertainment, directed and produced it and Vance, an independent artist, served as the fine art photographer.
"Female scientists are missing from the media. The collaboration between film and photography offers two opportunities for audiences to interact with this project, as well as a new and creative voice to initiate public discourse," Currano says. "Through the film, the audience will see women in action and recognize how rare it is to see them featured as scientists. Through the portraits, the audience is left to dwell on the still images before them, to evaluate their own preconceived notions regarding gender roles."
Supported by Currano's National Science Foundation CAREER grant, Marsh, Vance and Draper White, the film's director of photography, traveled across the U.S. and the United Kingdom interviewing female paleontologists and, of course, taking bearded portraits of scientists in their field, laboratory, and museum and classroom settings.
Currano has a geology background. She received her B.S. in geophysical sciences and an A.B. in biological sciences, both from the University of Chicago, and a Ph.D. in geosciences from Pennsylvania State University. She digs up fossilized plants; uses them to figure out what climate, ecology and vegetation structure were like; and looks at bug bites on the leaves and interprets insect-plant interactions.
Although the core focus of the project is paleontology, the ideals behind "The Bearded Lady Project" can be applied to a wide range of communities, Currano says.
"Public access to the project has the ability to further empower women of the future, encouraging them to pursue their passion, whether it is in science, sports, engineering, politics, filmmaking, photography, etc.," she says. "This project appeals to any individual that feels invisible in their chosen area of study."
Female Paleontologists protest gender sterotypes- with beards. Read Science News and UW news.
See more on The Bearded Lady Project website
Contact Us
Department of Geology and Geophysics
1000 E. University Ave.
Laramie, WY 82071-2000
Phone: 307-766-3386
Fax: 307-766-6679
Email: geol-geophys@uwyo.edu