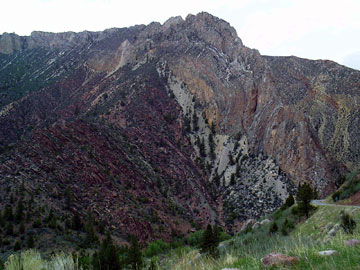 The geology field course develops skills of observation and interpretation while teaching the technical aspects of field mapping, stratigraphic interpretation and structural analysis. Preparation of maps, stratigraphic charts, geologic cross sections, and reports is a critical part of the course. The roving style of our camp also allows participants to gain perspective on the regional relationships of the central Rocky Mountain area while developing these technical skills. The weather is often quite unpredictable this time of year, so try to be ready for anything from sunshine to snow and wind.
The course begins by working in igneous rocks near Laramie. We then travel to Utah for sedimentology and stratigraphy work. The next project is a structural mapping project in Flaming Gorge, Utah taught by Dr. Campbell-Stone. The following week is taught by UW geophysicists and introduces students to subsurface imaging using seismology and gravity. Next is a choice of projects:
The Granite Mountains for a project involving igneous rocks, metamorphic rocks, and structural geology. The camping will be primitive and the location remote.
Through a partnership with the Wyoming State Geological Survey we will document landslides using GPS and GIS, providing data for the Wyoming Hazards Group to incorporate into their landslide database. Location TBD.
Then the class will head east to the Seminoe Mountains for a project mapping the structures around the Seminoe Reservoir, and north to central Wyoming to document the stratigraphy and structure of the Wind River Canyon, as well as visit the hot springs in Thermopolis. While in Thermopolis, the students will do a paleontology project with Dr. Mark Clementz.
The final week of the field course provides students with a challenge: the final mapping project. The goal is to map an area where the geologic relationships vary from simple to complex and exposures range from good to poor. Here students will be required to work independently to observe, map, and interpret the geology. Ample opportunity will be given to demonstrate skills learned previously. We will camp at a site convenient to the field area.
The geology field course is intended for junior- and senior-level geology majors, but is also appropriate for beginning graduate students who do not yet have adequate background in field mapping. Participants are expected to have a firm grasp of basic geologic concepts. Courses in sedimentation and stratigraphy, and structural geology are prerequisite. The field course is comprehensive and is nationally recognized as providing a comprehensive introduction to geologic field techniques. The course makes full use of abundant "textbook-quality" field sites in Wyoming and Utah. Students should be prepared for variable weather (heat to snow), rigorous days in the field, and undeveloped camping conditions.