Gender and Women's Studies
Catherine Connolly, Ph.D., J.D.
Professor, Gender and Women's Studies
B.S., SUCB - Buffalo (1984)
M.A., SUNY - Buffalo (1989)
J.D., SUNY - Buffalo (1991), cum laude
Ph.D., SUNY - Buffalo (1999)
Email: cconn@uwyo.edu 
Phone: (307) 766-3455
Office: Ross Hall 119
Publications
Presentations
CV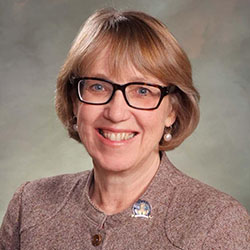 Dr. Connolly arrived at UW in August of 1992 with a Ph.D. in Sociology and a law degree.  She has served as the Director of Women's Studies from 2000-06, and from 2013-16.  She has adjunct appointments with American Studies and Disability Studies and helped to establish the Queer Studies minor. Her research interests have led to published work in the areas of second-parent adoptions, gay rights and the wage-gap. Cathy enjoys working with students, and has won numerous recognitions for outstanding teaching and advising.  In 2008, Cathy was elected to serve in the Wyoming House of Representatives, representing House District 13 in Laramie. In her legislative capacity, Cathy has also earned certificates from the Harvard Kennedy School of Government and Western Legislative academy for state leaders.  She serves on numerous national, statewide, and community-based committees and boards. Cathy and her wife, Julie, live in town with their dog, Milo. Cathy has learned to love Julie's herd of llamas. Cathy has a son who makes his living making fun of her as a stand-up comic in NYC.
Dr. Connolly's research involves an examination of social stratification and institutions, particularly the law and the economy. Her work often has a practical bent with an eye towards social justice. She has published pieces that address issues in Wyoming including the wage gap between men and women, and gay rights. She is currently a member of the Pathways from Prison research collaborative, examining the experiences of currently and formerly incarcerated women in Wyoming.
Courses Taught: Introduction to Women's Studies; Introduction to LGBTQ Studies; Gender and Society; Feminist Research Methods; The Politics of Sexuality, Special Topics: Gender, Sexuality, and the Law; Feminist Theories